Dog And Monkey Compatibility Analysis and Personality Traits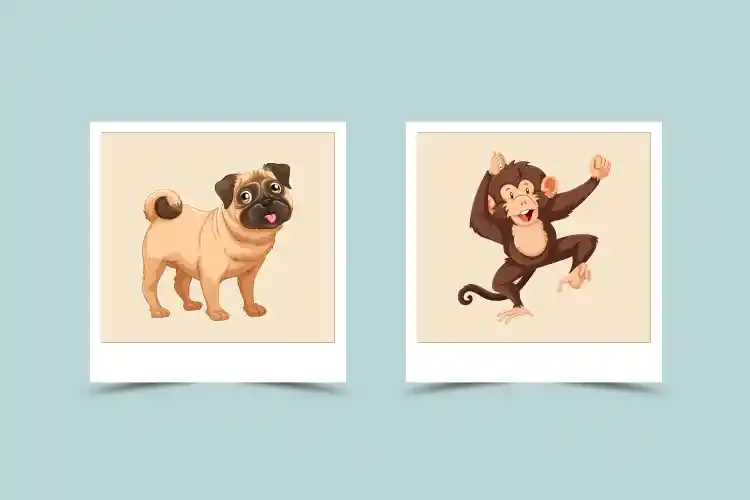 Chinese astrology is a  ring of 12 years which comprises 12 animals. Hence, each animal repeats itself every 12 years. They are further divided into their elements like earth, metal, wood, fire and water. These combinations give rise to different personality traits of a specific individual according to their Chinese Zodiac sign. Thereby determining the love-hate relationship between two signs. Let us talk about Dog and Monkey today.
---
Chinese Zodiac Dog and Monkey: Personality Traits
The Monkey and Dog compatibility can be smooth and carefree. They have many differences and few similarities. However, this works well for their relations. Both these Chinese animals are bundles of energy. If they use it to perfection, that will make their relationship work better. Let us dissect their personality in detail.
---
Male Monkey: Personality Overview
In Chinese Zodiac astrology, they are associated with the mental aspect. Male monkeys are fast, active, and self-assured. These are the kinds of people you can associate yourself with. Street intelligent, self-assured, energetic, and realistic! They blend socially like sugar in water, adding sweetness to life. In a relationship, be compassionate, romantic, and responsible!
Male monkeys tend to make their partners happy. However, they want a peaceful environment in their personal as well as married life. They're laid-back but competitive. They can be arrogant to a point and use petty tactics to get things done. This can result in sloppiness in their behaviour. If the individual in front of him is astute enough, he will detect his deception. This can result in sloppiness and a fickle nature in their behaviour.
In love relationships, male monkeys are passionate and faithful. They are primarily one-woman shows. This is why the compatibility of Monkey and Dog produces excellent results. This is a perfect and ideal match. Male monkeys, on the other hand, are drawn to women with dazzling personalities. A lively female with shared interests and hobbies will quickly entice them. They are attracted to the opposite sex who shares their interests. They are looking for a long-term relationship and do not want to waste time on trial and error.
Know about your ideal match, Access our Janampatri Analysis
They are very creative when it comes to jobs, and any role that requires creativity would suit them. They prefer working alone rather than in groups. Male monkeys are not done with deadline-oriented work because they get stressed as the deadline passes. They'd flourish in a job that allowed them to express themselves artistically. Even though they are a one-person army, they can also operate in small groups. They can solve problems and have a high degree of leadership capability to be successful leaders.
---
Female Dogs: Personality Overview
Dogs, as their name suggests, are faithful to their people. They are the element of the world. They are, however, cynical and insecure in their personal lives. They rarely trust anyone because of their vulnerability. This will trigger issues in their romantic lives. But you can't blame it entirely on them. When they are injured, they appear to withdraw from others, which is typical for an earth feature. They tend to be rigid in their approach, which can lead to heated arguments.
If you're a female dog, any mediator position is ideal for you. Dogs are naturally excellent at resolving conflicts between parties and can serve as negotiators. They are effective orators, so persuading others comes naturally to them. They are well-suited to careers in recruiting, public speaking, and management.
As previously said, the Dog and Monkey can have a smooth relation. If female dogs can work out a slight difference, then this will be a peaceful journey.
---
Dog and Monkey compatibility
The Monkey and the Dog both possess few trivial differences in their personality. But their same energy level and hyper activeness make it easy for their relation to work out. Monkey is a fun-loving sign and seeks new adventure as food for thoughts.
The Dog will love this nature of the Monkey and will follow the path laid by the Monkey. The dog, on the other hand, has a more severe heart and soul than a Monkey. They have their mood swings, and they need to be left alone for some time. This, however, will not be a barrier for Monkey, who may be busy doing his work in Dog's absence.
---
Male Monkey and Female Dog Compatibility in Love
Both Dog and Monkey love and understand one another. Marriage transforms them into a much more mature person. The male monkey enjoys the friendly and safe feeling of battling shoulder to shoulder with his partner. The female dog admires her husband's knowledge and is proud of his accomplishments. However, the male monkey often ignores his wife's constant comforts, causing the female dog to become depressed.
The Dog woman with a Monkey man in a relationship is mostly a romantic one. Monkey is always looking for new opportunities to explore, including social and professional both. Traveling junkie and trying new things in life gives him the push he needs. Although he enjoys his freedom, he must be loyal and faithful to Dog woman to build trust.
---
Male Dog and Female Monkey Compatibility in Love
There will be a romantic and sexual dating type relationship due to similar hobbies and lifestyles. However, Dog man needs to be careful about Monkey's social activities. Otherwise, suspicion can creep into their lives, and she may be unnecessarily blamed for being a cheat. But this might not be Monkey's fault at all, as this comes naturally to her. However, if she convinces her partner about her commitment, then the relationship may last long. Spark of energy and exciting conversations will lead to fun and euphoria.
Since they are more motivated and determined than their lover, the monkey appreciates when the dog does not want to fight with them. If their lover wants to contend and outperform them in their efforts, they will be turned off. This relation must equate with each other to run for a longer duration. Monkeys can flirt, but a committed marriage will make the Dog believe them about their faithfulness. Never mind, there is always a way for everything. This should also work out.
---
What to do if your partner is Dog?
If your significant half is a dog, you need to be a family guy. Dogs are trustworthy and obedient. They will be good friends if you repay their confidence. They hate partners who cheat on them. They have a negative view. As a result, a partner who can pull them out of their depressive thoughts would benefit the relationship. They are the family man you want, but you can become irritated by their self-centred attitude at times. It is because they are loners. But Dogs can be good partners if you are here for a lifetime commitment.
Rabbit, Rat, and Tiger are the perfect matches for a dog. Snakes and Monkeys will match if they are appropriately trained. They should avoid Sheep, Ox, and Rooster, as this match will be short.
---
What to do if your partner is Monkey?
Monkeys are egoistic and self-centered, yet hopeless romantics. They prefer beauty to intelligence. So, if your companion is a Monkey, you should admire their showmanship and argue less. If you show them respect, they will fall in love with you. Dogs and monkeys get along swimmingly. One characteristic that both Dog and Monkey have in common is that they are bundles of energy. So invest this energy properly. Keep this in mind, and this may be a long-lasting partnership.
Rat, Ox, or Rabbit are the perfect matches for Monkey. Dogs can be an acceptable match. They can, however, stay away from Tiger and Pig. Appealing personalities and attractive beauty easily seduce them. As a result, they should exercise patience and caution before proceeding.
So if you are a Dog or a Monkey and want your perfect match, you are at the correct place. Do not wait for anything. Get a detailed analysis of your Janampatri and find your match.
---
---