Rabbit and Dog Compatibility – Rabbit Chinese Zodiac – Dog Chinese Zodiac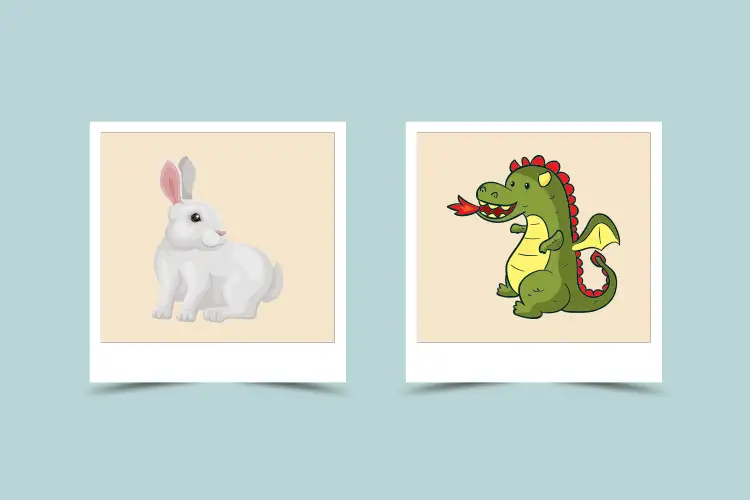 The Rabbit and Dog can be close to a perfect match with a score of 95%. This pairing in the Chinese Zodiac is considered auspicious. If you look at their inherent animal character, then Rabbits are gentle and timid while Dogs have a dominating character as compared to Rabbit. However, this dominance may get converted into protection once the Dog starts caring for the Rabbit. Are you a single Rabbit or a Dog? Do you want to know your perfect match? Will these two signs have a fruitful relationship? All these answers lie ahead.
For more information about Rabbit and Dog, Consult an Astrologer
---
Rabbit and Dog Chinese Zodiac Personality
These two signs can unite and form sparking combinations. Rabbits are generally kind-hearted, gentle and pure. They can provide unadulterated love and affection to their partners. However, a  shy and cowering Rabbit needs a strong partner. Dogs can provide due protection. They have a towering personality as compared to Rabbit and can be overwhelming. This can sometimes be bad as Dog can take advantage of this fragile nature of Rabbit and become involved in treachery. On the other hand, Rabbit will never give you any chance of raising a question on his character. This mix and match theory goes well with both these signs. Let us look deeply into these signs individually.
For Any Questions, you can Ask an Astrologer
---
Male Rabbit Personality
Rabbit by blood is soft, kind and delicate. They are the "Handle with care" kind of people. They will not do any harm to you. You will love their optimistic and positive natures. They will make the atmosphere light and humorous. They don't like bitterness and will usually be humble and unbiased. They pick their family and will have a minor argument. There are few drawbacks to their nature. Due to the soft and poignant character, they can be sentimental and at times get over emotional. People may take advantage of this and trick them.
Rabbits are neat. They love to keep things and their area tidy, whether it is their house or office. They are pretty decent at domestic work. They are self happy kind of people who like less interference from other people. In lover affairs, they tend to be passive and less conclusive. Due to this, there may be emotional disagreement with their love partners. Rabbits are polite and sensual for those who understand him otherwise. For outsiders, they can be childish with lots of impatience.
Rabbits are bright, and this reflects in their career selection. They are intelligent and thoughtful. They have a strong sixth sense which helps them grab essential opportunities for their development. They have tough resolutions and rock-steady defense, which allows them to overcome many barriers in life. They are good at developing business and should get along with that.
Find what is Stored in your life based on Planets. Read Free Horoscope Reading
---
Female Dog Personality
Female Dogs are generally atypical. While other females like to dress up nicely, she will be like a no make or less make up plain jane. They do not like loud dressing style or jewellery. But without all these show off, they can still be able to catch your eyes if not burn them literally. Somewhat conservative and less charming, they are the lucky charm for their husband. If we divide the day and evening parameters of birth, then females in the evening are somewhat ahead in looks and attitude.
They can resemble the film actress of the late 60s with fluffy hairstyle and plain dress in love and family. Generally, they do not lose their cool and are primarily cooperative. They have an even eye for everything. You might be thinking that those who stay at home generally do not have any hobbies. However, you may not be correct female dogs like dance, swimming and plate sports like Tennis.
Due to their nervous natures, it is difficult for her to get intimate with her partner. Most of the time, they want their partners to take the first step and do all the talking. Due to this introverted nature, their romantic life is primarily dull. Even if they try to go full swing, in the beginning, their romance vanishes with time. Not to forget, they are a good wife and are loyal creatures. You can have an everlasting relationship with them.
Due to their shy nature, their career does not speed up like that of Horse. Instead, they will take each step carefully towards the milestone. For them, a stable income with a secure job is enough, and they do not want any more thrills. Female dogs may try their hand in business once they decide to invest their time and energy.
Know your real strengths, weaknesses, abilities, and talents. Know your Zodiac Signs
---
Rabbit and Dog Compatibility
Your compatibility report card is 95%. That's excellent! Isn't it. Both of you will complement each other in every field. That satisfaction level will be high. The Rabbit is youthful, chirpy, and a good problem solver, while the Dog is a loyal breed and strong in logical judgement. Like the kite needs to be knitted with a string to ensure it is going in the correct direction and height, the Rabbit needs the support of the Dog to channel his energy in the right direction. At the same time, the Dog can only admire the Rabbit's charm and personality.
Will Your Love Life Turn into a Fairy Tale or Nightmare? Find out from Love Compatibility Calculator
---
Male Rabbit and Female Dog Compatibility
Male Rabbit can enjoy female Dog's company as she will listen to his words and encourage his dreams to come true. She will be loyal to him and support him in the time of adversity. Females do like to spend on worldly pleasure, and female Dog's are no different from them. However, the Rabbit may or may not bork well in money matters, so the pair should chalk out the best option before giving any commitment.
The male Rabbit should try to fulfil the female Rabbit's desire, and he will return and get all the support he needs.
Facing Tough Times? Get Your Free 2022 Horoscope Report for the Solutions
---
Male Dog and Female Rabbit Compatibility
While it is a little difficult for the male dog to fall in love, they will do everything to protect their lover once they do. Rabbit needs to show her loyalty, and Dog will turn her bodyguard. Female Rabbits are generally wary of people taking her gentle nature's advantage. But she can be without worry while she is paired with the Dog. She will live a happy life and support from the Dog without getting into the suspicion of getting tricked.
Confused in Life? Know your Life Better with Free Janampatri
---
What to do if your Partner is Dog?
Dogs or canines want to roam in the wild and like their freedom. They want their partners to be understanding. Please give them the space they are looking for, and do not try to obstruct their path. In the beginning, you may find them a little irritating, but a little bit of patience will help. They may have a towering personality, but their decision-making power is somewhat weak. It's better if their partner makes a decision for them or guide them.
Dogs are loyal and family people. Trust is an essential part of their life and relationship. They will give their whole and soul to their partner if you can convince them of your loyalty. Generally, they see the dark side of life. So they should get hooked with positive-minded people.
Dogs have lovely pairing with Rabbit, Rat and Tiger. They will bring the energy with them in the relationship, which can work wonders for both of them. However, they should not be paired with Sheep, Ox, Rooster, Dragon. Their stubborn nature will not match with Dog's personality.
Uncover all Challenges and Unwanted changes in your Life Graph. Get Free 2022 Report
---
What to do if your Partner is Rabbit?
People born under the year of Rabbit are generally nervous, and they are not still headed. Their mind may vary in two directions and can have two love attractions at once. If a Rabbit is your partner, do not try to conquer or take control of them, They will feel you as an obstacle and may get away from you. If you allow them their space, then they will accept you as their happy family. People should try to encourage the Rabbit in life and will enable them to discover their talent. They generally do not like monotonous life.
People should allow them to try out new things and keep them engaged. They are generally timid and terrified to open up. Try to win their trust, and they will show you their real nature, love and affection.
Rabbits are best matched with Sheep, Monkey, Dog and Boar. They are honest and want to live a simple and happy life. At the same time, they should try to be away from Snake and Rooster. Their cunning and prickly nature may not be able to gel with the gentle nature of Rabbit.
Talk to an Astrologer Now and Get 100% Cashback on your First Recharge.
---
---