Lohri 2023: Why This Auspicious Day Is Important?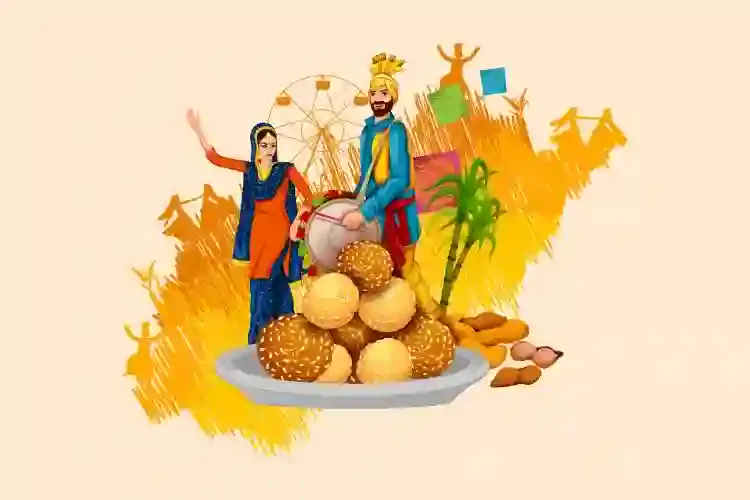 Lohri is a harvest festival that marks the ending of winters. It celebrates the harvesting of the Rabi crop in Punjab. In other parts of India, it is known as Makar Sankranti.  Igniting a bonfire at night is the core ritual of the Lohri celebration. In fact, some people also organise a signing ceremony or dance competition nearby their house. Lohri is an auspicious occasion for newly-married couples to participate in festive rituals and seek blessings from their elders. Generally, Lohri falls on the 13th day of January. On this occasion, people irrespective of their age and gender, participate in folk songs.
---
Lohri 2023: Date and Time
Lohri 2023 Date: Thursday, Jan 14, 2023
Lohri Sankranti Moment : 08:57 

PM

, Jan 14, 2023
Also Read: Pongal
---
Legend About Lohri
There is a famous legend associated with the celebration of this festival. The story revolves around the dacoit named Dulla, who was living in the Mughal district of Punjab. People consider him a fearless man as he was known for single-handedly rescuing the slave girls. Moreover, apart from saving girls, he was also responsible for arranging their marriages. Lohri festival is celebrated in honour of Dulla Bhatti and his exploits, Sundri and Mundri. People have created a theme of this folklore, which they used in folk songs. Nowadays, it has become common to use this theme in folk songs while celebrating the Lohri harvest festival.
Lohri is indeed an indigenous ritual that emerged in the Himalayan foothills, whose winter is colder than those of the remaining portion of the Arabian peninsula. Once the Rabi season marks its beginning, Hindus and Sikhs lit bonfires in their yards, socialise around the bonfire, and sing and dance together throughout the week. On the other hand, Punjabis celebrate Lohri till the end of the month, during which the winter solstice occurs.
Have A Look:Guru Gobind Singh Jayanti 2023
---
Significance Of Lohri
Lohri marks the end of the winter solstice and the northwards movement of the Sun. This festival falls a day after Makar Sankranti, and from this day; nights become shorter, and the day gets longer. Basically, Lohri is all about welcoming the warmer days which is symbolised by the bonfire. Many people, especially farmers, begin to harvest the crop from this day.
People also use some ancient mantras so that they may receive the heat of the Sun during the cold days of winter. There is a belief that if you chant these mantras, the Sun may accept your prayers. As a result, you may have a chance to celebrate the auspicious day with your family and friends.
You May Like To Read: Bihu
---
The Proceedings Of The Day
Lohri is celebrated with enthusiasm in homes that have recently witnessed a marriage or childbirth. The majority of North Indians does special Lohri ceremonies. Lohri events are recorded, with unique Lohri songs accompanying them.
Music and dancing are two important parts of Lohri. People adorn themselves with the finest outfits to join dance and singing competitions. People living in urban areas also celebrate Lohri with great pleasure.
Lohri celebration begins approximately 10 to 15 days prior, in multiple parts of Punjab. Boys and girls go around the countryside harvesting logs for the Lohri bonfire. They also accumulate products such as grains and jaggery, which are sold and the earnings are exchanged among the community in some areas.
Once the bonfire is lit, people sing and dance around it as well as throw food items like popcorn, puffed rice, popcorns, and others as a tribute to good. All these offerings are made in order to receive blessings from god.
Like every festival, Lohri is also incomplete without some delicious food. The traditional food of this festival is saag and makki di roti, gur ki roti, til ki barfi panjiri, makhane ki kheer, till laddoo, pinni, gondh ladoo, and many more.
Also Read: Onam
---
Some Other Facts About Lohri
It's a Hindu solstice festival
Lohri is a winter solstice festival of India. It is Indian euivalent of Christmas or Yuletide. However, it comes later due to seasonal differences in the place of origin.
The longest night of the year
Have you ever wondered that why all the rituals and festivities takes place after the sunset. The truth is that Lohri has a longest day and shortest day. However, after Lohri days will be longer.
The reason behind its name
There are many origins of the name Lohri. One popular belief is that Lohri is named after the Goddess Lohri, the sister of Holika. If we move away from the traditional outlook, it is the combination of name til (sessame) and rorhi (jaggery) which is majorly consumed in this festival. It also has its origin the word "Loh" which means light and comfort of fire.
Starting of the financial year
Lohri marks the beginning of new finacial year. Traditionally, the revenue of the winter crops are collected on the Lohri. It is still an important custom in the Sikh community.
---
Wrapping Up
Lohri is one of the most celebrated festivals in India. We learned how the people in north India gear up for its celebration 15 days prior. Even young girls and boys begin their celebration early to create the best festive moments. Whereas, in other parts, people visit temples to worship the God and Goddess on this auspicious day. Happy Lohri Everyone! 🙂
With divine blessings, you just need to know what your future holds. Talk to Astrologers to know in detail. First Consultation with 100% Cashback!

---
---