Pongal 2022: Why It Is One Of The Significant Harvest Festival?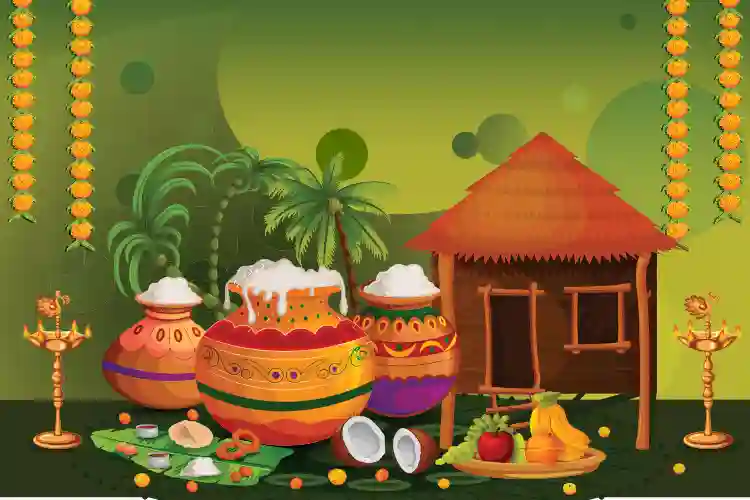 Pongal is one of the major festivals of South India, mainly celebrated in Tamil Nadu. In other parts of India, it is popularly known as Makar Sankranti. Pongal is a four-day harvest festival during the solar equinox and is celebrated on the 14th of January. In Tamilnadu, it is also known as Thai Pongal and the entire period is called Uttarayanam. It is a four-day festival.
Also Read: Lohri
Thai Pongal 2022 Date and Time
As per the Tamil calendar, the Pongal days will correspond with the Tamil year Margazhi to the 3rd day of the Tamil month Thai.
| Pongal | Date and Time |
| --- | --- |
| Thai Pongal | Friday, Jan 14, 2022 |
| Thai Pongal Sankranti Moment | 14:43 |
Importance of Pongal Festival 2022
There are different types of Pongal and each day of the four days has its importance. The first day is called Bhogi Pongal, the second day which is considered the most important day of the Pongal festival is known as Thai Pongal. The third and fourth days are called Mattu Pongal and Kaanum Pongal respectively. Pongal depicts a message of letting the old things go away and the new things come in!
Read More: Bihu
Significance of each day of Pongal 2022 and how it is celebrated
Let's know how Pongal Celebration takes place on different days:
Day 1: Bhogi Pongal-Thursday, 13 Jan, 2022
Bhogi Pongal is day 1 of Pongal, and on this day, people offer their prayers to Lord Indra for blessing the land with rain yielding for a good harvest. On this day houses are cleaned thoroughly.
Day 2: Surya Pongal/ Thai Pongal- Friday, 14 Jan, 2022
As the name suggests, this day is dedicated to Lord Sun who is worshipped on this day. Devotees offer milk and jaggery to Lord sun. This is the main day of the 4-day long festival. Along with Sakkararai Pongal, there are various other dishes prepared on this day.
Day 3: Mattu Pongal- Saturday, 15 Jan, 2022
This day is dedicated to cattle such as cows, bulls, and other farm animals who play a significant role in the contribution of agriculture. The cattle are dressed up before they are prayed.
Day 4: Kaanum Pongal- Sunday, 16 Jan, 2022
Kaanum Pongal is a day dedicated to relaxation and enjoyment. On this day relatives and friends meet each other and exchange sweets and goodies. Rangoli is drawn outside the houses as it shows the sign of prosperity and well-being.
On The Thai Pongal Day
On the day of Pongal, the food is cooked at sunrise in an open place. People cook rice and milk together and let the milk boil. Milk is allowed to spill over as this is considered auspicious. Once it is cooked, it is tempered with ghee, cashew nuts, raisins, and jaggery. This dish is known as Pongal and it is served to Lord Sun, once it is cooked, as a sign of thanking him for the harvest. This Pongal is later served to the people in the house.
You May Like To Read: Onam
Legends About Pongal Festival
One of the famous legends about Pongal is that Lord Shiva once sent his Bull Nandi to visit Earth and tell people to have an oil massage and bath every day and eat once a month. Instead of this, Nandi told people to eat daily and have an oil bath daily once a month. Lord Shiva was furious and cursed him to live on the Earth forever. Asking him to plough the fields and help people produce more food. Hence, after harvesting, people celebrate this festival with crops and cattle.
Although Pongal is celebrated as the main festival in Tamil Nadu, it is also celebrated at other places such as Andra Pradesh, Sri-Lanka, and the Maldives. It falls at the start of the month according to the Tamil Solar Calendar. The name of Pongal is named after the sweet dish Pongal ( Rice Kheer) that is served during the festival.
Do you need a remedy for constant obstacles arising in your life? Book personalised puja for the solution.
Pongal and Astrology
Pongal signifies a great start in astrology as this is the time when the Sun moves towards the North for the next six months. It is considered an auspicious time in Hinduism, as opposed to the one where the Sun moves towards the South. Hence, many auspicious events are held during this period!
Are planets in your Kundali have malefic or benefit? Get a free Janampatri report.
Wrapping Up
Since India is a agricultural-based country, it is no surprising that it has so many harvest festival and Pongal is one of them. It's significance makes it as similar to the "Thanksgiving" festival.
We wish you all a very Happy Pongal! May you have a very great harvest festival in 2022.