Makar Sankranti 2022 – A Harvest festival of gratitude, ritual and fun!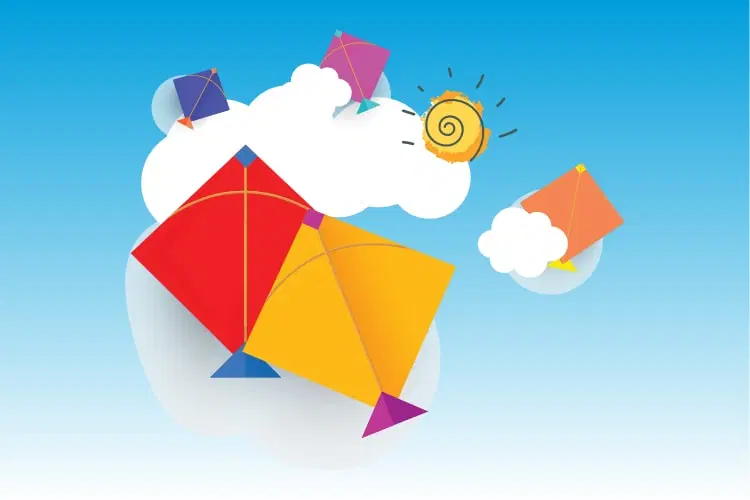 Makar Sankranti is a festival that marks the end of the winter-dark days leading on to spring's bright long days. Sankranti festival is one of the oldest Hindu festivals and one of a few festivals that are observed as per the Solar cycle rather than the Lunar cycle.
Makar Sankranti 2022
Makar Sankranti is a harvest festival that falls in the Lunar month of Magha, corresponding with the month of January. As the festival is celebrated based on the Solar cycle, it falls on the same date 14th or 15th every year. Except for a few years where the date may shift by a day!
Makar Sankranti, this year will be on the 14th of January 2022.
Curious about what lies ahead for the year 2022? Read about your 2021 predictions here!
Significance of Makar Sankranti
It is said that on the Makar Sankranti day, Lord Sun had gone to visit his son Lord Shani, the ruler of Capricorn. He kept aside their past differences and went to meet him. It is hence said that the conflicts are resolved, relationships are improved, and then the auspicious time begins.
Astrologically during Sankranti, Planet Sun enters Saturn house (Capricorn Sign governed by Saturn) staying in for 1 month
The 2022 Makar Sankranti will be even more special as the Sun and Saturn will be meeting after 30 years in the Capricorn Sign. These transitions of planets can have a huge impact on our lives.
Also, talking about the transition of planets, there will be another spectacular event which will be held during this time as they will not be one or two, but 4 major planets are in Capricorn, forming powerful conjunction. Jupiter-Saturn-Mercury-Sun conjunction will be transiting in Capricorn (Stellium), bringing drastic changes for all zodiac natives.
Read More – Jupiter and Saturn Conjunction
This will be one of the biggest events, as these planets meet together rarely, but when they do some unusual happenings are expected.
Know how the transit of planets affects your life, with the help of your Janampatri
Makar Sankranti Religious Rituals
During Makar Sankranti, people take a dip in the holy water of rivers like Ganga, Yamuna, and Godavari, as it is believed this could result in merit or absolution of past sins.
Along with worshipping Lord Sun by doing Surya Puja and Lord Shani, Gayatri Mantra and Surya Mantra are chanted as the festival is afflicted with Lord Sun and Lord Shani.
You can know more in detail about the religious rituals that need to be followed to please Lord Sun and Lord Shani by talking to your trusted astrologers!
Harvest Festivals
Harvest Festivals are an integral part of Indian culture. There are many harvest festivals in India and they are the oldest form of festivals in India. Harvest Festival is to thank nature for the abundance shared. Each state has its own harvest festival.
A few are:-
Pongal for Tamil Nadu
Onam for Kerala
Lohri for Punjab
Bhogali Bihu
Can you name the harvest festivals of the other states?
Fun Activities during Makar Sankranti
Makar Sankranti is celebrated across pan India. However, it is known by various other names such as Uttarayan in Gujarat, Lohri in Punjab, Magh Bihu in Assam. Also, there are different Makar Sankranti foods that are prepared during the Sankranti festival.
In Punjab, there is a tradition to consume jaggery and khichdi, and in Rajasthan a lot of traditional Rajasthan delicacies such as Pheeni, til-patti, and Kheer are prepared.
Talking about food. What is your favourite Sankranti Food?
During Makar Sankranti, kite flying is a traditional and fun activity which is a part of Sankranti festival, and youngsters engage enthusiastically in kite flying, especially in states like Gujarat and Rajasthan.
Another fun activities organised during Makar Sankranti are Melas. Melas are held at various places during this auspicious day. However, the one with utmost significance is the Kumbh Mela which is held once in 12 years at holy places across India.
Makar Sankranti festival shows us the spirit of leaving behind the differences and looking forward to new starts. Let's all do the same and work towards new beginnings.
Happy Makar Sankranti wishes to you and your family. May you have a fun, prosperous, and auspicious Makar Sankranti!