Onam 2023: How And Why It Is Celebrated?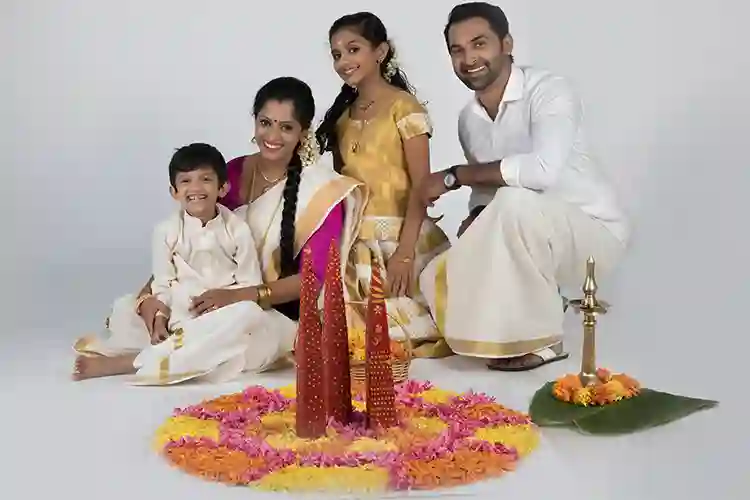 Onam 2023 Date And Time
In the year 2023, this festival will be celebrated on 29th August 2023 Tuesday.
The last day of the festival of Onam begins in the constellation of Thiruvonam. This is the main day of this festival.
| Nakshatra | Date / Timings |
| --- | --- |
| Thiruvonam Date 2023 | 29th August 2023 Tuesday |
| Thiruvonam Nakshatra Begins | On Aug 29, 2023 at 02:43 AM |
| Thiruvonam Nakshatra Ends | On Aug 29, 2023 at 11:50 PM |
The Significance of Onam
The festival of Onam is mainly celebrated in Kerala in the Malayali linguistic region of South India. It is believed that Ditya Raj Mahabali comes from Heaven to meet his Malayali linguistic subject and bestows them with happiness and prosperity. Preparations begin ten days in advance to welcome them. Houses are decorated, and delicious dishes are prepared. 
People decorate their houses with beautiful flowers. Besides, people prepare Rangoli at the entrance of the house. This pleases their adored King Mahabali. Onam is one of the most colourful festivals in India. Such is the popularity of this festival that the Kerala government celebrates it as a tourist event. During the Onam festival, events like boat races, dance, music, and banquets are also organised.
It is also said that at this time in Kerala, the harvest of tea, ginger, cardamom, black pepper, and paddy is ready and people celebrate this festival and share happiness among themselves in the joy of a good harvest.
The Story Behind Onam Festival
There is a very popular story about the Onam festival. This story is considered by the Malayali-speaking people as the basis of this festival.
The Great King Mahabali
According to mythology, there used to be a king in ancient times, King Mahabali, who was the grandson of Prahlad, a beloved devotee of Lord Vishnu. The fame of King Bali was increasing among the people of the earth; due to his good deeds and good behaviour towards his subjects, his fame was on the rise. King Mahabali, despite being a demon king, used to take great care of his subjects, and his subjects respected him a lot. One of the characteristics of the king was that he actively participated in charity. 
Conflict Between Other Gods And King Mahabali
As per the plan,  Lord Vishnu took birth in the form of Vamana (Brahman) in the house of sage Kashyap. The child gradually grew up and became a young man. One day when the king was planning a big Yagya, Lord Vishnu, in the form of a Brahmin, reached the kingdom of Mahabali and met the king. On seeing Lord Vishnu, Shukracharya recognised him and understood his plan.
Lord Vishnu And King Mahabali
As per the tradition, Shukracharya warned King Mahabali; he said to the king, "Rajan, this is Vishnu; surely he has come to ask something from you. Don't commit to charity without asking me."
However, King Mahabali ignored this talk of Shukracharya. The king then said to Lord Vishnu, who came in the guise of a Brahmin, you can ask for whatever you want. On this, Lord Vishnu asked the king for three steps of land. The king smiled and said that you could take three steps of land wherever you wanted.
As the king said this, Lord Vishnu assumed his cosmic form and covered the entire earth in one step, the heaven in the second step. Then he asked King Bali where he should put his third leg. On this, the demon king Mahabali smiled and said – "This world is so small for you, what should I do, Lord? Now only my head is left."
The Devotion Of King Mahabali
As King Mahabali said this, Lord Vishnu at once placLaxmi Yogaed his feet on Mahabali's head and ordered him to rule in heaven till the end of Kali Yuga. Lord Vishnu was greatly influenced by the devotion and charity of King Mahabali. So he asked Mahabali to ask for a boon before going to Heaven.
Then Mahabali requested Lord Vishnu to allow him to come to earth once a year to meet his subjects. Lord Vishnu accepted his wish. It is believed that Onam is the day when King Mahabali visits the earth to meet his devotees.
Increase the peace and prosperity in life by performing personalized live Vishnu Puja
The Ten Days of Onam Festival
The first day is Athan when King Mahabali prepares to go from Heaven to his kingdom on Earth. On this day, the state's people get ready to welcome their king.

The second day is Chithira. On this day, a carpet of flowers is made called Onam Pookalam.

The third day is called Chodhi Pookkalam, when another layer is added to the carpet of flowers using four to five types of flowers.

Visakam is the fourth day of this festival, and various types of competitions begin on this day.

The fifth day is called Anizham. On this day, preparations for the boat, the race takes place.

The sixth day is known as Thriketa, from which the festival holidays begin.

On the seventh day, special pujas are organised in Moolam temples.

The eighth day is called Pooradam. On this day, the idols of King Mahabali and Vamana are installed at home.

The ninth day is called Uthradom. On this day, Mahabali enters Kerala.

Thiruvonam is the tenth day. This is the most important day when King Mahabali is welcomed by the people of Kerala with full delight and reverence.
This ten-day long festival also has a deep connection with farmers and farming. During this time in Kerala, many types of crops are ripe and ready. People of Kerala also worship the Shravan deity and Pushpadevi for good yield and protection of their crops. The joy of ripening the harvest instils a new hope and confidence in the people's minds.
One more joy you can experience is knowing what's going to come ahead. Get a free Astrology Report 2023.
Celebration And Ritual Of Onam
For the full ten days, Onam is celebrated with great pomp and vigour. These were the rites and festivals that took place throughout those days.
Family members got up early on Attam to put on their new "Onakkodi" attire. They revere and mount Vishnu idols known as Thrikkakara appan.11:50 PM
Ladies in Kerala draw various "Pookkalam," floral motifs on the east side of their dwellings. They burn lamps and perform traditional Onam songs to welcome King Mahabali or Maveli (Onappattukal).
On Thiru Onam, a swing is draped from a high branch of a tree in a swinging ceremony. This rose-adorned swing is ridden by women in turns while singing enchanting tunes.
A grand feast called "Onam Sadya"  is organised for families and friends on the third day of Onam. On banana leaves, they make at least 13 dishes, including rice, vegetable curry, curd, and Payasam (sweet stew). Payasam is regarded as a must-have Onam Special meal. It's made using milk, rice, sugar, and coconut.
The popular "Vallamkali" or Snake Boat Race is organised. The race in Alappuzha, Kerala, has hundreds of enormous, decorated boats with at least seven drums. This huge Onam exhibit attracts visitors from all around the country and the world.
On the ninth day of Onam, the people present vegetables and coconut oil as gifts to the family's eldest member, known as "Karanavar,"  (Onakazhcha). This ritual mainly takes place in Kerala's Nair sects are the main practitioners of this technique.
During the Onam holiday, various cultural activities and festivals are organised in temples and religious places, particularly on the tenth day. Elephants are decked out with ornaments, and great processions are held.
What secrets are hidden in your Kundali? Uncover it by Free Janampatri Report
Conclusion
Festivals in India are about celebrating happiness. During the year, various festivals are celebrated with varying rituals and methods. The festival of Onam is largely about the love of a people towards their hero and reaffirming their commitment to the moral example set up by their hero King Mahabali.
Happy Onam Wishes To One And All!
Are too many issues overwhelming you? Talk to an Astrologer Now, First Consultation with 100% Cashback!