Narasimha Jayanti Significance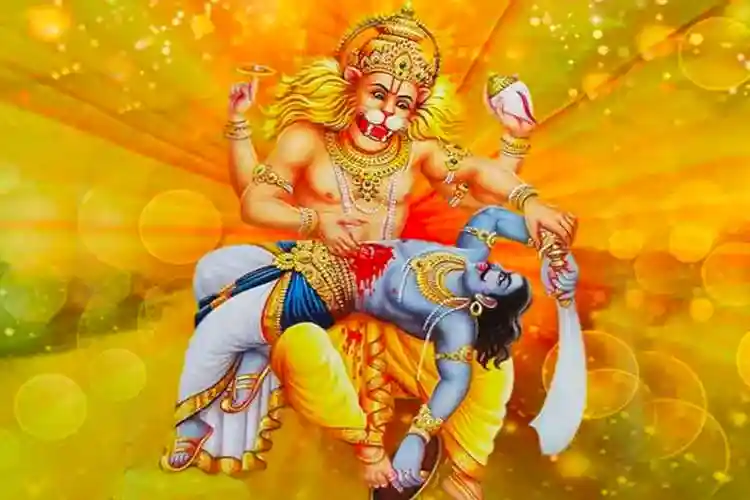 Hey guys, today we are gonna talk about Narsingh Jayanti or as some say Narasimha Chaturdashi.  So, get ready, for yet another deep and impactful blog about this great festival.
On the 14th day of the Shukla Paksha, Lord Narasimha, the fourth incarnation of Lord Vishnu, emerged during the sunset on Chaturdashi. The Hindu festival of Narasimha Jayanti is observed on Vaisakh Chaturdashi, the 14th day of the Shukla Paksha, and is one of the most important in the Hindu calendar.
---
Narasmiha Jayanti 2023 Date and Time
Narasimha Jayanti: Thursday, May 4, 2023
Narasimha Jayanti Sayana Kala Puja Time: 4:18 

PM

 

to 

06:58 

PM

Duration: 02 

Hours

 40 

Mins

Parana Time On Next Day for Narasimha Jayanti: 05:38 

AM

, 

May 05

Narasimha Jayanti Madhyahna Sankalp Time: 11:17 am to 01:56 pm
Chaturdashi Tithi Starts At: 11:49 

PM

 

on

 May 03, 2023
Chaturdashi Tithi Ends At: 11:44 

PM

 

on

 May 04, 2023
---
Rituals of Narasmiha Jayanti
On this day, Lord Vishnu appeared as Narasimha, a half-lion, half-man who killed the demon Hiranyakashipu.
People observe a fast on Narasimha Jayanti. The fasting rules are identical to those for Ekadashi fasting. Devotees consume only one meal before the day, which does not contain any grains or cereals and Vishnu Puja. After the Jayanti day has passed, Parana is performed the next day at an appropriate time.
Devotees take Sankalp and perform Lord Narasimha Puja during Sankalp on Narasimha Jayanti day, before sunset, during Madhyahna, the Hindu afternoon time. It is best to keep night vigil because it is believed that Lord Narasimha appeared during sunset when Chaturdashi was in effect.
When Chaturdashi Tithi ends after sunrise the next day, Narasimha Jayanti Parana is completed. If Chaturdashi Tithi ends before sunrise, the fast is broken sometime after sunrise after finishing Jayanti rituals. If Chaturthi lasts longer than three-fourths of Dinamana, which is the time between sunrise and sunset, the fast is to be broken in the first half of Dinamani.
---
Story of Narasimha
The origins of the Jayanti festival
The most terrifying of all the avatars was Vishnu's Narasimha Avatar. Vishnu assumed the avatar Narasimha to kill Hiranyaksha's brother, Hiranyakashipu, who was also the father of Prahlad, after killing Hiranyaksha in the form of Varaha. Lord Vishnu had a great devotee in Prahlad.
Hiranyakashipu was hell-bent on vengeance for his brother's murder. Brahma was fascinated by his austere penance. Brahma appeared and bestowed a blessing on Hiranyakashipu. Hiranyakshipu asked Brahma for immortality without hesitation. Brahma was put on the spot and said that although he couldn't grant him immortality, he could certainly tie his death with conditions.
As a result, Hiranyakashipu asked Brahma to bless him with the following conditions:
To avoid being killed by any of Brahma's living creatures.
To avoid being killed inside or outside any residence.
To avoid being killed at any time of day or night.
Not to be killed on the ground or in the air.
To not be killed by any weapon, living or nonliving creature.
To bestow upon him the gift of having no opponent.
Brahma then disappeared after bestowing his blessings on him. Hiranyakshipu thought he had triumphed over death.
Prahlad became a traitor by worshipping the enemy of Daitya-Kul, Vishnu, and thus invited his death. Shiva bestowed a blessing on Holika, Hiranyakashipu's sister, and Prahlad's aunt. Holika was untouched by fire thanks to the boon (Agni). Holika sat on a pyre with little Prahlad on her lap in order to kill him. However, instead of burning Prahlad, the pyre burned Holika alive, leaving Prahlad unharmed by the flames.
Hiranyakashipu's assassination
Hiranyakashipu was angered by his sister's murder, and he grew angrier by the day. Hiranyakashipu had reached his limit, and after several failed attempts to kill Prahlad, he asked Prahlad to worship him instead of Vishnu. Prahlad declined, instead of telling his father that he would only worship Vishnu, the supreme being who was far superior to Hiranyakashipu.
Hiranyakashipu became enraged and asked Prahlad if Vishnu was the supreme power and omnipresent, would he be present in the pillar in front of him. Prahlad said that the Lord could be found everywhere, including Hiranyakashipu. Hiranyakashipu swung his mace at the pillar, smashing it to bits. Lord Vishnu appeared in the form of Narasimha, who was half-lion, half-human. The lord approached Hiranyakashipu, raised him and laid him on his thighs in the courtyard, then tore Hiranyakashipu's chest apart with his claws. In order to defend Prahlad, the Lord killed Hiranyakashipu at dusk, which was neither day nor night.
As a result, when Hiranyakashipu was killed, the boon was not disregarded, and he was killed by a half-human, half-animal avatar who used his nails as a sword, and he was killed not on the ground or in the sky, but on the Lord's thigh.
Take no worries, when Astrological Guide is here, Ask the Experts Now!
---
Final Thoughts
Lord Narasimha's tale represents the victory of good over evil. In Narasimha Jayanti, devotees who worship the Lord by fasting are said to triumph over their adversaries. Their days of misfortune are thought to be coming to an end, but forces hold them at bay. Fasting on that day to please Lord Narasimha also ensures disease prevention, abundance, bravery, victory and prosperity.
Hope you guys understood the significance of Narsingh Chaturdashi. So, this Narsimha Jayanti, take the pledge to be the pillar of truth and victory. Happy Narasimha Jayanti in Advance!
---
---