Significance, Date, Rituals And Method To Worship On Sankashti Chaturthi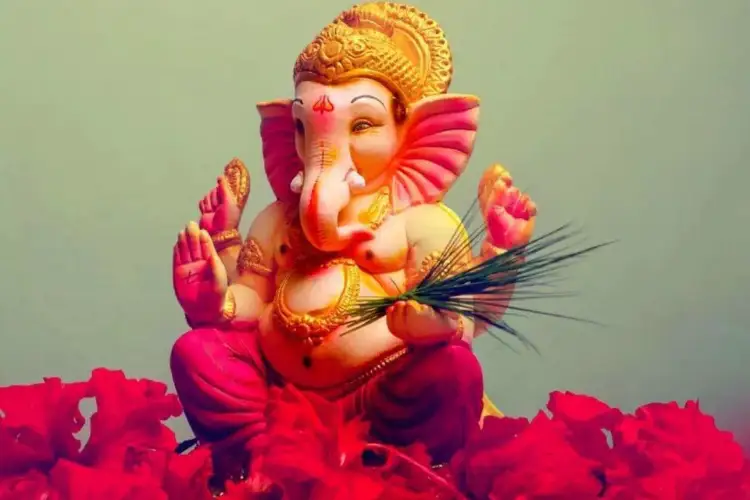 Sankashti Chaturthi 2023 Date And Time
| Date and Day | Chaturthi | Ganesha's Forms | Peeth |
| --- | --- | --- | --- |
| Tuesday, Jan 10, 2023 | Sankashti Chaturthi | Lambodar Maha Ganpati | Durga Peeth |
| Thursday, Feb 9, 2023 | Sankashti Chaturthi | Dwijpriya Maha Ganpati | Samanya Dev Peeth |
| Saturday, Mar 11, 2023 | Sankashti Chaturthi | Bhalchandra Maha Ganpati | Aagama Peeth |
| Sunday, Apr 9, 2023 | Sankashti Chaturthi | Vikat Maha Ganpati | Vinayak Peeth |
| Monday, May 8, 2023 | Sankashti Chaturthi | Ekdant Maha Ganpati | Shree Chakra Peeth |
| Wednesday, Jun 7, 2023 | Sankashti Chaturthi | Krishnapingala Maha Ganpati | Shree Shakti Ganpati Peeth |
| Thursday, Jul 6, 2023 | Sankashti Chaturthi | Gajanan Ganpati | Vishnu Peeth |
| Friday, Aug 4, 2023 | Sankashti Chaturthi | Heramb Maha Ganpati | Ganpati Peeth |
| Sunday, Sept 3, 2023 | Sankashti Chaturthi | Vignaraj Maha Ganpati | Vigneshwar Peeth |
| Monday, Oct 2, 2023 | Sankashti Chaturthi | Vakratund Maha Ganpati | Bhuvaneshwari Peeth |
| Wednesday, Nov 1, 2023 | Angaraki Chaturthi | Gandhip Maha Ganpati | Shiv Peeth |
| Thursday, Nov 30, 2023 | Sankashti Chaturthi | Gandhip Maha Ganpati | Shiv Peeth |
| Saturday, Dec 30, 2023 | Sankashti Chaturthi | Akurath Maha Ganpati | Durga Peeth |
Why is Sankashti Chaturthi Significant?
In India, Sankashti Chaturthi is a very special festival. This day is said to be devoted to Lord Ganesha. This festival is celebrated on the fourth day or Chaturthi of Krishna Paksha in every month of the Hindu Calendar. Whenever Sankashti Chaturthi falls on Tuesday it is known as Angaraki Chaturthi. Well, thus Angaraki Chaturthi is said to be the most advantageous of all Chaturthi. In Hinduism, Lord Ganesha is considered to be the first worshipped Deity because of which he is adored before any felicitous work. 
On this day people keep fast for Lord Ganesha and thus, Chaturthi Tithi is dedicated to Ganesh Ji. The fast of Sankashti Chaturthi has its significance which is mentioned in "Bhavishya Purana" and "Narasimha Purana" and Lord Krishna also explained it to Yudhishthira, who was the eldest son of all Pandavas. One who keeps fast on Sankashti Chaturthi is freed from all the troubles of life and his/her obstacles are removed. This festival is celebrated every month and thus, Lord Ganesha is worshipped with different lotus petals or peeta as well as different names each month. Let's know about the procedure of doing Sankashti Chaturthi.
What secrets are hidden in your Kundali? Uncover it by free janampatri report.
Sankashti Chaturthi Fast - What To Eat?
One who worships or follows Lord Ganesha wakes up in the Brahma Muhurta on the day of Sankashti Chaturthi and takes a bath. One should remember Lord Gajanand and begin the fast after that. Many people prefer to keep partial fasting on this day. If one wants to fast on Sankashti Chaturthi then one needs to take care before eating any kind of food and it shouldn't enter your stomach by mistake as it might break your fast. 
Ones who feel hungry can keep fast by eating fruits, vegetables and tuberous roots. During the fast in the Indian diet, many people like to eat peanut butter and sabudana khichdi. One who keeps fast can consume these substances too on this day of Sankashti Chaturthi. If one does not keep up to this fast according to the law, they might face negative consequences. 
Sankashti Chaturthi Vrat Vidhi
One needs to follow the right rituals and methods although the worship method to keep fast on Sankashti Chaturthi seems to be easy. It is important to know that Sankashti Chaturthi is worshipped only after seeing the moon in the evening. One should decorate the idol of Lord Ganesha with Durva grass as well as fresh flowers for worshipping on Sankashti Chaturthi. After doing this one should light a lamp in front of the idol of Lord Ganesha. 
One needs to follow normal worship rituals like chanting mantras and burning incense sticks. After this, it is important to listen to the specific Sankashti Chaturthi story of the fast. "Modak" is said to be the most favourite dish of Lord Ganesha. Apart from this, many other dishes can be offered to Lord Ganesha in the form of Naivedya which needs to be distributed among people. 
One should do the aarti of Lord Ganesha immediately after the end of the story and after taking off his aarti one can distribute the prasad. There is a special significance of worshipping the moon on Sankashti Chaturthi. One should sprinkle water, sandalwood paste, rice and flowers in one's direction to experience a favourable effect on one's zodiac. If the moon is having any kind of opposite effect on your zodiac sign then one needs to get the moon worshipped for peace as well as harmony. You can proceed with the puja with Vedic Pandits. 
One can recite 'Ganesh Ashtottara', 'Sankatnashan Stotra' and 'Vakratunda Mahakaya' on this holy day of Sankashti Chaturthi. It is believed that if one does not recite or listen to the story of Lord Ganesha on Sankashti Chaturthi, then one's fast remains incomplete.
It is adviced from our side that you must listen to the story of this fast. Let's know about the story of this holy day which is specifically heard on fast.
Sankashti Chaturthi Story
Many stories are popular about Sankashti Chaturthi, but there is a story that is considered to be quite mythical on this day. One can take advantage of Sankashti Chaturthi by reading any Vrat Katha on this day. Here we will mention the popular stories of Sankashti Chaturthi. Here are four stories or Vrat Kathas that are mentioned on Sankashti Chaturthi.
First Story on Sankashti Chaturthi
The first story or Vrat Katha begins, according to this story Lord Ganesha wasn't invited to the wedding ceremony of Lord Vishnu and Mata Lakshmi mistakenly or due to some other reason. But even after this Lord Ganesha reached the wedding venue after a few minutes when other Gods insulted him and granted him the task of guarding the procession until the return of the succession. Narad Ji on seeing this, told Ganesh Ji that Vishnu Ji has insulted him by letting him sit here as well as advised him to send his mouse army ahead in the procession and they will dig the way ahead. This will lead the chariots of all processions and Lord Vishnu to sink into the earth because of which Lord Ganesha might receive a respectful call.
Listening to this, Lord Ganesha sent his mouse army to the procession and the army completely dug the ground from inside. When Shri Vishnu's procession reached there to see what was happening, his chariots sank into the ground and nobody was able to remove the wheels of the chariot. On seeing this, Narad Ji told everyone that they had insulted Lord Ganesha which was not fair at all and they should impress him and call him respectfully which might solve their problem and the crisis could be prevented.
After this, everyone called Ganesh Ji and requested him to resolve the situation. The farmer working in the field was called and when he heard about the chariot being pulled out, he folded his hands and closed his eyes as well as started chanting the mantras of Lord Ganesha as "Shri Ganeshaya Namah" memorising the name of Ganesh Ji in his mind. Slowly all the chariots left.
On being asked how he easily removed the chariot after it was fixed, the farmer replied that though all the Gods might not have celebrated Ganesha which was the only reason why Ganesha wasn't with them and they faced a crisis. Only the mere remembrance of Lord Ganesha removes all the troubles and hardships. Soon, Lord Vishnu realised his mistake and apologised to Shri Ganesha. Since then people have understood the significance of Sankashti Chaturthi! 
Second Story of Sankashti Chaturthi
Another popular story of Sankashti Chaturthi states that once all deities came together and were in some trouble. Due to this all of them went to Lord Bholenath to get rid of their problems and Kartikeya as well as Lord Ganesha were seated near to each other.
Lord Shankar Ji asked both Kartikeya and Ganesha whether any of them could solve the problems or crisis. Now, it became very difficult to authorise this task to any of them. After that, it was decided to test both Kartikeya and Ganesha Ji as well as it was said that one who will be able to encompass the earth first will go to solve the problems of the Gods. 
On hearing this, Kartikeya rode his vehicle peacock and started to drift around the earth so that he came first but Ganesh Ji's vehicle was a mouse on which it was difficult to encompass around the earth. So, Ganesh Ji thought differently and sat back going around his parents seven times whereas when Kartikeya returned he called himself the winner. When Shiv Ji asked Lord Ganesha about not circumambulating the earth then Ganesh Ji told, "All the worlds are at the feet of the parents" and gave this reason for encompassing his parents. 
Hearing this answer of Ganesh Ji, Shankar Ji ordered him to help all the Gods to get rid of their problems. On this day, Shankar Ji blessed Lord Ganesha that whoever worships and keeps the fast on the day of Chaturthi as well as offers Arghya to the moon in the night will be freed from all the three heats ie. Physical, divine and material heat. 
One who keeps fast on this day is blessed with all the material pleasures and all kinds of sorrows are removed. Since then fasting on this day of Sankashti Chaturthi removes all kinds of sorrows and material pleasures in life. 
Third Story on Sankashti Chaturthi
There is also the third story of Sankashti Chaturthi and it is also very popular. It is believed that there was a potter who lived in the kingdom of Satyasindhu King Harishchandra and whenever he made pottery, the pottery used to remain raw. Once a Tantrik advised him to throw a child with utensils into the fire in the furnace and he did the same. The child's mother felt helpless on not finding her child anywhere and prayed to Lord Ganesha for the wellness of her son.
The potter noticed on the second day that the utensils were cooked in the gooseberry but nothing happened to the child. This incident frightened the potter and he went to the kingdom to narrate this story to the King. King Harishchandra got astonished hearing this incident and called the woman where she told her that she prayed to Lord Ganesha to let her child be safe. That day was Chaturthi and that is why the day is well known as Sankashti Chaturthi. After this incident, the woman started fasting on the day of Sankashti Chaturthi for the wellness and good fortune of her child and family. 
Fourth Story on Sankashti Chaturthi
This Legend of Sankashti Chaturthi fast begins where Lord Shiva and Mother Parvati were sitting on the banks of Narmada. Mother Parvati expressed her feeling to play Chaupar and Lord Shankar agreed upon this but the question was who would decide the winner and the loser. Then Lord Shankar collected some straws, made an effigy out of it and gave it life ordering it to tell the winner or loser as there was no one to decide it.
After this, the game of Chaupar started between Lord Shiva and Mother Parvati. This game was played three times and every time Mother Parvati won the game but the boy (effigy) took his decision in favour of Lord Shiva and declared him victorious. On which Mother Parvati became very angry and cursed him to be lame and to lie in the mud. The boy apologised to Mother Parvati and told her that all of this happened by him unknowingly and he had not done this in any malicious spirit. 
After seeing him apologise, Mother Parvati told him that Nagkanyas would come to worship Lord Ganesha and if he keeps a fast as per the guidance of Nagkanyas, he might get her Darshan as well as might be blessed enough to walk on his feet. After this Nagkanyas told him to keep the fast for Lord Ganesha for 21 days. Ganesh Ji got pleased and told the boy to ask for any wish. On this, the boy replied, " Oh Lambodar Ganaraj! Please give me so much strength that I may walk on my feet such that I can reach Mount Kailash with your parents". On hearing, this Lord Ganesha blessed the boy with the boon and Lord Ganesha became meditative. 
When the boy reached Mount Kailash, he narrated the story to Lord Shankar. Mother Parvati was also angry with Lord Shiva because of the day. When Lord Shiva listened to the boy, he also kept the fast for 21 days for Ganesh Ji. Due to this fact, the resentment of Mother Parvati towards Lord Shiva ended. 
Lord Shankar told about this fast to Mother Parvati and she had the desire to meet her son Kartikeya. Mother Parvati too kept this fast for 21 days and worshipped Lord Ganesha with Durva, flowers and Laddoos. On the 21st day of the fast, Kartikeya himself came to meet Mother Parvati and since then Sankashti Chaturthi is dedicated to Shri Ganesha and helps to fulfil all the wishes. It is believed that this fast helps to remove all the sufferings of a person.
The Implication Of Moon On The Day Of Sankashti Chaturthi
This day of Sankashti Chaturthi is very special and only the sight of the moon on this holy day is considered to be auspicious. Many worshipers believe that one who fasts on this day and sees the moon is blessed with a prosperous life. Also, it is considered to be very lucky and the wishes of the worshipers are fulfilled. Childless couples keep fast on Sankashti Chaturthi to be blessed with a child. This festival of Sankashti Chaturthi is celebrated in every Lunar month and in each month Lord Ganesha is worshipped with a different name and Peeta ie. Lotus Petals. 
With divine blessings, you must need to know what your future holds. Talk to astrologers to know in detail. First consultation is FREE!
It is a special day to get rid of all the problems and be blessed by Lord Ganesha.