Academic Yearly Predictions Of 2022 Gemini Education Horoscope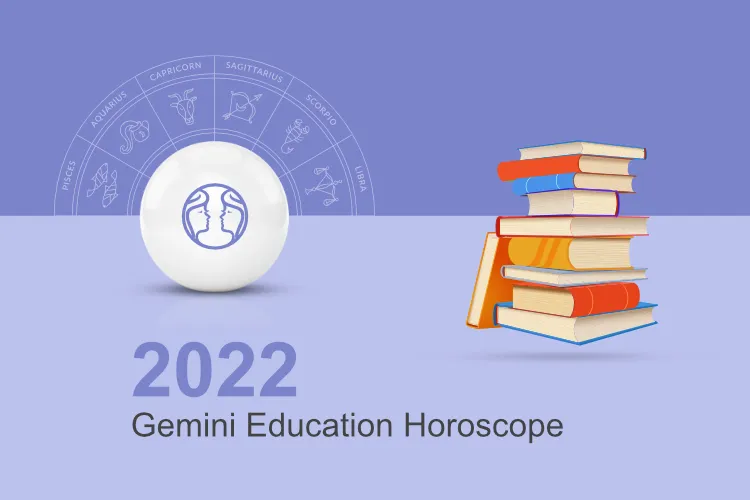 Academically, the year 2022 might be a good year for students pursuing professional courses, as per Gemini education horoscope 2022. Your inclination to learn and practice what you have learned is likely to be very well applied to this day. Therefore, you may get desired results in your academic life might be high in 2022. This year is likely to be good for hardworking students born under the sign of Gemini. Now, let us make note of the expert's predictions for Gemini individuals.
Gemini Natives May Unlock Achievements
Academic life is considered to be the best phase in one's life. Just like that, natives of Gemini would be focused on their educational goals and they may get big achievements in life. This attitude of yours is likely to be rewarding in the days to come, expects the 2022 Gemini education horoscope. You may be clear in your mind with your future learning, should you take up a choice this year. Thanks to the planetary combination that would possibly enable you to take up smooth decisions. Fortunately, sometimes the situation turns favorable without much effort from our side.
Aspirants May Get Positive Results In Competative Exams
Hardworking natives' efforts may not go in vain and you might get what you deserve. Some of you may join an online course to enhance learning and communication skills. Your focus and certainty level is also likely to increase which might help you in memorizing things effectively. The period after the second quarter of the year might be excellent for all those who are willing to sit for competitive exams, says Gemini 2022 education horoscope.
Students planning to take up such exams can work on them accordingly and carefully. Ensure that you do not burn your valuable time on pointless activities and make the most of the opportunities that come your way. Overall, it seems an exciting year for the Gemini students. Even students pursuing board exams are likely to do well this year. This year your efforts are most likely to do well to improve your academic performance.
Gemini Students May Go Abroad For Studies
Students who are planning to travel abroad for higher studies are likely to get opportunities by towards the end of the year, expects Gemini education horoscope 2022. This might be a phase where your merit would be tested and you would stand for what you have been following rigorously. So, fasten your seat belt and make all the progress that you are bound for this year. You are most likely to achieve the required excel.
Expert's Advice
For Individuals of Gemini, the next year may bring you favourable results in regards to your academics. Your efforts, dedication, and focus won't go in vain and are likely to allow you to achieve success. However, you should maintain your focus on your studies. You should not waste your time on unnecessary activities, suggests Gemini 2022 education horoscope.
Gemini Career & Business Horoscope 2022
Gemini Love & Relationship Horoscope 2022
Gemini Health & Fitness Horoscope 2022
Gemini Marriage Horoscope 2022
Gemini Finance Horoscope 2022
Gemini Wealth & Property Horoscope 2022