Good and Bad Things About The Conjunction of Moon and Mars in 1st house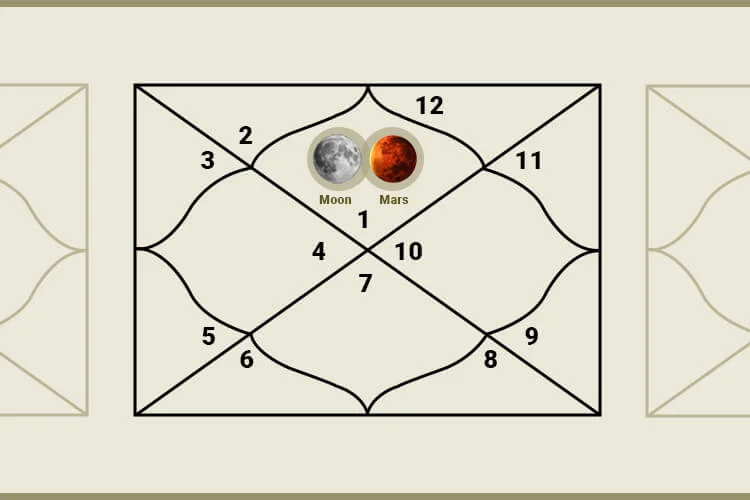 Imagine you and your best friends spending the happy moments of life under the same roof. Cool, isn't it? Similarly, if we talk about astronomy, Moon and Mars are good friends of each other too. And they love to spend time together, which means this conjunction may bless you with life comforts and a charming personality. The duo of Moon and Mars may help you enhance wealth, knowledge, and wisdom. This conjunction assists you to acquire a top position in your job and occupation.
The cool Moon may bless you with mental abilities, work efficiency, and creativity. Whereas the red planet Mars may give you self-confidence, enthusiasm, and management skills. Therefore, you will be busier with your work targets. You may have the dedication to achieve your targets before the deadlines. If there is an aspect of auspicious planets, you may invest your time and energy for the better purpose of society.
On the flip side, Mars Moon Conjunction in the 1st ascendant house may invite trouble for you if affiliated with bad planets. And so, you may need to take care of your speech while having conversations with others. Mercury's intervention may require reducing the bad effects of this conjunction and sharpening your communication skills. Alright mate, it's time to throw more light on this topic. So stay put and give a full read.
---
What Does Moon and Mars in First House Mean?
The 1st house is associated with the physical appearance, traits and characteristics of yourself. It is also known as the Lagna house or ascendant house in terms of astrology. If Moon and Mars unite in this house, you may develop a great and admirable personality. The presence of the Moon will make you a tad emotional and courageous, and the furious Mars may want you to be more aggressive.
This combination works well for you in certain areas as the duo of mars in conjunction with the moon will improvise your decision-making skills. You will be able to make hurried decisions, and you will better vision to see the bigger picture. The two benefic planets of the same house will help you generate good wealth and prosperity. Your excellent work may stay in the limelight for a long time because of the association of these planets.
Moreover, these two planets in the Lagna house signify Chandra Mangal Yoga. One of the auspicious yoga of astrology, Chandra Mangal Yoga, may provide you with plenty of favourable results in your life. You may look forward to life with an optimistic approach. Whenever this conjunction of moon and mars, it is also known as Mahabhagya yoga as it blesses you with mental strength and happiness in life.
Influence of Moon and Mars conjunction in 1st house
Personality
Career growth
Life attitude
Family relations
---
Impacts Of Moon and Mars Conjunction In The 1st House On Personality
If Moon and Mars are inside the same house in the individual's birth chart, it may help you polish your good image. You may develop a great personality by remaining active in social work. Later, your work may get appreciation from others, and you may find a good position in society. Moreover, these two planets may guide you on the right path to earn a name, fame, and respect from the people around you.
The conjunction of the Moon and Mars indicates that you may possess an emotional attachment. You always carry a soft corner in your heart for others. Therefore, you may often participate in charity works or generous deeds. This association may not have harmful effects on your personality as the duo of Moon and Mars forms a promising combination. And so, you may develop a charming personality.
---
Impacts Of Moon and Mars Conjunction In The 1st House On Marriage
Individuals having strong Mars associated with the Moon may have a straining relationship. You and your partner may need combined effort to survive the difficult times. This combination makes you jealous of your spouse. Your partner may prove his/her worth to make crucial decisions. This may create holes in your relationship, and you may further indulge in arguments or small fights.
Things may turn around if there is a presence of Venus in the same house. The god of love may help you reduce the adverse effects of the Moon and Mars. You may win your partner's trust by developing formidable connections. Also, you may find peace and harmony in your relationship. Thus, the conjunction of the Moon and Mars needs the contact of benefic planets to blossom your marriage life. Otherwise, it will be a bitter pill to swallow.
---
Impacts Of Moon and Mars Conjunction In The 1st House On Career
The combination of the Moon and Mars in the Lagna house gives thumbs up to your career growth. You will be able to concentrate on your studies, and you may remain successful in earning scores in exams. Your strong determination and willing power perhaps assist you in finding stable growth of career or business. If you have a strong Moon, you may expand your business by developing new contacts in daily life.
However, a debilitated Moon will make sure you lack concentration on your work, and as a result, you may suffer from business loss. In this conjunction, if the red planet Mars not aspected by any bad planets, you may recover from a bad phase and move on to earn profit. Overall, this conjunction brings minor ups and downs in your career path.
---
Remedies for Moon Mars Conjunction In First House
Below are the best ways to reduce the effects of Moon and Mars in 1st house
Take care of your mother and respect her
Keep Lord Hanuman in your prayers
Recite Hanuman Chalisa
Is Moon or Mars under the aspect of malefic planets? Analyse Your Free Janampatri
---
Wrapping Up
The Moon and Mars are a perfect combination that gives you fresh energy, abilities, and creativity. The union of Mars and the Moon helps you to achieve new heights in your profession or career. Also, the duo blesses you with a good sense and humour so that you may form an admirable image in society. Your personality may reflect, and you may receive appreciation from others as well. Apart from this, this combination offers little help in your marriage life. It is advisable that you should listen to and respect your partner's decision to avoid straining a relationship.
Is the Moon or Mars under the aspect of malefic planets? Analyse Your Free Janampatri
---
---