Sun and Mars Conjunction In 1st House: Curse or Blessing?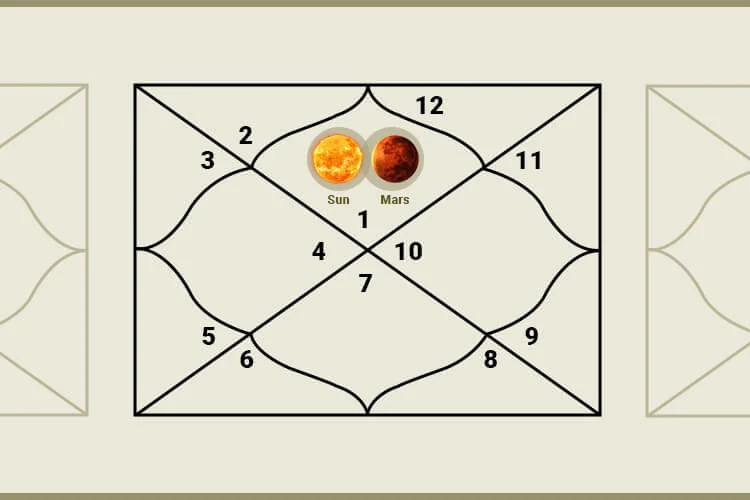 The celestial father Sun is itself a big star, which is the source of fresh energy, name, fame, and good social status. And the red planet Mars is the significator of strength, aggressiveness, and siblings. If these two comes under one roof, you can expect a better life, and you are likely to find the ladder of success. This union signifies the meeting of the soul and the will power. Both the planets may guide you to choose the right profession. You may able to defeat the toughest challenges before accomplishing the life goals.
The conjunction of Sun and Mars may provide your self-confidence, physical strength, and positivity in mind. You would be hungry to complete your task before the deadlines. It inspires you to win over your life obstacles. Here, the red planet may make you aggressive, so your generous works may get overshadowed by wrong deeds. It is suggested you should calmly deal with the difficult situations, or else only you would be responsible for your own misfortune.
If there is an association of Sun and Mars in the 1st house, it may form one of the strongest combinations of astronomy. You may achieve new things in life while on your way to fulfil your wishes. You would be confident to handle the tough task in your professional life. This may even help you in making the right decision. But sometimes, you may get furious over unnecessary things too. Be with us to explore more about this conjunction.
---
What Does Sun Conjunct Mars Mean?
It means that the union of Sun and Mars takes place inside the same house. If this conjunction is in 1st house, you may possess strong determination and eagerness. You may continue to make progress in your life, no matter what life hurdles comes your way. You may not wait for things to happen as you look forward to life and ready to go through any situation. Natives with this combination are leaders, who are ready to move mountains to taste victory.
The accurate result of this combination depends on the position and sign. If this conjunction of Sun and Mars takes place in the sign of Aries, Leo, Capricorn, or Scorpio, you may have an easy-going attitude and may have fewer struggles. If the Sun and Moon unite in the sign of Taurus or Libra, you may enhance your creativity and innovative ideas. Otherwise, if the conjunction appears in the sign of Gemini or Virgo, you may earn desired profit via the small business.
Sun and Mars in 1st house will make you impatient and short-tempered. You may not mind what others think of you. You will keep fighting to prove your point doing arguments with others. If Sun and Moon are strong in the Navmasha chart, it may bless you with positive results. However, if both the planets are weak in the Navmasha chart, you may fall short of success in your mid-age. In this conjunction, whichever planet holds the lowest degree, take the charge of the entire conjunction.
Also Read :- Check out the timetable of upcoming September planetary transits 2021. Let our experts assist you to understand astrological events in detail.
---
Impacts Of Sun And Mars Conjunction In The 1st House On Personality
Natives with the combination of Sun and Mars may have the ability to form a strong self-image in society. You will be brave and full of fresh energy to deal with any life problems. Due to the presence of Mars, you may not able to control your anger and aggression in your life. So, you should try to control such things. Otherwise, it may hamper your image. With this combination, you are likely to take risks, and so, you may indulge in gambling or speculation.
The union between these two planets indicates that your ego may create life issues. And you may spoil relations with your close ones. Negatively, it may take only minute or two to make you angry or frustrate. Job professionals with this combination may develop good leadership skills due to the presence of Sun. Apart from this, you will be centre of attraction for the people around you. Your positive thoughts may inspire you to achieve big targets. If the Sun is leading the charge of conjunction, it will help you earn fame and respect.
---
Impacts of Sun and Mars Conjunction in The 1st House on Marriage
The conjunction of the Sun and Mars in one of the Kendra houses may affect your marriage relationship. This union may assist you in finding a caring and loving life partner. But as the 7th house is aspected by Mars, you may have unfriendly relations with your spouse. You and your partner may indulge in small fights or confrontations over unnecessary things. You may not keep his or her words, and it may hurt your partner's feelings.
However, if you have weak Mars or if Mars is aspected by the auspicious planet, you may enjoy quality time with your partner. You may add blossom to your marriage relationship as Mars has an aspect of Venus, or Jupiter will not be effective in the house of marriage. This combination may further help you to form long-lasting relations with your husband or wife. You may need a partner who can guide you in the right direction.
---
Impacts of Sun and Mars Conjunction in the 1st House on Career
The combo of the Sun and Mars gives you career success from middle age. You are likely to possess great leadership qualities, and therefore, you may achieve a higher position in MNC companies. You may become a decent Boss/chief, who keeps shouting at their employees. This is true only because of Mars's characteristics that will make you stubborn and aggressive.
Also, you are likely to get opportunities to work in the government sector. Later, you may perform well as a government servant. You may choose your profession as army, police, or guard. As said, your quest for emerging as victorious is like never. And to taste the victory (goals), you may cross your limits. These qualities of yours suggest that you are goal-oriented. You may motivate or lead your colleagues to find success in your work.
Want to know the timeline of Career success? Talk To Astrologer…
---
Remedies for Sun and Mars Conjunction
Below are the tips to reduce the effects of Sun and Mars conjunction in 1st house
If Sun is weak, kindly consider getting married before 24
Don't indulge with saints, sage, or Faqirs
Visit Lord Ganesha temple every day
Chant Gayatri mantra to avoid bad impacts
---
Wrapping Up
Ultimately, it can be said that the Sun and Mars conjunction in 1st house may provide a positive result in the career or professional life. Natives with this conjunction may need to take care of their health. You should also be attentive towards your father's health as this combination may prove unfavourable for him. In regards to your marriage, you should develop formidable connections with your spouse. Otherwise, Mars of 1st house may hamper your marriage life goals.
---
---