Jupiter In The Eighth House: Vedic Astrology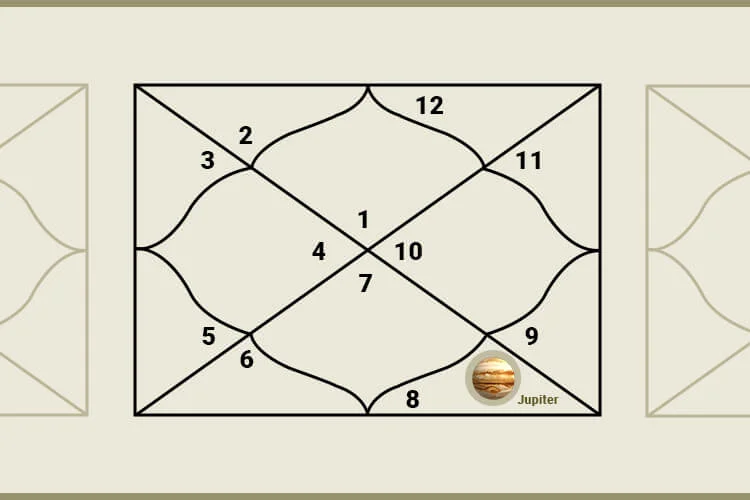 ---
Introduction
Can we have a shoutout for a bigger one, please? The grand, magnificent, and beloved spiritual mentor, Jupiter receives a welcome where it goes. The placement of this benevolent planet Jupiter in the 8th house means the native is likely to be optimistic and cooperative. Astrological theories also suggest that Jupiter from the 8th house may help you receive money from your life partner as well. Really? Yaas, not only from your partner but also from your other family members and friends as well. Morality, gratitude, and hope are some important characteristics of Jupiter. It also offers reach, purpose, and possibilities.
Auspicious Jupiter is always ready to shower blessings on you. But if the yellow-coloured planet is aspected by any malefic planets, then it may have adverse effects on natives' lives. And because of that, it may create issues in your marriage relationship, health, education, and progeny. Now, some of you might be wondering if the placement of Jupiter in the 8th house is good or bad. So, without wasting a minute, quickly move on to check the relevant answer.
---
Is Jupiter In The 8th House Good?
If Jupiter is lord of the 8th house and it is posited in the other house, then you may get unfavourable results from that house where Jupiter is passing through. Here, it is also important to check the strength of the transiting Jupiter. Usually, Jupiter's presence in the 8th house makes native intuitive and demands more hard work. Natives take interest in solving puzzles and mysterious things. Strong Jupiter transiting in its own ruling sign signifies that the natives may overcome any health issues or disease. It further helps them to move toward spiritual life. On the other hand, those who have weak Jupiter may face several health troubles.
Jupiter in the eighth house mainly affects these below-listed areas:
Career growth
Profession
Analytical skills
Wealth & Property
---
Positive Impact Of Jupiter Transiting In The 8th House
Whenever Jupiter moves to the 8th house, natives may improve their devising strategies, they carry out research work and investigation on their favourite topics. Natives may quickly get to the root of any issues which helps them to find the exact answers. They may have a fun time solving complex problems and simplifying mysteries. They reunite with their life partner, both emotionally and materially. They lay down with their partner in bed to involve themselves in taboo things.
Transiting Jupiter in the eighth house may bless natives to sharpen their planning and once they are done with it, they may perfectly execute their plans at their disposal to ensure they get favourable outcomes. Natives may develop positivity, and faith in mysticism and may discover spirituality in their life. Natives may receive fresh energy and positive vibes which they like to send to the world because they believe if they do, then good things may arrive back. Moreover, it is notable that Jupiter in 8th house Vedic astrology insists the natives work very hard. It also improves their personality, so that they become a good person and stay loyal to their partners. Other than that, natives who have Jupiter in the 8th house can achieve huge financial gains by inheriting property and other assets. Natives may also receive an inheritance from their in-laws as well. They become more intuitive, compassionate, and highly sensitive to healing their psychic wounds.
Natives who have Jupiter present in the eighth house are pretty good at handling financial matters and therefore they can have a fine grip over a good financial position. According to the horoscope, natives may possess psychic abilities which they normally use to heal their sufferings. If the house is negatively influenced by Jupiter of the 8th house, it may slowly create life hurdles. They may become a tad secretive by nature and refrain from sharing too many things with their close ones. They stay socially active and develop a large social group despite making fewer efforts. They become a loyal and dedicated life partner, caring family members, and best friends of their pals. Female natives who have Jupiter in the 8th house may get caring and loving life partners.
---
Negative Impact Of Jupiter Transiting In The 8th House
Natives who have weak or unfavorably-placed Jupiter in the 8th house may not receive blessings from the auspicious planet. This is possible because of Jupiter's association with malefic planets, the planet Jupiter is under negative aspects of other planets. And this type of Jupiter association may hamper the wealth status of natives. It may create obstacles and delays of pending works related to inheritance property.
Healthwise, natives suffering from the negative influence of Jupiter may face health problems like malaria, cholera, or other viral infections. Also, they may complain of muscular pain or may suffer from joints pain. Negative impacts of Jupiter may cause accidental death or kidney failure too.
If Jupiter is retrograde in the 8th house, it may badly affect the natives' lives. They become introverted and avoid participating in social gatherings. Even they don't share their views whenever they get asked for. They avoid having long convos with their close ones. As a result, they struggle to form a balanced personality and may run out of emotionality. Later, it becomes a tough nut to crack for anyone and it may create major issues in a native's life.
---
Which House Is Bad For Jupiter?
The planet Jupiter forming a conjunction with Venus or Mercury in the 10th house may give have negative effects on the natives. True, Jupiter never provides adverse effects but if the planet is associated with malefic planets like Saturn, Rahu, or Ketu, it may have a negative impact on natives. The 6th, 7th and 10th houses considered are unfavourable for Jupiter. The placement of Jupiter in the 6th house means that the yellow planet will be conjunct with Mercury and Ketu. It makes the native very selfish. Whereas, its placement in the 7th house which belongs to Venus may give mixed results to the natives. The house of profession, the 10th house is owned by Saturn and so the natives possessing the traits of Saturn can only have the taste of positive results. The Association of poised Jupiter with Saturn in the 10th house may give mental stress to the natives.
---
Wrapping Up
Inching closer towards the end, it's time for us to rewind the things we learned in this blog. We guess you have a complete idea about Jupiter occupying the 8th house. We found some positive traits that natives may find spirituality, develop analytical skills, and efficiency in work. And about negative traits? Natives may face health issues and financial woes too. Alright, it's time for us to switch off the lights but you can scroll down some similar blogs on our astro-tech platform.
---
---