Jupiter In 4th House: Know About Its Effects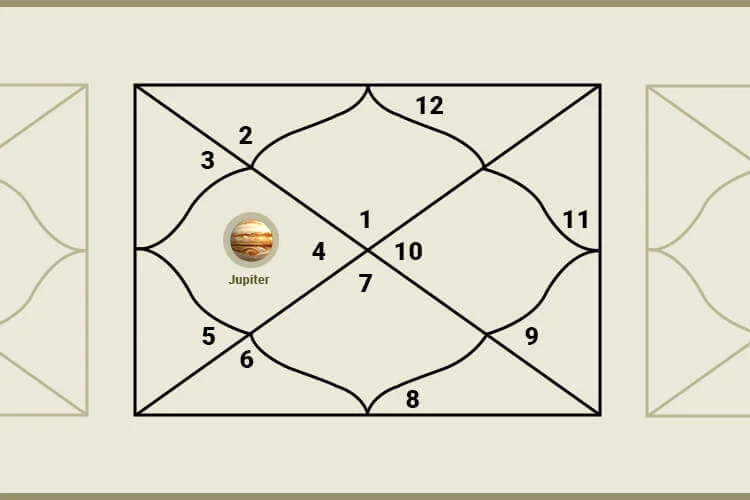 ---
Introduction
Once, they said, "Jupiter is a slow-moving planet". In return, Jupiter took it so seriously that it immediately sent them fresh energy and a bunch of blessings to make them realize why it is at a slow pace. Oh, how lovely Jupiter! Thus, we got to know that the yellow-coloured planet is busy pouring blessings on natives, which is why it runs slowly.
But as far as it keeps us providing so many auspicious things, the natives won't mind about its speed. If Jupiter transit in the 4th house, it may make natives' lives more comfortable by adding doses of happiness.
Individuals with Guru in 4th house are wise, generous, highly spiritual, knowledgeable, and able to learn things quickly. Folks, now it's time to check what happens when the benevolent Jupiter is in the fourth house. So, follow us to know more.
---
What Happens If Jupiter Is In The 4th House?
In Astrology, the 4th house is considered 'the house of happiness. When the auspicious planet Jupiter is present in this house, it could be the icing on the cake. Yaas, because Jupiter provides all the possible help to the native in the form of good fortune, abundance, and enthusiasm to learn new things from their childhood days.
Natives who have Jupiter in their 4th house may be affluent, or you may find them around an island. They usually get accompanied by their friends because of their easygoing attitude. Jupiter in 4th house synastry career-related goals can be achieved.
The 4th house belongs to the Cancer sign, so the natives having Jupiter in the 4th house may not like to lose the comforts of home. This further simplifies why natives keep themselves busy renovating their houses.
They decorate their house by adding eye-catching designs on the wall and then invite their close ones to spend an unforgettable time with them. This benefic planet entering the fourth house also guides natives to get the taste of a luxurious lifestyle, but in return, it demands hard work too.
Areas of Life Affected By Jupiter in the 4th house
Wealth
Spirituality
Intelligence
Relationship
Real Estate
Business
Internal Affairs
---
Impact of Jupiter In 4th House
Positive Effects Of Jupiter
Jupiter in 4th house, marriage house, may bring plenty of favourable outcomes. Individuals associated with the real estate business may have unexpected gains. Also, with Jupiter in the 4th house, they may achieve a balanced relationship with their spouse.
The natives may take an interest in religious activities and traditions. They may get the upper hand in their financial matters by earning maximum profits. However, they may get a chance to restore happiness in their life during Jupiter's transit in the fourth house.
Natives who have a strong Jupiter in the 4th house may buy essential luxury items like their own home, land, or vehicle. When a natal Jupiter is present in the house of happiness, natives will show creativity and productivity in their task.
They will lend a helping hand to others, which will help them to build strong bondings. By doing this, they may feel much relaxed and may have internal satisfaction. Married natives may have proper understanding and fun-loving connections with their partners.
Negative Effects Of Jupiter
Natives having Jupiter affiliated with malefic planets in the 4th house may create multiple financial woes. They may spoil relations with their business partners. Also, they may have less optimism in their life. Furthermore, Jupiter in the fourth house may dent relations with your mother or spouse.
However, the natives may lose their decision-making skills as it will get hamper by transiting Jupiter in the fourth house. Also, it may reduce the intelligence level of the natives.
Individuals with Jupiter in the 4th house seem lazy, as if they don't want to step out from their homes. Agreed, the natives may invest in luxury items, but due to Jupiter's presence in the 4th house, natives may suffer a huge loss.
As a result, natives may lose their significant assets. They may have a loss in the stock market, and the list of their problems may extend.
---
Conclusion
On a conclusive note, it has been found that the 4th house is quite comfortable for Jupiter, from which the planet may have more positive impacts on natives. Turning the tables, some of the things may not go well for the natives. Nevertheless, if Jupiter is on your side, it may help you to overcome the challenging times.
---
---