Mercury In 9th House – Impacts On Personality, Marriage & Professional Life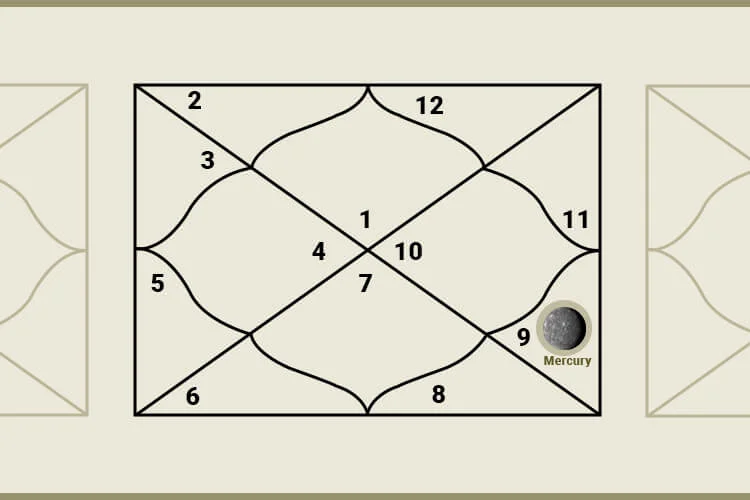 Mercury is commonly known as the messenger of God, and it can be beneficial in many ways to the natives. Mercury is the smallest planet in the celestial world. It is the provider of communication, intelligence and analytical abilities. Also, MercuryMercury provides the capabilities to gather information and curiosity to learn something new. Mercury may bless you to develop a strong mentality and intellectual mind.
It is important to check the placement of Mercury to learn about its traits and impacts on the native's life. If Mercury is forming a conjunction with friendly planets, it may give you favourable outcomes. But it can not be said the same if it is sharing space with malefic planets or enemies. If Mercury is under the aspect of any bad planets, it may not give you its special blessings. And as a result, you may suffer loss in significant areas of life.
The placement of Mercury in the 9th house may offer help to its natives. But at the same time, it may bring responsibilities and chaos in their daily life. Mercury in the 9th house synastry means that you may have good knowledge and information. You would be fond of materialistic pleasure and spirituality in life. Also, you may invest your time and expertise in religious activities or social events. Let's check in detail about the 9th house MercuryMercury.
---
What Does Mercury In 9th House Mean?
Basically, it states that Mercury is placed in the ninth house from the Lagna house. This 9th house is associated with good luck, fortune and father. So, if Mercury is present in this house, it may help you acquire knowledge and wealth. It may also help you achieve higher ranks in education, and because of that, you may develop a successful career.
Strong Mercury in the 9th house may sharpen your communication skills and thinking process. This benefic planet may provide you with abilities to resolve complex problems quickly. You could be the inspiration to the people around you. If Mercury is associated with the 2nd or 11th house lord, you may have a stable income and good financial status.
This is the position from where Mercury may bring mixed results in your life. The 9th house Mercury will allow you to use your talent in minting more money. This placement also offers love and satisfaction in your marital relationship. If Mercury is forming a conjunction with malefic planets, you may get unfavourable outcomes.
Influence Of Mercury In The 9th House
Knowledge
Personality
Self-attitude
Education
---
Impacts Of The Mercury In The 9th House On Your Personality
Individuals having Mercury in the 9th house are likely to possess a vigorous personality. Your quest to keep vast knowledge is never-ending, so you may never get bored trying new things. Moreover, you will be fond of researching and browsing new items on the internet. And later, you will love to share your views and philosophies with others as well.
Mercury in 9th house House Astrology Vedic astrology suggests that you will be good at making decisions. You may lend support while working on group projects. You will be open to accepting changes around you. By doing so, you will be able to win the trust of others. You may slowly form a good image. And because of this, people may offer respect and admiration.
---
Impacts Of The Mercury In The 9th House On Your Marriage
If Mercury is placed inside the 9th house, you can expect peace and harmony in your marriage life. Mercury in the 9th house marriage life will be fun-loving and sweet. You may get a caring spouse and loving children with this placement. It is possible that your spouse will be talkative and interactive. But, he or she will be loyal and faithful to you. You will have life-extended support and commitment from your spouse.
Similarly, natives who are about to get married may go on to develop a successful marriage life. Also, it would be easier to find your soulmate with whom you can spend your entire life. Or you may find your perfect life partner from your school days. This placement indicates that you may achieve your marriage goals, regardless of arranged marriage or a love marriage.
---
Impacts Of The Mercury In The 9th House On Your Career
Mercury in the ninth house represents that you will have excellent writing and learning skills. And therefore, you may develop a successful career as a professor, coach, or lecturer. Plus, you will be good at managing difficult tasks, and that's why you may perform well in the banking sector or marketing field. You may also achieve good wealth via small businesses. You will be under the supervision of Mercury while pursuing your education, so you expect good results.
Mercury in the 9th house may inspire you to complete your higher education. And to do so, you may go miles away from your native place. You may travel abroad to make remarkable progress in your career. Thereafter, you may plan for settlement in a foreign land. As said, you love to collect and share knowledge. Hence, you may become a good writer, blogger, or publisher.
Don't miss an important update on upcoming Big Astro events! Sign Up Now!…
---
Mercury In 9th House Remedies
Keep earthen pot filled with Mushroom near the home temple
Refrain from accepting things from sage or sadhus
Give fodder to cow
Offer water to the Tulsi plant at your house
---
Wrapping Up
On a conclusive note, we found that Mercury gives favourable results in the house of destiny. Mercury is one of the benefic planets, so its aspect may reduce the bad effects of malefic planets as well. The combination of the 9th house and Mercury blends perfectly for its natives that it provides more benefits in life. Also, the 9th house Mercury will stand by your side to find the perfect partner and make sure your marriage life blossom.
Besides, the benefic planets may guide you to the correct path of your career. You may receive proper education from a very young age. Folks, that's all for Mercury in the 9th house. Hope you liked this informative blog.
---
---