Know About Famous Capricorn Celebrities – The Earnest Hustlers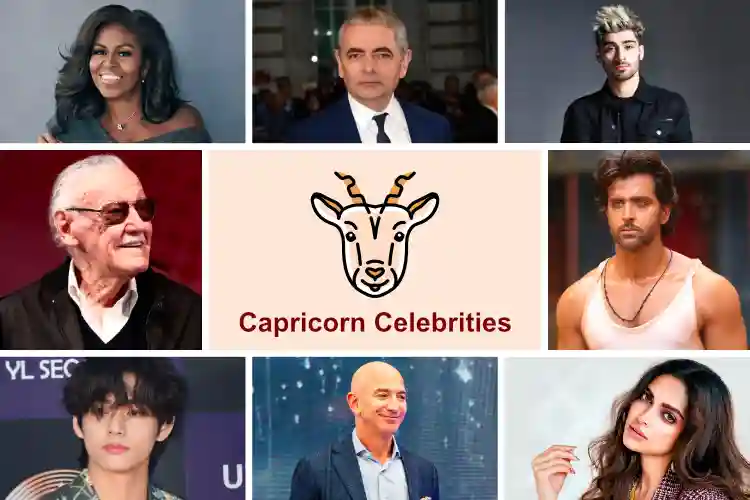 The sign Capricorn is considered the most ambitious and hard-working among all the zodiac signs. To understand the characteristics of the zodiac sign Capricorn, you must first understand the zodiac sign Capricorn. In this article, we will discuss famous Capricorn celebrities. Taking a look at famous Capricorn birthdays as well as the qualities that Capricorn celebrities make them respectable in public.
So without any further ado, let's start exploring Capricorn celebrities.
---
The Capricorn Zodiac - A Practical & Earnest Hustler
The Capricorn can be said to be the most determined of all the Zodiac signs. Goats are known for their qualities of ambition, practicality, determination, efficiency, and helpfulness, thanks to their character traits. Capricorn traits make them excellent team leaders because they are steadfast in their commitment to their work, responsible, and sincere.
You may see that in many Capricorn celebrities. As a result, their reputation is that of workaholics, emotionally detached individuals, and apathetic. Though goats often exhibit negative characteristics such as doubt, resentment, inhibition, pessimism, and stubbornness, their hearts are full of humility. Their soft interior is protected from harm by a softshell. Hard outer shells act as a barrier to protect them.
Capricorns are generally honest, straightforward, humble, and true to themselves. It is in the nature of these individuals to never settle for what has been done before but always learn and improve. In addition to being aware of their flaws, they strive to improve them on a daily basis.
Capricorns are also humble because Saturn, whom they are ruled by, is a demanding planet and makes them work hard for all they wish to accomplish in their lives.
Effort and hard work are essential to their progress and prosperity, and they hate shortcuts. Despite their reputation, they are actually humble and have a strong nurturing ideology. A person's loving and caring side is revealed after they see the other side of their character. In order to achieve their ambition, they aren't afraid to work even during lunch or holidays. The sense of responsibility and dedication they possess is exceptional, and any confusion they encounter is no match for them.
They are intensely practical and determined to succeed to the point of being stubborn. Those who work hard achieve fame, prestige, and money as a reward for their efforts. However, such qualities make famous Capricorn celebrities male or Capricorn celebrities female, admirable and respectable. It is rare for Capricorns to make concessions that lessen their hard work because they are honest, hardworking, ambitious, generous, tolerant, patient, and reliable.
The path to self-contained living is achieved by remaining disciplined throughout all difficulties. Having a sense of duty, being selfless, and being dedicated is just part of what they do. The firmness of their goals makes them respected. In addition to being moody, they tend to be quite destructive. As a result of their experiences, they come to be respected in later life.
Consult Expert Astrologers to know about Which zodiac can get fame easily?
---
Famous Capricorn Celebrities Who You May Know
Michelle Obama (Jan 17, 1964)
A Capricorn celebrity who made a huge impact on society would be the first lady of the USA, Michelle Obama. From making strong speeches to being a fashion icon to making a difference in the world, she does it all flawlessly by working hard on her goals.
Martin Luther King Jr. (Jan 15, 1929)
The legendary famous Capricorn celebrity who made America what it is today is the one who devoted his life to making it the progressive country it is. This Capricorn man promoted progressive activism against racial prejudice and was determined to pass the civil rights act of 1964, which abolished discrimination based on race, color or origin of nationality.
Rowan Atkinson (Jan 6, 1955)
It would be impossible to talk about Capricorn actors without mentioning Rowan, aka "Mr. Bean". He once stated, "But I always feel that whatever I do, I could do better. I suppose it is perfectionism." We can see his drive to keep improving in spite of his natural talent for being hilarious. In fact, it's not even surprising that he was destined for fame because he excels in everything he does.
Zayn Malik (Jan 12, 1993)
As far as the most famous Capricorn male is concerned, it could well be Zayn Malik due to his fame soared through former group One Direction. Known for his silky smooth voice, which is guaranteed to melt your heart, this singer is an absolute heartthrob.
Get all the astrological predictions about your favorite celebrity, Download MyPandit App. now.
Sir Isaac Newton (Jan 4, 1643)
Now, coming to the Famous famous Capricorn in history, Sir Isaac Newton, who was a revolutionary figure in the scientific world during the 17th century. His theorems and inventions of calculus, gravitational force and laws of motion are usually studied in science. He was a master of astronomy, mathematics, physics, chemistry and theology. His poor background didn't stop him from achieving his passion for physics and mathematics.
Stan Lee (Dec 28, 1922)
Speaking of Capricorn celebrities, how can we not add the creator of all those characters in Marvel comic books was Stan Lee. You may have seen him in multiple Marvel movies as a random old man, but he is the one behind all the characters you love in Marvel films. Eventually, this famous Capricorn comic book writer opened the doors for comics as we know them today. Rather than 'stories for children,' he considered comic books to be a form of education.
Haruki Murakami (Jan 12, 1949)
Haruki Murakami is a Japanese novelist who was inspired to become a writer by a baseball player who hit a double. Sputnik Sweetheart, The Wind-Up Bird Chronicle, Norwegian Wood, and Kafka on the Shore are among his many best sellers in Japan and around the world. Almost all of Japan's literary awards have been won by him. Interestingly enough, before he began to write, he was a jazz bar owner and accomplished runner.
Stephen Hawkings (Jan 8, 1942)
The Famous Capricorn scientist we came across is the genius of the modern age, Stephen Hawkings. He is well known for his discoveries and research concerning previously researched theories such as the laws of black hole mechanics, the Cosmic Inflation Theory, and the top-down theory of cosmology.
Kim Taehyung (V) (BTS) (Dec 30, 1995)
This famous Capricorn man is a member of the popular boy band BTS. In the world of 2020, he has been known for being the most handsome man in the world due to his extremely impressive features. According to the fans, his sultry, soulful voice feels like a blanket on cold days. It is heartwarming to see him being as honest as he can with his feelings and being dedicated to his work and fans.
Jeff Bezos (Jan 12, 1964)
He is the founder and CEO of Amazon and the wealthiest person in the world. His interest in engineering began at a young age, and he started his business at a young age. By the time he was 35, he had become a self-made billionaire. Along with Amazon, he owns Rocket Lab and The Washington Post newspaper company.
Hrithik Roshan (Jan 10, 1974)
This Capricorn actor has been dubbed the Greek God of Bollywood in the Hindi film industry because of his looks. 'Pyaar Hai' broke records in the Limca book of records by receiving 102 awards. He performs stunts without a body double and does captivating dance even though he has problems with chronic scoliosis makes him impressive. His debut film as an adult, Kaho Naa… Pyar Hai.
Deepika Padukone (Jan 5, 1986)
Speaking of Capricorn celebrities, Deepika Padukone is the top-paid actress in Bollywood. It is common for girls to swoon over their looks in movies and red carpet appearances as she looks beautiful no matter what she wears. She dominated Bollywood in her 30s with her striking physicality and her acting skills. As a national-level badminton player and a state-level baseball player, she has also accomplished in sports.
As these celebrities were born under the sign of Capricorn, it can be said that they showed Capricorn traits, but there is no one way to predict an individual's career or life path. Another way you can see that other things drive an individual's progress is when you look at their birth chart and planet positions.
We hope you guys enjoyed reading about Capricorn celebrities.
The most reliable way to understand the depths of your personality and your future is to Talk to Our Expert Astrologers
---
---