Pisces and Scorpio Friendship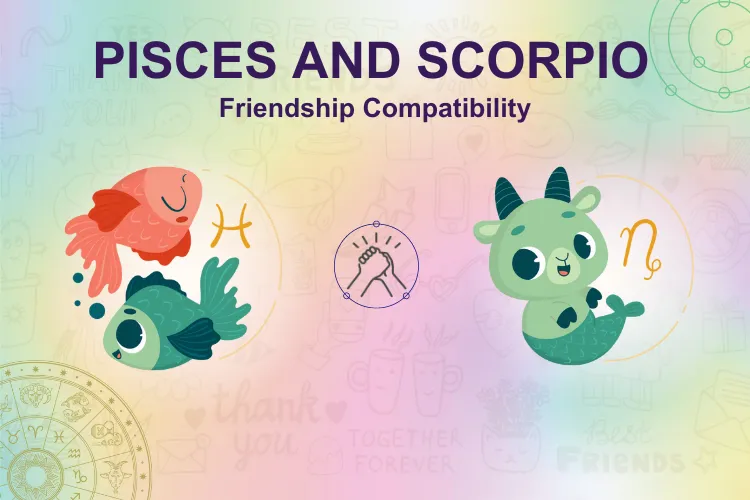 A Pisces and Scorpio friendship is a beautiful connection between two who share the same interests and have a good understanding of each other. Scorpios are contemplative and reclusive, preferring to remain alone. Pisces are ambitious and seek unexpected life experiences. Scorpio's recluse character may be pardoned by Pisces, who have a habit to keep to themselves.
Scorpio and Pisces are thinkers who understand the intricacies of the psychodynamic approach. Scorpio may be able to assist Pisces in achieving its objectives and aspirations. Scorpio forms a solid basis for their partnership, while Pisces gives Scorpio compassion and attention.
Scorpio values material riches and emotional fulfilment and is frequently perplexed by Pisces' basic and straightforward personality. They would enjoy a productive Pisces and Scorpio compatibility friendship if they could overcome their differences.
---
Pisces Compatibility With Scorpio: Boundless Love
Pisces and Scorpio both thrive on emotional roller coaster rides. Both the signs are passionate about sharing their views and like to replicate the exact ambience of what they have gone through. A smooth conversation and positive vibe can make your date an unforgettable moment with your soulmate.
Scorpios are secretive by nature and do not reveal much about their intensity of passion and desire. Please note that Scorpio is a watchful sign by nature. However, Scorpio is soothed by the huge embracing of Pisces eyes, causing them to grow soft and become unarmed.
Pisces is permitted exceptional accessibility to Scorpio's pool of intensity, and thus a romance begins.
If the following conditions are satisfied, a Pisces Scorpio friendship can quickly go awry:
A Pisces lacks confidence and can be easily duped.
Svengali is Scorpio's preferred method of dealing with Pisces, seeing them as easy prey.
The couple may have drug, alcohol, or sexual addictions.
When it comes to love, Scorpios are incredibly enthusiastic, hot and cold, and perhaps crazy. Whilst Pisces in Love is malleable, adventurous, and maybe a religious fanatic at times.
For both Pisces and Scorpio, there is no such thing as a casual affair. The aforementioned hypothetical scenarios could be the adversities that they endure and develop strong connections. Since they are both water signs, they can have a harmonious bond.
In a relationship that has been deeply committed, Pisces and Scorpio never truly let go, and they continue to appear in dreams for many years to come.
---
Pisces and Scorpio: Physical Intimacy Compatibility
Being water signs, both Pisces and Scorpio believe that emotions play an intense part during physical intimacy. Astrologically, Scorpios are known for their sexual suppression. They may be tough on their sensitive Pisces companion due to their attitude and earlier physical experiences.
Alternatively, Pisces is known for its odd sexual experiences and orgasms. Scorpions are far more resilient than we think if they are aware of their emotional depth.
The friendship between Pisces and Scorpio and Venus, the planet of pleasurable physical gratification, poses the biggest challenge. Pisces adores and exalts Venus, whereas Scorpio detests it, which affects its wellbeing. Scorpio can be fatally mistaken if he ignores Pisces' emotional need to be adored and loved at the same time.
The Pisces will be able to integrate seamlessly into the erotic world of a Scorpio partner if they're in touch with their feminine side and willing to display it.
---
Trust is the key to Pisces and Scorpio Relationships.
Scorpios are perfectionists by nature. Scorpios might quickly turn possessive and controlling if they are in a relationship with Pisces. However, they will both be looking for their only ideal love, which should bind them together with integrity.
Because neither of these couples can withstand the contaminated image of love, the friendship between Pisces and Scorpio may end if either of them is caught cheating or disappointed.
Trust is the vital aspect of the two signs when it comes to Pisces and Scorpio compatibility and friendship. Pisces have to be trustworthy and should have an idealistic outlook and do everything in their power for their one true love.
---
Pisces and Scorpio: Compatibility in Communication and Intellect
Pisces and Scorpio friendship might face communication problems. One or both of the signs may be aggressive or oversensitive, which are two possible communication barriers between Pisces and Scorpio.
When these two signs come together, it will be very hard to have a good discourse free of pain, distance, or hostility. They will seldom fight since Pisces' spouse does not need to fight with anybody, but they may have a lot of misconceptions that lead to their breakup.
Their conversation may be rather thrilling and beautiful if the Scorpio partner is compassionate enough and the Pisces partner has the necessary boundaries. Both signs are related to various types of magic, and they will be captivated by the "behind the scenes" look at everything that happens to them.
As they begin to interact and come out of their shells, they may get engrossed in themes that most signs are unfamiliar with.
They will also be able to understand each other's rational choices when they take an emotional approach to everything in their lives. It will be fascinating to discover the truth behind everything in life, even the most superficial experiences. To combat their weaknesses, they should not give up on their fascination with each other. Let us read more about Pisces and Scorpio. Scorpio friendship compatibility.
---
Understanding The Importance Of Relationships
Pisces and Scorpio are different personalities as per astrology. Pisces likes openness and diversity, whereas Scorpio emphasises moral toughness and profundity. Nonetheless, their similar passion for an intimate bond, as well as the intensity of their emotional attachScorpioment, will provide them with enough common values to cling to. Since Scorpio is a Mars-ruled sign, there is always an appreciation for gallantry.
Pisces represents all fairy tales in which a prince becomes a hero and marries a charming girl. Pisces' companion is on a mission to show Scorpio how to achieve their fantasy storey through chivalry, and whether they are royal or not, they both should remain focused on creating their dream world.
---
Pisces and Scorpio: Common Interest
Pisces Scorpio friendship has lots in common. They share similar interests and preferences. Hence, they can enjoy several activities together. The relationship between Scorpio and Pisces might become tiring since the scattered nature of Pisces might annoy focused Scorpio, and Scorpio's obsessive nature might be too much for Pisces to handle.
Although they won't have much energy, they should be able to follow each other and find things in common relatively easily. Time spent together could be difficult because their partner is unconscious of his or her negativity.
If Pisces' emotional connection is not strong enough to keep them together, it may undermine the image of a happy, positive world they hope to portray, and that could drive their partner away.
---
Emotional Compatibility
According to astrology, Pisces are smart enough to comprehend Scorpio. Those who are born under the Scorpio sign are emotional, which not everyone is prepared to handle, but Pisces are ready to face everything in the area of emotions.
Pisces symbolizes our oceans and seas, whereas Scorpio depicts rivers. Because each flows into the ocean, this refers to the emotional link between the river and the sea in the greatest way imaginable.
Pisces man and Scorpio woman's friendship compatibility can create a balance between the two. The Pisces partner can deflect the Scorpio partner's intense emotions. As long as both of them do not cross the line into endangering the Scorpio part of this depth, this will help them develop a healthy relationship between the two signs.
This is a special relationship where the Scorpio partner needs to focus on his emotions and the Pisces partner needs to show him a purpose. Despite their difficult circumstances, they will both have a deep emotional understanding that will allow them to discover the right ways to proceed with their connection.
---
Overview
In Pisces and Scorpio friendship, they will most certainly attract new perspectives on the emotional side. Fairytale love stories are passionate lovemaking that might seduce the two partners and this dreamy image will keep them together for a longer period even though they are dissatisfied with their relationship.
Because Pisces and Scorpio are water signs, they will find it easier to trust their emotional judgments and understand this about each other, resulting in deep closeness. The issue here is for Scorpio's tendency to not obsess over and smother their fluctuating partner, and for Pisces to resist running away from unfavourable feelings.
Hope you found this information on Pisces Scorpio friendship compatibility to be helpful. For further information, please contact our experts for a more in-depth understanding.
---
---