Know Auspicious Annaprashan Muhurat 2023 For Your Baby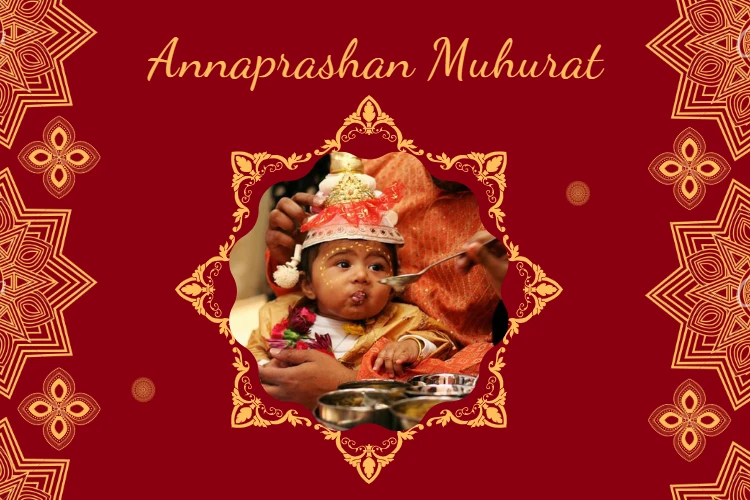 Why is Annaprashan Muhurat 2023 Important?
Calculating auspicious times for auspicious events is really important. This calculation of time is known as "Muhurat". In order to calculate the muhurat for annaprashan 2023, the nakshatra of the baby is important. For baby boys, shubh muhurat for annaprashan 2023 will be calculated at the 6th, 8th, 10th, 12th month from the time of birth and for girls annaprashan muhurat 2023 is calculated at the 5th, 7th, 9th, 11 months from the time of birth. Beginning any new action after understanding the apt muhurat brings success and joy in the particular event. Here are details about the annaprashan muhurat provided by our professional Vedic astrologers who are good at Vedic astrology.
Annaprashan Shubh Muhurat 2023: When To Perform?
Annaprasana muhurtham which is also known as the feeding rice ceremony must be performed when the baby is between five and twelve months, for boys, it is usually done in the even months when the boy is in 6th, 8th, 10th or 12th month, for girls it is usually done in the odd months when the baby is in 5th, 7th, 9th or in 11th month. The time is chosen as the children gain the strength to digest the rice and cereals. If the baby is still not in a position to digest the food, the time can be postponed to a later date.
Auspicious Day For Annaprashan in 2023: Where To Perform?
Annaprashan can be done at home or in a temple. Most people perform the ceremony at home. The days can be performed in a banquet hall or a community centre. In Kerala, many families prefer conducting this ceremony at the Guruvayur temple.
Wrapping up
Your expert astrologer helps to choose a specific time and day for your baby's annaprashan and it will be known as Annaprashan muhurat 2023. The day and time will be calculated based on the baby's star and the zodiac sign. Close relatives and friends will be invited to the ceremony. The baby is bathed and dressed in new traditional wear and then seated on the father's lap of the father or maternal uncle or maternal grandfather. The event starts with a puja by an expert priest to ensure the child grows strong in life with all other blessings. Happy Annaprashan!