2023 Vidyarambh Dates with Muhurat for October Month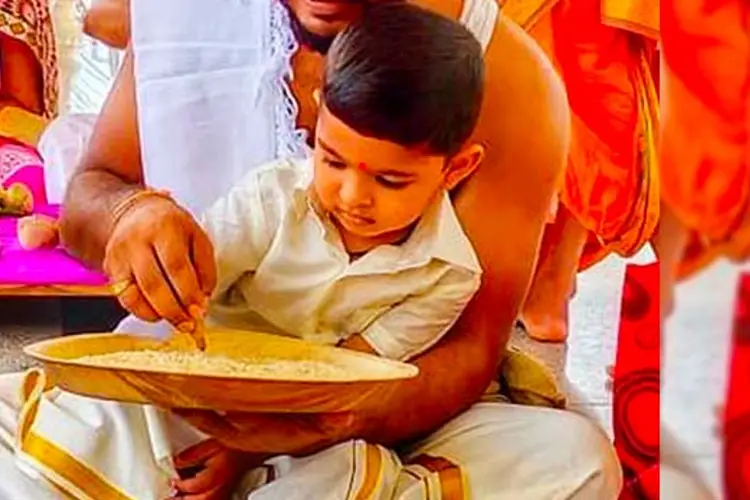 Auspicious Dates and Timings For Vidyarambh Muhurat 2023
Vidyarambh ceremony is performed before a child is about to join the school for the first time. Vidyarambh ceremony assures that the child will learn and grow and meet all the expectations of his parents. Since the ceremony is important in the child's life, knowing an auspicious muhurat to begin a child's education is mandatory in Hinduism. In this article, we provide all the important dates and timings for Vidyarambh Muhurat 2023.
Vidyarambh Muhurat 2023: What is it?
Vidyarambh Sanskar 2023 not only helps your child to grow intellectually but also gives immense opportunities to attain education in future. On the auspicious Vidyarambh Muhurat, the priest performs the puja in front of the child and his/her parents to bring in Lord Ganesha and Maa Saraswati to bless the child to have a bright future. Only after this ceremony does the child learn to read and write for the first time.
Vidyarambh ceremony is performed in different ways in different states in India according to their culture and tradition. The child will be taught to write the first letters in rice or slate. It is advisable to do this only after consulting an expert astrologer to confirm the vidyarambh muhurat 2023 calculated based on the child's horoscope.
Vidyarambh In October 2023
| Date | Muhurat Time |
| --- | --- |
| October 16, 2023, Monday | 11:50-16:50 |
| October 19, 2023, Thursday | 09:15-11:15 |
Wrapping up
Learning for the first time is really auspicious and thus it is advisable to check for the auspicious date and timings to perform Vidyarambh sanskar 2023 for your child. Talk to an expert astrologer and he will guide you through the best date and timings which will make your child attain the best education.
Talk to our Astrologers First Consultation with 100% Cashback!