A Sneak Peak Into The Life Of Bollywood's Shahenshah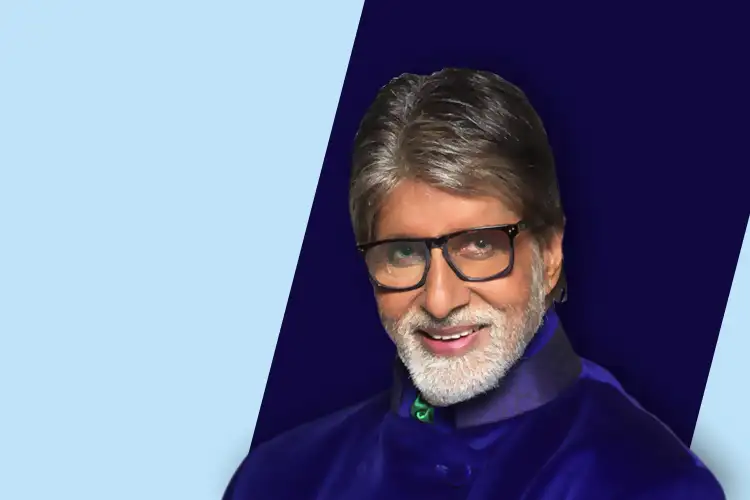 Amitabh Bachchan's journey from the movie Saat Hindustani as a supporting actor to become an angry young man was quite amazing. Amitabh Bachchan horoscope analysis earlier predicted that he was born to become the living legend of Indian Cinema. Earlier, at the start of his acting career, the makers refrained from considering his acting skills. This is because many producers and directors were not impressed with his personality. Later on, he worked in the seven movies, which was not commercially successful but enough to earn him fame. Watching his 90's movies, every fan of Mr Bachchan gave him the tag of Bollywood's Shehenshah. So, let us give you the Amitabh Bachchan kundli analysis.
Amitabh Bachchan Janam Kundali
| Amitabh Bachchan: | Birth Details |
| --- | --- |
| Amitabh Bachchan Birth Date: | 11th October, 1942 |
| Amitabh Bachchan Birth place: | Allahabad |
| Amitabh Bachchan Birth Time | 16:00 |
| Amitabh Bachchan Zodiac Sign | Libra |
How Planets Guided The Actor To The Bollywood's Success?
Amitabh Bachchan started his career from the movie Bhuvan Shome, a National award-winning film, in 1969. As per Amitabh Bachchan Janam Kundli, when he entered the film industry, he was going through Jupiter's mahadasha and Rahu's antardasha. The shadow planet Rahu is associated with the film industry, and it played an extremely crucial role to provide career success to him. Rahu's antardasha turned the tables for the legendary actor. The invisible planet inspired the actor to enter the Bollywood industry and to earn fame globally.
Even though he made an entry, but he was still struggling during the initial years. From 1971, he underwent Karmic Saturn's mahadasha, which made him struggle more. Saturn is the planet of hardships and endurance which gives pain in the initial years, but he always blesses with a tremendous amount of success in the latter part of life. These are the characteristics of Saturn, which assist you in gaining success after hard work. During the Saturn's mahadasha and antardasha, the veteran actor played his role in the movie Zanzeer, directed by the late Prakash Mehra. This movie was a box-office success, and from there on, he never looked back. This was the time when we got a new star in the year 1973. As we say, Saturn gave that amazing turnaround for a solid foundation.
The Amitabh Bachchan horoscope analysis explains that serving the Saturn's mahadasha and Mercury's antardasha, the actor completed his role in the film Deewar, 1975. This again brought some unbelievable performance on the big screen and got the tag of Angry Young Man. Mercury is associated with speech, So, Mercury's antardasha worked very well for him. It gave him a very different way of communication to lead the masses. Then, a new era started for him as an actor. On the other hand, Saturn also blessed him with much more success in the '80s following his movies like Muqaddar Ka Sikander, Suhaag, Naseeb, Yarana, Dostana and many more.
Did Lady Luck Brought Fame To Amitabh Bachchan's Life?
The Amitabh Bachchan birth chart reveals that the love cum arranged marriage combination worked for him. Even though his love life was shaky, he is still the person who can give a strong level of bond that is very rare to find. Venus in Virgo makes him very practical and logical in his love life. As per Amitabh Bachchan kundli, his love life was very unpredictable somehow, which was unexpected as well.
He got married to actress Jaya Bhaduri after the release of 'Zanjeer' movie. It is said that both decided that if this movie works for Amitabh Bachchan, then they will tie the knot. Following the release, the couple went on to higher stages of their relationship. As we can say that they both were written in destiny to tie the knot with each other, Rahu placement in the seventh house always brings unconventional things in marriage. Rahu's role again played a very crucial role as per the terms on which they decided to get married. He was going through Saturn mahadasha and antardasha during marriage, which again proved to maintain solidity and stability.
As per Hindu tradition and astrological view, we believed that marriage brings a lot of luck in the native's life, and similarly, it happened with senior Bachchan life. After getting married, she never looked back, and she became the reason for her partner's success in life. In 1988 he did a 'Shahenshah' movie, which was written by his wife, Jaya Bhaduri. At that time, going through Saturn's mahadasha and Jupiter's antardasha, he got the tag of 'Sheheshah' because of lady luck only.
Moreover, during Saturn's Mahadasha, the actor joined politics as Saturn represents authority and power as well. Saturn played a crucial role in his life to build his image and establish himself as the most influential person in Indian cinema history. Saturn of Taurus sign is very practical and grounded in love life as well. Therefore, it helped him to build long-lasting bonds with his wife.
What Experts Say About His Health Status?
According to Amitabh Bachchan astrology, he has health issues from a younger age. His healthy life will always be up and down. Mars placement in the eighth house gives sudden accidents and minor injuries as well. Acidity and blood-related problems might be there for him. The placement of divine Jupiter in the sixth house protects some harmful combinations in the horoscope and brings optimism for him. We know how he seriously got injured during the shooting of the 1983 film Coolie. It was so dangerous that he might have to lose his life and was very shocking for the whole country. Many people worshipped their respective god as well to save his life as well. The injury was so fatal that he needed 60 bottles of blood.
When the actual incident happened, he was serving Saturn's mahadasha and Sun's antardasha as the strongest enemies were operating in Dasha, it was very dangerous. As the Sun is placed in the house of death made him suffer in that year. When Big B recovered and was fit, he considered this life as re-birth only, and fans celebrate his birthday as well.
During the 2005-06 year again, he was hospitalised, and his health became a primary concern as he was going through Mercury mahadasha and Jupiter antardasha. Jupiter is placed in the sixth house of horoscope, but its divine Jupiter reduces health problems and again brought him back into action.
In 2021, the actor contracted with coronavirus too, but days after, he successfully defeated it. Again here, as he was going through Venus's mahadasha and Rahu's antardasha started in March of 2021. It created a negative impact on his life. Rahu always brings some complications with its benefits and affects the health status of the big B in a significant way. The natal chart of Amitabh Bachchan is not good enough for health-related matters, and so, he usually gets into health issues.
What's New For Big B?
Amitabh Bachchan kundli analysis indicates that his persona is amazing, and with his sheer presence, he always makes things happen in a very smooth way. A pure magnetic person at the age of 75, he is still going strong. He is blessed with powerful Budh-Aditya yoga, which is one of the most auspicious yoga in terms of Vedic astrology. He saw downfall after Saturn's mahadasha soon ended, and Mercury's dasha started. Mercury is not that favourably placed, so during that time, his acting career was not that good. During Mercury dasha, his ABCL company was in big financial trouble, and he was in massive debt as well. Again he was introspective, and slowly he got out of it. He hosted the KBC show unexpectedly during Mercury dasha, which changed the scenario as an actor.
Amitabh Bachchan horoscope analysis says he is currently serving the major period of Venus's and the minor period of Rahu. Therefore, experts predict that he needs to be attentive to his health as it might not be a favourable time for health. Besides, his career may see stable growth in the upcoming time. It is expected that he might invest in new ventures as well.
Wrapping Up
Everyone wants to follow the path of Amitabh Bachchan, but for that, one must know about its strengths and weaknesses as per their birth chart. By doing so, it may assist you in finding the path to career success. We found that Astrology is the best way to get a glimpse of the forthcoming events. Alright, folks, it's time to sign off, but if you wish, you can continue reading similar blogs.