Now This Is Where Planets Went Wrong For Hasan Ali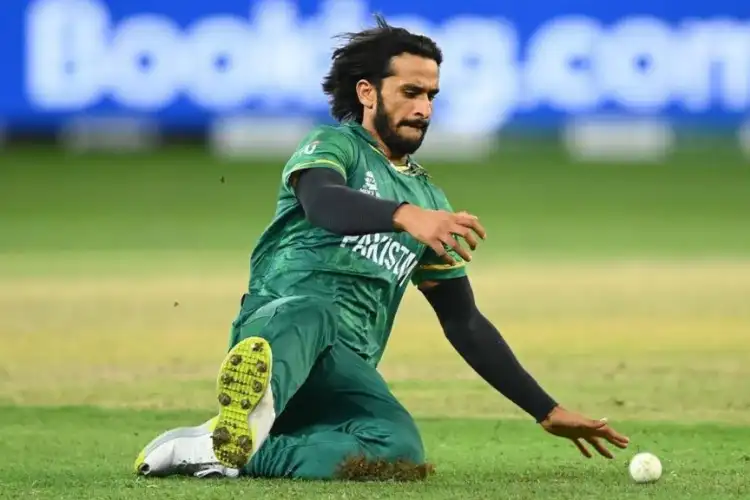 Pakistani cricketer Hasan Ali was badly trolled on social media after dropping Matthew Wade's catch in the T20 World Cup 2021 semi-final against Australia. In the 19th over, Wade has hit the third ball towards the mid-wicket boundary. The shot was not properly timed. But oh boy! Hasan Ali dropped the catch followed by constant three sixes by Wade. This dropped catch costs Pakistan to lose their spot in finale even after such a smashing record throughout the T-20 World Cup. Since then, Hasan Ali has become the favourite topic of online trolling. 
Looking for a way to remove negativity from your life? Talk to astrologers for the right guidance. 
It seems luck was not in his side that day, so MyPandit has decided to take a look in his horoscope. 
Hassan was born on Jul 2, 1994, in Punjab, Pakistan. He has self-occupied Mercury and Saturn, along with Chandal Dosha of Guru and Rahu, in his solar chart. The semi-final match between Pakistan and Australia took place on Nov 11. On this day, according to the solar chart of Hasan, the Sun was transiting over the Rahu of his birth which is a negative combination. It had a direct impact on his reputation and after losing the match, he was heavily trolled. 
On the day of the match, the transiting Moon was also with Saturn, which was in the eighth house. This day has not been good for him at all. Overall, none of the situations was in his favour on this day. 
Scared! That your day might turn like Hasan Ali's day. Read Daily Horoscope to get accurate predictions. 
---
---