Wine, Women & Wits – A Toast to International Women's Day 2023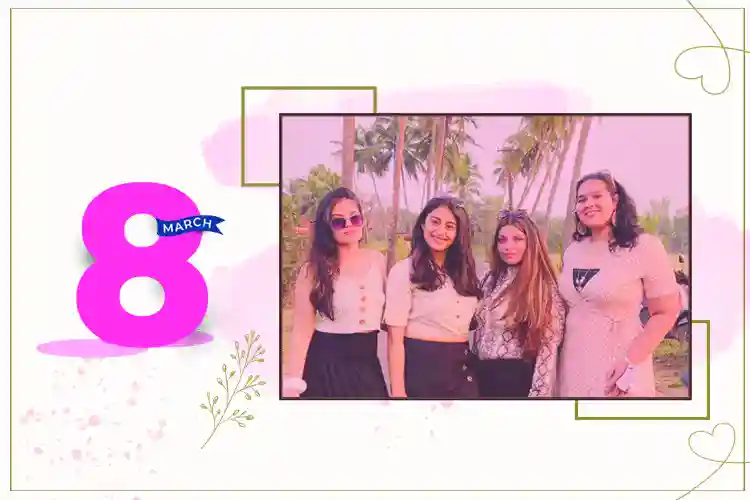 For more than a century now, people all around the globe celebrate 8th March as International Women's Day. We all know, 'Who run the world?' GIRLS. (Just listen to Queen B aka Beyoncé). But are you aware, why is it an important day? Is it really a celebration or a protest? Who started this and what for? Soon enough we will talk about the strong women of each zodiac sign but before that let's talk about how it all started. All you gotta do is scroll.
---
Let's Take a Sip of History
Traditionally, International Women's Day first emerged in 1910 at the International Socialist Women's Conference in Copenhagen. A Marxist theorist and German women's rights activist Clara Zetkin was the one who tabled the idea to make this day International at the Copenhagen conference. 100 women from 17 countries agreed with her.
This day came to light because of the labour activities in North America and Europe that appeared during the 20th Century. Year on year, from strength to strength this occasion continues to grow. At local and international levels various programs are organized to mark International Women's Day. In 1975, the United Nations (UN) began celebrating International Women's Day on 8th March as they designed it as the official United Nations observance. The International Women's Day also marks a 'Call to Action' to increase gender equality around the globe.
INTERESTING FACT: 'It is also known as the United Nations Day for Women's Rights and International Peace.'
---
A Synopsis to Know the Reason Behind Celebrating International Women's Day on 8th March?
International Women's Day has a rich background from 112 years ago when the first glimpse of it was in 1909. At that time the Socialist Party of America celebrated 15,000 women who went on protest for low pay, long working hours, and lack of voting rights in New York City.
Formerly, the day was called National Women's Day, but the monumental annual celebration got spread all across the world. In 1911, Russia started celebrating International Women's Day but the trend of 8th March was unknowingly set by them. Although it was in 1913 that International Women's Day became an official holiday in Russia.
Now marked annually on 8th March, International Women's Day is one of the most important days of the year to remember, recognize, and celebrate the accomplishments women have made to society.
Individually, we can choose to challenge and raise our voice for gender bias and inequity. Together, we can all help create a world where change isn't just about big headlines in the newspapers or legal victories in the courtroom or the international agreements and treaties.
The theme for International Women's Day 2023 is 'Choose To Challenge'. A challenging world is an alert world. And from challenge comes change. So let's all #ChooseToChallenge.
---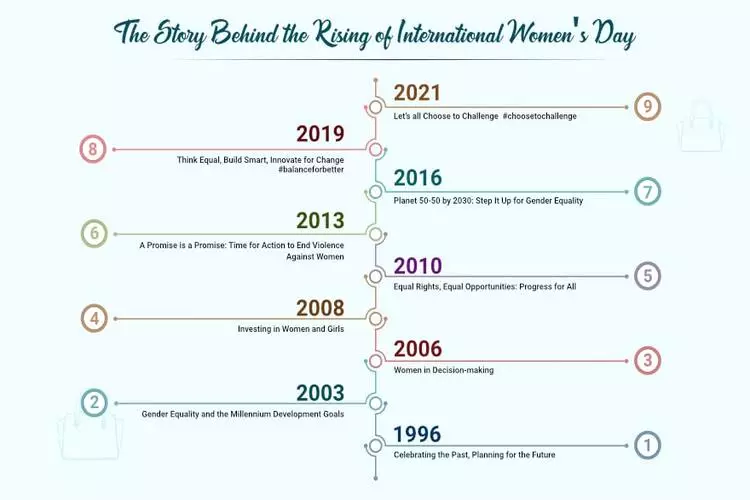 ---
Talking About the Symbol of International Women's Day
The colour of the International Women's Day logo is White and Purple which features the symbol of Venus aka the symbol of being female. Some logos have green colour too. Each colour holds its significance, for instance, White signifies purity even though that's a controversial concept. Purple represents justice and dignity; whereas Green symbolizes hope. The colours originated from the Women's Social and Political Union (WSPU) in the UK in 1908.
The Women in our society may differ in age, nationality, or job profile but they are united in a way that they have been using the platforms given to them to address the unique challenges of the world. So let us move on to know the zodiac signs of some inspirational women who run the world and are very successful in their fields:
---
Aries Women
Reese Witherspoon
You must know her from the classic TV Show F.R.I.E.N.D.S as Rachael's younger sister or from the pink franchise of Legally Blond as Elle Woods. Aries women are all about control and power. They know what they want and are quite competitive about it. This amazing woman was frustrated with the roles that she was getting, and so Witherspoon started a production company, by the name of Pacific Standard, in 2012. Through Pacific Standard, finally landed roles in the box office hit movies like 'Gone Girl' and 'Wild.'
Aries always want to be on the top. So soon after starting her own production company the 46-year-old actress, producer, and entrepreneur partnered with Otter Media in 2016 which is a division of AT&T's WarnerMedia. Aries are young spirits, always retaining a sense of wonder throughout their lives. This step to partner was to launch 'Hello Sunshine'; it is a media brand that focuses on female-driven stories. The brand even collaborated with Apple and now operates a book club, audio programming with Audible, two podcasts, a video-on-demand channel with DirecTV.
Song for Aries Women: She Loves Control by Camila Cabello
---
Taurus Women
Queen Elizabeth II
The globally loved and respected woman has been on the throne since 1952. Queen Elizabeth is the longest-reigning ruler on the throne in British history. Taurus women like a good lifestyle and luxury. Aesthetic is like their middle name. They have the patience to deal with any kind of person. No doubt the 94-year-old matriarch is still setting the tone at public events and receiving world leaders at Buckingham Palace and Windsor Castle.
An egg was thrown at French President Emmanuel Macron when he was attending a food fair in Lyon. Know Why Was An Egg Thrown At Emmanuel Macron ?
Taurus women can survive the storm and even after that if life throws in a tsunami they will fight it with a happy face. Our Queen is no different, she accepted all the challenges of life with her 'Bring It On' face. The Queen never ceased to inject a high dose of passion and commitment into her job. She is known for her sense of duty and devotion towards her country. Since 1952 she has led a life of service and has been an important figurehead for not only the United Kingdom but also the Commonwealth during times of enormous social change.
Song for Taurus Women: Sit Still, Look Pretty by Daya
---
Gemini Women
Manasi Joshi
Geminis are said to be very versatile. In this case, it's Manasi, an Indian para-athlete, current para-badminton world champion, engineer, and most importantly a changemaker. Gemini women are quite passionate about life. This 31-year-old badminton player aspires to drive a shift in the mentality of the people in terms of disability and para-sports in India. The Badminton World Federation ranked her No. 2 in the SL3 (Standing/Lower Limb Impairment/Minor) singles in 2020.
As a Gemini achieving so much at such an age shows the youthful, fast, and smart trait. Recently, Joshi was listed as a "Next Generation Leader" by Time magazine. She also appeared on the cover page of the magazine – Asia edition as an advocate for the rights of disabled people in India. In 2019, she was awarded BBC Indian Sportswoman of the Year. Followed by getting the Forbes India, Self-made Women of 2020. All this achievement just makes you cry *tears of joy*, isn't it?
Song for Gemini Women: Stronger by Kelly Clarkson
---
Cancer Women
Benazir Bhutto
We all know the well-known Cancer women like Princess Diana, Selena Gomez, Ariana Grande, Lindsay Lohan, and Priyanka Chopra. So let's talk about this gorgeous woman right here. Benazir Bhutto belonged to a political family. Her father was the Prime Minister and she soon followed his path. This devoted crab sign woman was a Pakistani politician who served as Prime Minister of Pakistan from 1988 to 1990 and again from 1993 to 1996. She was the first woman to head a democratic government in a Muslim majority country.
Learn more about Cancer Zodiac here..
At the age of 35, she was one of the youngest chief executives in the world, the first woman to head a democratic government, and serve as prime minister in a Muslim majority country. Bringing electricity to rural areas, building schools, making her country hunger-free, developing housing, and healthcare facilities were her topmost priority. She always looked forward to modernizing Pakistan. This strong woman left a deeply polarizing legacy. In the Muslim World, her career has been celebrated as a triumph for women in the global fight against Islamic extremism. Various universities and public buildings in Pakistan have Benazir Bhutto's name.
Song for Cancer Women: Boss Bitch by Doja Cat
---
Leo Women
Melinda Gates
Leo women are spread in every corner of the world. There's Kate Bush whose debut single Wuthering Heights was the UK's first No.1 single written by a woman. You'd be surprised to know that it hit the top spot when Bush was just 19 years old. J.K. Rowling needs no introduction as she brought the magic of Hogwarts to us all. Coming out of the fantasy world we can talk about Nirmala Sitharaman. She is India's first full-time female finance minister and also a minister for corporate affairs. Before jumping into the world of politics, Sitharaman held roles at the U.K.-based Agricultural Engineers Association and BBC World Service. She has also served as a member of the National Commission for Women.
You see, Leo women are just full of talents, passionate, confident, and whatnot. Gates is the co-chair of the Bill and Melinda Gates Foundation and the most powerful woman in philanthropy. The 56-year-old is always on the go from shaping foundation strategies to solving global challenges. The lioness sign woman is on a mission to help people lead healthy and productive lives. She devoted most of her work to women and girl's rights.
Song for Leo Women: Roar by Katy Perry
---
Virgo Women
Sheryl Sandberg
Virgo women don't wait around for things to happen, she makes things happen. Sandberg was the Chief Operating Officer (COO) at Facebook (FB) who brought the social media company out of the losses; from a $56 million loss in 2008 to $18.5 billion in profits in 2019. Soon after reaching this position, her prime focus was on positioning FB for small and medium businesses as a platform to advertise their items. This stunt helped the company to increase its ad revenue by 27% during 2019 itself, reaching $69.7 billion. Virgo women crave efforts because they are a perfectionist.
Virgo women are extremely hardworking and someone who won't give up that easily. And Junko Tabei is the perfect example. She was the first woman in the world to climb Mt. Everest. Virgo women always challenge the stereotypes set by society. Tabei proved the notion wrong that doubts the ability of a woman to achieve goals such as climbing the highest point on Earth. Would you believe that she is a Japanese teacher and an author too?
Song for Virgo Women: Most Girls by Hailee Steinfeld
---
Libra Women
Kamala Harris
Libra women are born leaders. The Libra woman we have here is no stranger to firsts – she was the first Indian American woman to be elected to the US Senate, first African American to serve as California's attorney general, then became the first woman in American history, first Asian American, and first Black American to be elected as the vice president. As Senator Harris said in November: "While I may be the first woman in this office, I will not be the last" and we will hold on to her word!
The list of inspiring Libra ladies is endless as it is a cardinal sign and their intelligence can't be matched. To name a few Evelina Cabrera is a Football coach and manager from Argentina. Founded Argentinian Women's Football Association at the age of 27 and formed several teams. The next Libra beauty we have is Margaret Thatcher who paved her path through politics. She was the daughter of a greengrocer, who became Britain's first female prime minister. She was nicknamed "The Iron Lady" and she lived up to it. Last but not least is Sheikh Hasina Wajed is the Libra woman who served the longest as the prime minister in the history of Bangladesh and is currently serving her fourth term.
Song for Libra Women: New Rules by Dua Lipa
---
Scorpio Women
Indra Krishnamurthy Nooyi
Determined and ambitious are the most perfect characteristics you can tag to a Scorpio woman. Indra Nooyi carved her name in the history of international business when she became the Chief Executive Officer (CEO) and the Chairperson of PepsiCo. It is the 2nd largest food and beverage company in the world. Nooyi is ranked 2nd on the list of Most Powerful Women by Fortune and 11th on Forbes' list of the World's 100 Most Powerful Women in 2017. She joined PepsiCo in 1994 and has governed the organization's international planning over the past two decades. Scorpio women never give up and this is what Nooyi showed us. She invested her time and efforts in a single company for so many years and reached the top.
Lorde, Shailene Woodley, Anne Hathaway, Katy Perry, Rachel McAdams, and Emma Stone are a few of the other examples in our amazing women's list. Scorpios have a vengeful side but Emma took it positively. She told the Sunday Express, "My revenge has only ever been in silence." The best way to get at people who did you wrong is by being nice to them. They hate it. And why should you waste your energy plotting traps for them, right?
Song for Scorpio Women: Kill 'em With Kindness by Selena Gomez
---
Sagittarius Women
Roshni Nadar Malhotra
The zodiac symbol for Sagittarius is a bow and arrow. So it kinda makes sense when we say that their arrow hits the mark. The same can be said for this legend. Malhotra is CEO of HCL Corporation. Her father was the founder of HCL in 1976, which became the central player in India's rise as an IT hub. Today the 39-year-old is responsible for all strategic decisions for the $9.9 billion technology company.
Sagittarius are said to be independent and sophisticated. Arundhati Roy fits those perfectly. Roy was the winner of the Man Booker Prize for Fiction in 1997 for her debut novel 'The God of Small Things'. She had her ups and downs with a lot of disputes, but still, the 59-year-old author has a loyal fan following and is much respected for her literary fame and her support for environmental and humanitarian undertakings. Sonia O'Sullivan is another example of the intellectual Sagittarius in our list. She is a former world champion who ran her first competitive race in 1989 and for 19 years represented Ireland on the international athletics stage. O'Sullivan held plenty of longstanding world records. To name a few she won a silver Olympic medal, a gold medal in the 5,000m at the 1995 World Championships.
Song for Sagittarius Women: Confident by Demi Lovato
---
Capricorn Women
Erica Baker
Baker is a German Engineer currently based in Oakland, California. She is the director of engineering at GitHub. Her tech journey began 20 years back providing tech support for the University of Alaska before moving to Google in 2006. Joined Slack in 2015, Patreon in 2017, landing at Microsoft for a few years then transferring to GitHub. Capricorn women are quite workaholic and sensitive. Baker runs various initiatives and encourages women around the world to use the power they have to fight for justice, freedom, and to ensure that all are treated equally.
The disciplined and realistic characteristics of Capricorn women drive them towards reaching their goals. Cindy Bishop is an ambassador for Thailand UN Women. She is an actress, model, TV host, and who campaigns on ending violence against women. She founded the #DontTellMeHowToDress movement in 2018. Capricorn women teach us to stand up for what we believe in. Noor Inayat Khan was the first Muslim female war hero, an undercover operative in France who was betrayed by her colleagues, tortured, and executed. But this strong woman never gave away any allied secrets. Elizabeth Cowell taught us how to succeed in a male-dominated industry. She was the first female announcer on British television whose voice reached millions across the country.
Song for Capricorn Women: Not Your Barbie Girl by Ava Max
---
Aquarius Women
Carmel Snow
Playing on your home ground and making a lasting impact is one thing, but Snow decided to take on the US fashion and publishing industries from a corner office in New York. She was the editor-in-chief of Harper's Bazaar from 1934 to 1958. She was the one who launched designers like Dior and Balenciaga to the US market. She wrote about the French fashions for The New York Times. Aquarius Women are non-traditional females. Oprah Winfrey ran her hit talk show for 25 years and made her repute in a media and business empire. Her 25.5% of the network is worth more than $65 million.
Aquarius Women march to the beat of their own drum, requiring the freedom to be who they are, to think and do what they want to. Isabel Perón from Argentina was the First Female President in the World. Sheikha Lubna Al Qasimi was the first-ever female minister in the UAE who was ranked in Forbes magazine's 55 most Powerful Women in the World list. Bessie Coleman was prevented from holding a pilot's license in the US since she was black and a woman. That didn't stop her so she moved to France and became the first woman of African-American and Native American descent to earn an aviation pilot's license.
Song for Aquarius Women: Pretty Girl by Maggie Lindemann
---
Pisces Women
Rihanna
Pisces women are very intuitive. We all know this great woman. Rihanna is one of the most charitable celebrities in H-wood. She has donated around $8 million upwards to coronavirus relief efforts. Not only this she gave another $8.1 million to other charities through her Clara Lionel Foundation. She has her musical success and Fenty Beauty is the icing on the cake. It is the makeup brand she co-owns with the luxury goods group LVMH.
Valentina Tereshkova was the first Russian cosmonaut woman in space. Tereshkova flew on Vostok 6 on June 16, 1963. The first American woman in space, Sally Ride, flew aboard the Space Shuttle STS-7 in June of 1983. Pisces women are quite humble. Tereshkova is also an engineer who origins as a textile worker. The characteristic of Pisces women is to never settle for anything less and keep reaching for your next goal. Tereshkova has spoken of her future ambition to travel to Mars.
Song for Pisces Women: Princess Don't Cry by Aviva Mongillo
---
Did You Know That Each Country Had Their Special Way to Celebrate Women's Day?
In Russia, the sale of flowers double up during the three or four days around 8th March
In China, many women are given half-day off
In Italy, International Women's Day or 'La Festa Della Donna' is celebrated by gifting Mimosa Blossom to women (Do search it up, they're really beautiful)
In the United States, the whole month of March is Women's History Month; a presidential proclamation is issued every year to honour the achievements of the American Women
---
---