Discover How Your First Week of January 2021 Will Be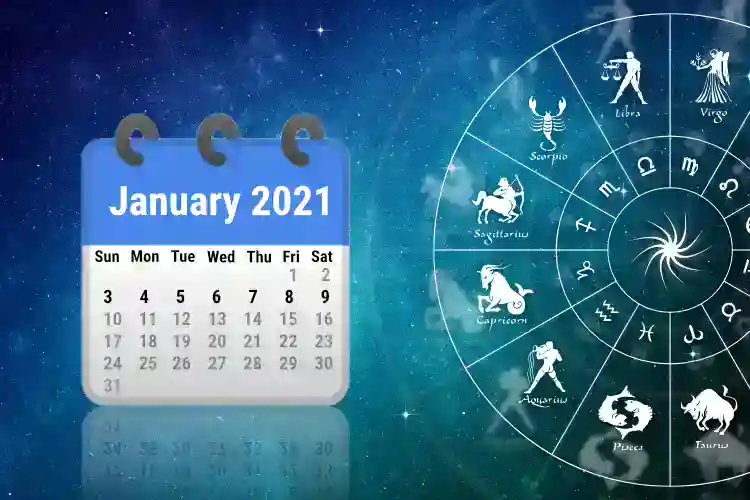 2020 may not have been up to your expectations, but we hope 2021 brings you new beginnings and fresh starts. Everything you need to know about your Zodiac Sign and how your first week of January 2021 will be is here!
"For All Our Capricorn Fellas Out There, These Are Your Birthday Treats. "
| | |
| --- | --- |
| Birthday Planet: Capricorn is ruled by Saturn | Birthday Symbols: The Horned Sea Goat is the Symbol |
| Birthday Tarot Cards: Capricorns are linked with an earthly orientation. Sometimes, ambition causes harm, so the Devil comes as a reminder to stop oneself from doing the seven deadly sins when it comes to reaching one's goals. | Birthday Compatibility: Capricorns are most compatible with Pisces, Scorpio, Virgo, and Taurus |
---
Aries
New Year, new you, and new beginnings! Aries weekly horoscope says that the chances of you proposing someone for marriage or vice versa are very high. If you are already married, planning a small trip with your spouse is on the cards. While on that vacation, you will confess your undying love for your spouse which can strengthen the bonding between both of you.
Aries, don't start a new year by taking loans as you may face some challenges in that matter. Instead, focus on making business investments in foreign countries. If you follow this path, you will reach the rightful destination and desired level of success.
The workload will be too much for you to handle, but you should adhere to punctuality and your daily routine. Because if you are not on time, there will be a mess in your workplace, indicate your January Week 1 Horoscope Predictions. Aries freshers looking for a job, you will get the expected results in the coming days.
By maintaining a healthy exercise and diet regimen, you can avoid all the major health issues likely to be faced in the first week of January. Meditation will be able to reduce your stress caused by the workload at the workplace. The potential negative influences on health caused by the planetary variations can be tackled only by taking due precautions. It is necessary to be realistic and practical in all sorts of situations to stay away from worthless & undue attachment or mushiness.
"Challenges are what makes life interesting dear Aries and overcoming them is what makes life meaningful."
---
Taurus
Taurus students, you need to be patient if you want to get the desired results in the first week of January. It is of utmost importance that you maintain a routine and stick to it very strongly.
Taurus Misters and Mistresses, your married lives need more attention. Flexibility is an important element while communicating with your spouse. Also giving space to each other is necessary without letting the aggression come in between both of you. Showering your lovers with gifts and compliments once in a while is good. Also, try to spend some quality time together, it'll only make your bond a little stronger. For single guys and gals, this week will be full of surprises. For you, the chances of starting a new and fruitful relationship are quite bright. However, don't be in a hurry to live in fast forward mode and take your relationship to the next level just yet. Try to understand your new relationship so that it lasts longer.
Taurus weekly horoscope predicts that your money bag can have green as well as red balls. But if you let those red balls get you all worked up and channel negative thoughts, it can lead you in the wrong direction. On the brighter side, if you are looking for loans, you may get them easily sanctioned this week. Also, it may not be the best time to do any major investments. Sudden expenses in business can arise, and therefore January first week is about practicing patience.
In matters of health and well-being, the week is going to be full of ups and downs. The secret to good health lies in having a proper plan and then sticking to it. This approach will give you hassle-free days and a stress-free routine. Several planets are going to influence your thoughts and intelligence. If you do multiple tasks at the same time and overstress yourself, it will affect both your physical and mental health. All this may also affect your sleeping pattern, which can increase challenges and difficulties for you. If these factors are not reigned in, it may even weaken your immunity.
"Lovely Taurus, don't let the burdens of 2020 take too much of your energy and time in 2021."
---
Gemini
Not getting distracted can be a tough task but do try to stay focused on your business and work, or else your earnings may get disrupted.
You can't force love, can you now? You just gotta let it come to where it is destined to be. Gemini weekly horoscope says you will have an amazing time with your mate but after you resolve some pending issues. Although you may get a chance to spend special and romantic moments with your loved one, for those who are married, you will need to focus on family issues during the first week of January. Parents need to ensure that their children do not get into any sort of trouble. Also, any type of group study should be refrained from happening.
After all the financial problems that you were facing dear Gemini, this week will give you a breather. You may even earn some revenues from unexpected sources, say January weekly horoscope. It is also advised to not lend money to anyone without proper assurance that you will get your money back. Chances of your earnings touching the ceiling are pretty high, and the best thing is; it'll be irrespective of whether you are employed with an organization or are self-employed. This week will be the most special for you as your preparation will be at its best.
Your professional life is in for a spin as most unexpected changes will take place. This week is extremely auspicious for you to start your own business. Parallelly you should not change your job right now as it will also call for a change in your residence. Your January week 1 horoscope predictions advise you to be optimistic and engage yourself in activities that reduce stress & anxiety. Along with it do try to enjoy a blissful and healthy lifestyle this week.
"Small steps in the right direction can turn out to be the brightest steps in your life, Gemini."
---
Cancer
The first week of January will be refreshing for you to make smart moves and be successful in your career. However, some impulsive actions or decisions may allure some problems. But keeping a positive attitude towards things and ideas will get you the planetary support which will help you achieve many endeavours.
Cancer weekly horoscope is for you to express your feelings for your lover. This first week is in your favour, and however, some hurdles will be there. So, you need to act with a lot of patience and care. This will help you to revive the spark in your relationship and explore new areas of life. Do make sure that you are putting in all your love and efforts to enhance your relationship with your partner, say Cancer January Weekly Horoscope. Listening and understanding what your other half wants from you can do wonders.
The first week may turn out to be slightly complicated in terms of financial gains. Fluctuations are gonna be there, and additional opportunities will be there too. Major decisions should be taken only after due considerations. Planets will be supportive of you, Cancer, right from the beginning of the week reveals Cancer week 1 Horoscope. You should make good use of whatever opportunities you get. It may prove to be a blessing for you.
Read This Article Also:- Know Also January 2nd Week Horoscope
Cancer week one is also beneficial for your academic pursuits. Your sincerity and hard work will get you one step closer to your dreams. For professionals, this first week, your growth and development may be hampered, but you will get affirmative results owing to your smart strategies.
Doing multiple things at the same time, not only scatters your energy but also affects your health. Overall your health will remain in good shape. And if there are fluctuations in your energy level, it may be a repercussion of some emotional draining during this phase.
"Without Rain, nothing grows, so why not learn to embrace the storms of our lives, right Cancer people?"
Kick start your day with new hope and a positive outlook, check your Personalised Daily Horoscope Now!
---
Leo
Leo's first week is going to be an interesting one. Pending financial issues are likely to get resolved, and the situation on the financial front may also improve.
Challenges can be blessings in disguise as they may help you emerge stronger. Hope is always round the corner, and if you remain upbeat and optimistic, it can help you from being aggressive while asserting your views. You should always be open to suggestions from other people who want the best for you, suggest your January Weekly Horoscope.
Reaching out and getting attached to any past relationships will be toxic for you and thus should be avoided. By doing this, you clear the air of uncertainty for yourself and the people around you. This will bring more harmony, love, and warmth to your current relationship.
Leo, week one for you will be full of appreciation. Your responsibilities will increase, your efforts and hard work will be acknowledged. Learning and improving should always be the aim.
For those of you who are pursuing higher studies, the first week will be far from rosy. Lack of concentration, lots of distractions, all this will be standing at your front door. But the only way to shoo them away is if you make strong efforts to channelize your energy in the right direction to achieve your goals.
Leo weekly horoscope predicts that your health will remain unaffected if you practice working hard to maintain your weight and fitness. If you have a regimen, stick to it, and if not, make one today. There will be some troubling factors that may keep bothering you from time to time. But as long as you are disciplined, everything will be fine.
"It is during our darkest moments sweet Leo, that we must focus on the light."
---
Virgo
Virgo, the first week is full of surprises. You will form new, meaningful, and interesting relationships. But don't just start putting your nose in your new friend's business. However, you should ensure that you don't meddle in the affairs of your new friends. Calm and sensible discussions will deal with the bitterness that may affect your relationship.
Starting the first week with a positive mind frame will help you set aside any distractions. Hence, you will make good progress in your studies and score well in the examination. Careers prospects will also enhance as planets are in your favour this first week of January 2021, Virgo. The positive momentum in your career will gradually take the graph in an upward direction. Make sure that your performance is constant as it will set the tone for the remaining part of the week. Don't feel skeptical about your prospects, people around you are always there to boost your morale.
Virgo weekly horoscope predicts the first week to be hectic and tiresome for you. The excessive workload will make you ignore your health, and you may devote less time to your fitness. Lack of punctuality in food intake will just add to your problems. Some of you may also be prone to some health-related disorders. Thus, you should take all the precautions in this regard, suggests your January Weekly Horoscope. As the first week comes to an end, you will gain your strength back, but that does not mean you take your health issues lightly. Your financial status will get better this week owing to the planetary placements. However, you may face several challenges on the financial front as the week begins. And a lot will depend on how diligently you can handle your money matters. Slowly and steadily, the money inflow will increase, and the pressure will ease out.
"If you want to see the rainbow Virgo, you gotta put up with the rain"
---
Libra
For those of you who work under someone, well it may turn out to be a great time for you as you may get your dream job and climb one step higher on the ladder to success. Academically speaking this will be a good month for Libra students too. You will make progress in all walks of life.
Life is not a bed of roses, but that does not mean you don't decorate it with some once in a blue moon. Libra, necessary attention is needed for your romantic life this week of January 2021. Misunderstandings are knocking on your door, and until and unless you are honest with yourself, you will not be able to shoo them away. You need to decide if that someone is your "THE ONE". You should choose someone who respects you and keep you happy for many years to come.
Libra weekly horoscope says that you will see your money plant growing. You will explore some better opportunities to procure more money. However, there is also a possibility that you may lose money around the weekend. So, be very attentive while managing money. Entrepreneurs and professionals may be very busy during this week in making new strategies and planning to boost their business. You may come across new persons, who may become your partners or collaborators. You may become busier, negotiating multiple deals, and may become successful in sealing most of the deals, reveals your January Weekly Horoscope.
Your inner courage and strength will keep you happy, both physically and mentally. Some of you will follow a strict diet timetable, it'll be beneficial for you to maintain yours. But you need to be careful as to what you are eating and avoid going to crowded places. Also, ensure that you do not overspend during your rendezvous as it will drain your savings completely.
"Libra, make 2021 so awesome that 2020 gets jealous"
---
Scorpio
Patience is the key to achieve anything, so when you face tough situations in your love relationship, you know what to do!
Scorpions this is going to be an interesting week for you. Your interest will be piqued in various areas of life. But it is to be noted that you do not seek more than what is required.
Balancing personal and professional life is also an art. Some of you may lose patience in certain testing situations, but smart work will get you out of it. You should know how to leverage your finance accordingly. It is possible that you feel confused about your financial decisions during this week. You are advised to remain tolerant and show restraint in a speech to avoid any difficult situation which may, in turn, impact your monetary aspects.
Scorpio weekly horoscope mentions that students this first week will bring you a great time to fulfill your ambitions and goals in your career. With effective planning, you will find success in all your endeavours this week. Your determination and confident approach will help you realize your goals. Also, stay very cautious and take rational decisions. For practical learning, field trips may be organized. The week is also good for Scorpio students who want to learn management skills.
Working professionals your work is indeed going well for you, and however, it is also affecting your health, especially those who have been working for extra hours. You need to manage and plan your work suitably so that it doesn't impact your health. If you follow a proper schedule, you will benefit a lot, say your January Weekly Horoscope.
"Life is like riding a bicycle, Scorpio. To keep your balance, you must keep moving."
Make the most in 2021 by knowing imminent events in the coming year beforehand. Get your Expert Astrologers Now!
---
Sagittarius
For all the Sagittarius cheesy couples, this week will be passionate about romance. A surprise package will come for the Singles out there, you will meet your special someone.
Best is not a word that can be used to describe the money and finance situation. You will not get the desired returns from your investments. Expenditures are going to shoot up too. According to the planetary influences in January week 1, traveling is on the cards, but this may also put stress on your card. It is recommended to not waste money or any petty things which are not worthwhile.
Sagittarius weekly horoscope says that some of you may make the wrong decision regarding your career, so it is suggested to not experiment with it. Sagittarius students will get an opportunity to work and learn. To break a leg in your career, you need to be choosy with your options. Impulsive decisions can lead to disaster.
If the new year brings new friends – you won't just push them away, right? Half-moon will make you very energetic, so much that you will reciprocate to your old friends and even the newbies with the same warmth.
Treating below-average health is a possible task. But getting addicted causes another problem which is not only too difficult to deal with but also a long journey no one admires. Control over your diet is essential with some exercises to maintain your fitness. Your January weekly horoscope suggests you avoid late-night partying to stay healthy. Even too much protein intake is not advisable.
"Never regret a day in your life, Sagittarius. Good days give you happiness & bad days give you experience."
---
Capricorn
It tends to happen that you have to leave your comfort zone when the obstacles come up in the smooth flow of your life. But that should not stop you, you should move and be progressive in your life. Whether it is personal or professional life, committing any mistakes should be avoided.
Capricorn, the first week for you will be delightful. You will have a great time with your partner and may even think to take forward steps to build an even happier relationship with your partner. To understand the needs and wants of your mate is an important part of your relationship. By acting accordingly, you will draw your partner even closer to you.
Capricorn weekly horoscope predicts that the chances of you having good earnings from your passive source of income are high in the first week of January. Consistent revenues will be earned irrespective of whether you are into business or a job. If you wish to save some money from this income, then you need to be ready to control your expenses effectively. It is advised not to take any loan from anyone to meet your expenses as it can backfire on you.
Being alert and keeping your eyes and ears open is very necessary to get the boost that you have been seeking for a long time. The first week looks promising if you are looking for some new opportunities. Even your friends can come in handy to you in this endeavour, predicts your January weekly horoscope.
Attention to your health needs to be given in the first week. If you are working till late, stress may affect you and take a toll on your health. Remember that only good health can keep you motivated to perform well at work. If you want to lose weight, you should not skip meals too much.
"Look for something positive in each day dear Capricorn, even if some days you have to look a little harder."
---
Aquarius
The first week is about taking care of your expenditures. Unplanned expenses may cause you a lot of stress. The parties, religious celebrations, online classes, can all empty your pocket. Amidst all this, do try to clear all the tax-related matters.
Aquarius your week one, will be full of self-improvement & grooming your personality. Your love life is special and having a good time with your partner is a vital part of any relationship. Your relation with your kids may be a bit stressful. Try to spend quality time with them and make them feel important. You may also bump into some old friends. There will be parties, celebrations and you will get wonderful gifts. But at the same time, it's not a very good scenario for your financial growth in the first week of January. You should not over-analyze things, especially in the areas of relationship and finance as it may lead you to depression.
Aquarius weekly horoscope advises students to follow the suggestions of their parents and mentors to achieve their goals. Don't get into any wrong company and bad addiction, as these are just a trouble call to cause problems in your education. Family responsibilities can come in the way of your education, so do have a proper plan and stick to it with determination.
Overthinking leads you nowhere except to mental trauma, so avoid that, or it might affect your health. Expenses on health issues might also be incurred because of the position of Saturn and Jupiter. Switching junk food with healthy and nutritious food will improve your eating habits, thereby revamping your health.
"It is never too late for a new beginning in your life, don't you think so Aquarius?"
---
Pisces
All work and no play makes Jack a dull boy, we all know that. So why not take a break from your monotonous routine and spend some quality time with friends and family. Silly arguments and disagreements can cause you to stress but for you, Pisces, January first week, love and romance will take a new turn. Enjoying small vaca, and gifting each other souvenirs is all part of the first week.
Financial plannings should always be clear to have a crystal image of your expenses. The first week will be a mixed bag on the financial front for you so do have a proper financial plan. Numerous responsibilities, a lot of unplanned work, a huge workload, all this will burn you out, but seeking your elders' help will show you the right path. You will get advice which will be the most suited to your situation. The help from your mentor may save the day for you. Pisces weekly horoscope says that career-related traveling may turn out advantageous for you.
After the bumping 2020 ride, it is bound to happen that school students may get distracted from their studies and lose focus. We understand it's not an easy week for you. During this, you will need positive thoughts and motivation to do well in your education and examination. Make sure to be sincere and be punctual in your tasks. If you are into higher education, you are likely to get good results in your examinations.
Careless diets and ignorance of health can cause major issues. It is extremely essential to be careful in such matters, advises your January weekly Horoscope. If you sow positive thoughts, you will cultivate happier and healthier outcomes. You should take care of your diet and use only healthy beverages and oils in your food.
"Never forget how blessed you are, Pisces. Don't be negative when you have so much to be positive about."
---
Celebs Born in January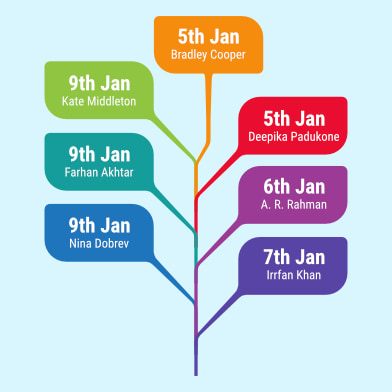 Relationship struggles? The Solution is just one phone call away, why waste any more time? Talk to Expert Astrologers Now!
---
---