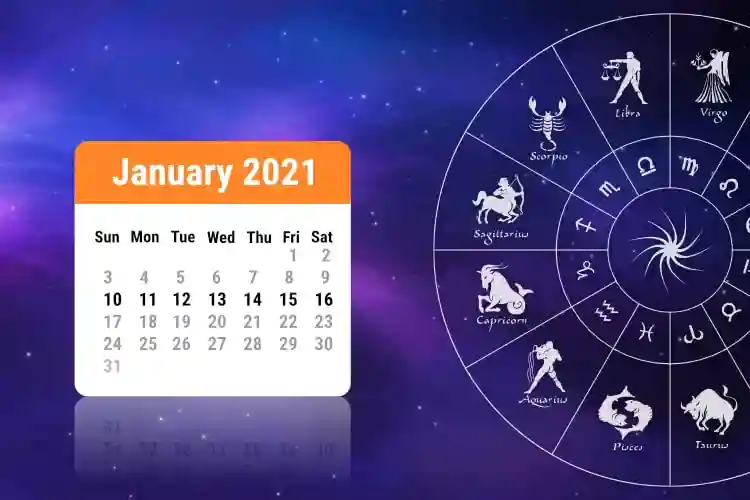 2021 was thought to be a cakewalk after the chaotic events of 2020, but is it indeed the case?
"Read to find out what flavour cake you'll get in the second week of January 2021. "
Aries
If you look around, you'll notice that love is in the air and it may rejuvenate pleasurable moments in your life. Lack of communication can always raise issues, so married couples need to talk it all out to rekindle the magic. Aries weekly horoscope also suggests that there will be parties and get-togethers where there will be an exchange of gifts also to add glitter to your love life. Singles do not just jump into the mingling business as you may get excellent marriage proposals during the second week of January.
Some good time with your friends surely brightens up your mood but meeting up for any outings means using up your one week's salary. You will also incur unplanned traveling expenses. Aries students will be spending their money on their education. It is advised to cross-check everything twice and then take any action. Students also need to make sure that you have good people to help them. A wrong company or wrong set of people will only distract you and keep you away from your desired goals, reveals your January weekly horoscope.
Professionals will get quite a handful of opportunities to showcase their best abilities and skills. Therefore January second week can be a hectic one for you. Your hard work will finally give you the results you've been waiting for. The efforts and honesty can also get you an appraisal and recognition in your office. It is a wise move to consult an expert before investing in the share market. Maniac work schedules and sudden hikes in responsibilities may leave you stressed. Refrain from any kind of junk food and indulge in a healthy diet to calm your nerves.
"Push yourself, Aries, because no one else is going to do it for you."
Taurus
Challenging times can feel like a hassle in your married life. It will be good for you Taurus to take a break from your busy schedule and go out on short trips with your spouse. Communication is very important for any relationship to work, and at the same time, some space is also needed. If you handle the situation tactfully, you can solve all the matters efficiently, dear Taurus. January second week may bring you some surprises also. Express how you feel to your mate, but also be a good listener!
Your bag will not always be full of green leaves, sometimes there are yellow and brown ones too. Taurus weekly horoscope says that this week your bag will have an amalgamation of all. Money and finance matters will have mixed results. So watch out for that.
Staying away from distractions can be a hard job, but that doesn't mean you don't try, right? Students pursuing higher education will see their educational expenses rise sharply. To reach your goal without any sharks in between it is better to stay clear of any distractions and arguments. January second week horoscope also suggests studying on your own rather than in a group.
Entrepreneurs and professionals are going to have an amazing second week. Huge business gains are on their way, but Taurus weekly horoscope predicts that there can be unplanned expenses in the business. It's necessary to budget and plan now before executing. Office employees will also make good progress with the help of seniors and mentors. Your ethics and persistence will help you get your desired results. However, you should avoid getting into aggressive arguments with your business partners or colleagues to maintain a peaceful week at work or in business.
Taurus weekly horoscope is a blessed one in terms of health matters. Taurus soldiers will fight their past illness and head towards a quick recovery. Appreciating what we have is what we learned from 2020, coming out of the stress and anxiety zone will be easy if you are grateful for everything that you have. Meditation and yoga may play a pivotal role in reducing your tension cloud. Refrain from having lunch or meals at late hours. Also, make sure that you are always filled with positive thoughts as it may help you fight challenges that you may encounter on the personal and professional fronts, suggests your January weekly horoscope.
"Sometimes later becomes never. So you gotta do it now Taurus."
Gemini
Gemini weekly horoscope predicts that singles may enjoy an intense love life and a blissful relationship. Gemini hinged couples, you will have a gala time with your partner. Your shared experiences will be like fireworks, and this second week of January, you will make memories to cherish for a lifetime. Challenges are a part of life, but it is up to you how you guard yourself against any misunderstanding or miscommunication.
Financially sound is like music to ears, isn't it? But that does not mean you throw money like confetti. Budgeting is vital to go on with your life smoothly. And this week of January is the right time to reevaluate it.
The weekly horoscope for Gemini people says that your hard work will get you noticed in front of seniors and their faith in you may bring good results. According to your January weekly horoscope, you may see your income graph going up for your past endeavours.
As per January second week predictions, this time may be excellent for any kind of innovation. Your talent and charm will be put to good use now. Suitable employment opportunities after the 2020 fiasco will get all the freshers overwhelmed.
Gemini weekly horoscope says that this second week of January is the best for you if education is something which you seek the most. But don't just go with the flow of the predictions, this overconfident nature can divert you from your path. Sometimes studying in a group can prove to be beneficial for you.
It's all in the mind they say. So you might as well know that a negative mindset can cause a sharp decline in your health. Alternatively, a positive approach may help you get over it. Eating wholesome healthy food will also help you have the proper sleep cycle and to keep your fitness level in check.
"Self-belief and hard work will always earn you success dear Gemini."
Cancer
Cancer weekly horoscope predicts planets to be in your favour this week. Your love life will be a bumpy ride but in a good way. Your partner may have some tricks rolled up his/her sleeve. The surprise is supposed to make you feel like you're on cloud nine.
Your finances will be flourishing this January second week. Lucrative opportunities may come knocking on your door! Enhancing your financials is a great feeling, but at the same time, you should be precautious with all sorts of monetary issues.
Being hot-headed can interfere with your positive approach during the week. January second week is the perfect time to spin Thor's hammer and get his intellectual and positive vibes to help you achieve great heights. Constant work pressure may eat your energy and confidence levels which can make you indecisive and confused at times. Therefore, managing things, strengthening the areas where you lack, should be on to-do-agenda. Concentration and hard work are the only tools to help the students get the desired results.
January second week is no health issue week for your Cancer fellas. Although the same cannot be said for the stress and tension that your hectic work life will bring you. Therefore, it is advisable to avoid junk food and beverages and keep your energy levels high.
"It's going to be hard dear Cancer, but hard does not mean it's impossible."
Gear up people for 2021 is going to be a bombshell for all. Get your Personalised Daily Horoscope Now!
Leo
We all have our differences, some maybe with your parents, while some are with the love of your life. You may make all possible efforts Leo to improve your love prospects, but sometimes they just don't work. The second week of January is a good time for you to spend some quality time with him/her and try to sort out your differences. You may even stumble upon some new social contacts, which will bring more love and warmth to your life.
Leo weekly horoscope says that you will have a reason to celebrate this week. You may have the chance to explore the lucrative openings to boost your income. If you are looking for passive sources of income, this week planets may favour you, but that also means you will come across new opportunities with a sprinkle of challenges.
Professionals need to work their butt off to meet the deadlines set by seniors. You may not even get the necessary support from your colleagues or higher authorities. But don't let this create a stress cloud for you, you will continue with your secure position in the office. Also do try to maintain cordial and trustworthy relations with your associates as it may become an asset for you in the future when they would act like life-savers in odd times. The same level of compatibility will be expected from your bosses. Holding grudges will impact you only, you have to learn the diplomatic tactics as this will eventually help you climb the success ladder.
January weekly horoscope predicts that Leo students may take off time out of their busy study schedules for some leisure activities. You know how to balance an equilibrium between studies and entertainment. It is good to have an ambition and be driven by it but taking hasty, and level-headed decisions can divert you from your path. The distractions will just be add-ons to obstruct you in your journey and delay you to reach your goals. Try to stay determined and not hinder your road to success.
Prevention is better than cure, and it is better to be safe than sorry. Leo weekly horoscope is not in your favour in terms of health. It is a matter of concern, and you may need to be very careful. Proper food should be eaten, and outside junk food is to be avoided at all costs. Meditation and regular exercise should be part of your lifestyle.
"You gotta stay positive for yourself Leo, even when it feels like your life is falling apart."
Virgo
The love that is in the air will pass through your masks, dear Virgo. January weekly horoscopes say that this love-filled air will swoon you away by emotions. Don't rush things and run to take things to the next level. Be patient and try to keep your relationship stable for the time being. Prioritizing things and planning them accordingly will turn out to be in your favour says the Virgo weekly horoscope.
You know how to cross borders even with the heavy workload you have. This skill of yours will also help on the financial front. January second week overall is a good period for you to make the budget and maintain good financial stability throughout the week.
Freshers hunting for jobs, your prey will come straight for you – you just have to shoot properly to catch it. It's a progressive period for your career growth. The January weekly horoscope also predicts business expansion this week. The newly launched products of your business may yield good returns.
Baby steps progress is still progress. Students will have these baby steps only in their education. Disagreements all the time, but solving those issues and keeping good relations with your friends will be advantageous for you in the future. Don't get over emotional and let it affect your studies.
Signing up for co-curricular activities and cultural fests will help you in your overall development. Your health will remain average as mixed seasons may engulf you. All you may need to do is consume nutritious food along with regular physical exercise, this may help you remain fit and fine.
"If the plan doesn't work Virgo, change the plan. But never the goal."
Libra
A sour cloud might be hovering over your relationship, Libra and it is important for you, not to hurt your partner in any way during this rough patch. Past mistakes should be left there only, also any manipulative or spiteful conduct should be let go! When you are committed, it should be followed that you are not flirting and poking your nose somewhere else as it may build animosity between you and your partner leaving you both miserable at two ends. In case of any misunderstanding, it is better to talk things out like civil people rather than rash out and make things more problematic. Not only will this clear your head but also stitch any wounds and scratches.
Libra weekly horoscope shows you a green signal for your extensive efforts which will help you make moderate gains on the professional front. The green signal will allow you to generate more money than usual. During this, there can be invincible hurdles in your path, but your confidence and your capacity to work more will act in your favour.
Students are advised to give up their carefree approach. Besides, there may be tricky situations that may put you into a dilemma. Libra, you should be prepared to handle scenario-based questions on your aptitude test.
You may become lethargic sometimes and become lazy to exercise, but this can adversely affect your health and energy levels. Working out thrice a week is enough, and medication will help you stay calm. Take care of your health, and it will be beneficial for you in the long run.
"You know Libra, happiness is an inside job. Don't assign anyone else that much power over your life."
Scorpio
Sizzling romance and intense love are on the calendar for you darling Scorpio. The January weekly horoscope predicts that this week is going to be beautiful. All the single lads and lasses, you may find it a suitable time to propose to your better half. The week is filled with surprise and marriage proposals.
Scorpio weekly horoscope predicts that unanticipated gains will make their way over to you. New business partnerships, new projects with your exceptional communication skills will boost your finances and make immense profits. The second week of January will get you handsome returns from your work. The topping on the cupcake is the amount of savings that you will have in your bank account.
The picture is kind of shady for professionals. You may struggle to keep things going this week! But it is necessary to look at the bright side of things. Soon the tables will turn, and everything will be in our favour, so you should not get disheartened. The same rule applies to the ones who feel stressed due to your busy and hectic work schedules.
Students, you will do well in education, but you need to be patient and dedicated despite frustrating moments. To stay updated with the latest trends, you should spare some time for recreational activities. Accepting life challenges but will help you keep your life interesting as well as maintain a healthy lifestyle. Sticking to a balanced diet, having green salads, doing light exercise will help you fare better.
"Obstacles are the cost of greatness, and you have the strength to jump the obstacles Scorpio."
2021 is like a bag of goodies, ready to be opened. Why not check your goodie bag now with this Personalized Horoscope!
Sagittarius
Sagittarius weekly horoscope asks, if you don't show your emotions, are you human? Having respect for each other, showing courtesy, behaving politely is in a way form of love and affection. The second week of January will bring all the Sagittarius lovers together. You will share your thoughts and opinions. Enjoy all the things that the universe has to offer you.
As you level up, the difficulty increases; in the same way, your spendings will be moderate initially. However, as the week proceeds, it will slowly rise daily. There can be instances where you will have to use your savings. Taking loans or asking a friend to lend some money may sound like a good idea, but if you are not able to repay those due to your carelessness, then it can be dreadful for you. You are in no condition to take care of your expenses, so strictly say no to lending cash this week to anyone as the money that you lend may not come back shortly. The business plans that you were working on for months may not fetch you good results. So, pausing that part for a while is a wise decision. Thus, the week will be no fun and games for self-employed and business individuals, and however, is much better for those who are into service or job.
Doing anything half-heartedly will not get you results. Focus and dedication are the stepping stones to success. Students learning and acquiring new skills, your January second week will be adventurous. You will get credit for your efforts if you take up full responsibility for something.
Being concerned about your health is going to be the mantra for this week. Sagittarius weekly horoscope says to take your medicines on time, refrain from oversleeping, try to be more active than be a couch potato, don't party a lot, etc. Take all this as free advice and not some lecture. It can be a difficult phase for you if you are not careful of your health and diet.
"Make your life a masterpiece Sagittarius, imagine no limitations on what you can be, have, or do."
Capricorn
Your jar is filled till the top rim, full of emotions, feelings, and demands in your love life. And this second week of January that jar is going to get emptied most romantically. Spending more time with your partner will help you understand them better. If you are a newbie, who just got into a relationship, then this week might get a little stressful for you, but an easy approach and supportive attitude will help you calm your nerves.
You will be happy go lucky monkey this week Capricorn. There are going to be substantial gains from unexpected sources, and you will generally be satisfied with the happenings of the week. Capricorn weekly horoscope says that it is important to plan and spend carefully to avoid loss of money.
Working professionals, the second week of January will be full of growth and developments for you. For higher education students, this week will be all the more good. The universe is in full mood to throw distractions your way, which will increase your stress and affect your performance. But you have to try not to lose focus and relax your mind. Owing to your discipline and sincerity, you will soon regain your interest in your studies.
January weekly predictions suggest you focus your attention on your health. Following basic health and hygiene rules will help you in your well-being. Practice yoga regularly, it helps in raising energy levels & improves blood circulation. It will also help you maintain a good digestive system. Taking a practical approach in life will help you become the best version of yourself. Indulging yourself in your fav foods sounds tempting, but do not overeat during weekends, it may affect your health.
"You always pass failure on the way to success. If you know, you know, Capricorn!"
Aquarius
Aquarius weekly horoscope will assign your love life the back seat as you are not flexible with your partner. Try to be more loving and warm towards your mate to keep the flame burning. Showing your loyal and loving side will only make your partner want you more. Unwanted arguments and misunderstandings can ruin the beauty of your relationship. So it is better to clear the air and try to get your love life on the front seat again!
Financial gains are on the list in the second week of January. Your business is going to flourish giving you exciting returns. Although, don't make any major financial investments during this week. If you are working professionally, the chances of your boss helping are pretty high. Challenges are going to be there at every walk of life, but then at the end of the day, you are going to be the winner and that is what is important!
Students know how to balance their time between studies and leisure activities. Also, don't let unnecessary stress cost you your precious sleep.
To stay in shape, practice yoga and meditation. Aquarius your digestive system will be affected if you don't keep up with proper eating habits. You should adhere to a good diet and lightweight exercises also.
"If you want to be successful Aquarius, find out what the price is, and then pay it."
Pisces
Some fine developments in your love life are on the way this second week of January. Pisces weekly horoscope also predicts that you will go on a small trip with your spouse. You will also confess your undying love to your partner, which will strengthen your relationship. Married couples should follow their vows and promises which they make to each other. Singles your January second week is going to be all lovey-dovey.
In the second week of January, you will be showered with money from multiple sources. Financial growth is going to reach another level and you will also make good savings during the week despite expenses. As the income is going up, the expenditure in your business is also going to go up. Because of the increased income, workload and responsibilities are not going to stay at bay. But amidst all this do try to take out some me time and it will keep you refreshed and at peace. Working professionals, you may get a better opportunity in your closet, and you may change your job.
Students planning their masters and higher studies will be successful in their journey. Whereas school students may get distracted in their studies. Pisces weekly horoscope advises you to stay clear of the wrong company of friends. Be careful about your company in school or institution or else you may lose your purpose in life by getting distracted from studies. You will need some positive thoughts and motivation to do well in your education and examination. It is not something that you can buy from a general store, but if you try, you will find it.
High priority should be given to your health. The transit of planets in January second week predicts that you need to relax and free yourself from unwanted thoughts. You can sleep well after this. It is also suggested to avoid doing any heavy exercise and be cautious while traveling.
"Do know this Pisces, hope is the foundation upon which all successful goals are built upon."
Also Read :- Weekly Horoscope: Which top 5 zodiac signs will do better this week? (Dec 12 To Dec 18). Know if your zodiac sign is included in the list.