2023 Monthly Horoscope Overview: January Predictions for all Zodiac signs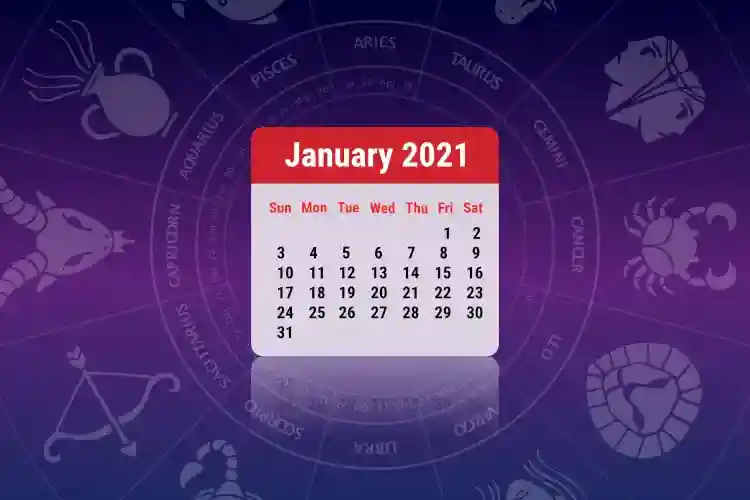 Introduction
Are you ready to take upon your ice bucket challenge for January 2023? The article carries a lot of chills provided the January 2023 horoscope overview predictions of all the 12 zodiac signs. Buckle up as the transit of Jupiter and Saturn may take you up on a rollercoaster ride of your own. Ladies and Gentlemen you are in for a fight of your lifetime provided the month carries incredible celestial events, OMG! Two stelliums and one triple transit. Chances are skyrocketing that you may achieve glory in matters related to career, finance, marriage, relationships, Wealth, education, health, business, investments, and about every other aspect of life. Know all astrological events happening in January 2023 here. You are advised to put the boxing gloves on because you know not what challenges may pound you upon the surface. The best advice for you is to collect the real facts along with the well-researched intellects. Get ready to Rock n roll as the mystical January 2023 may place you upon the celestial rock stage.
---
Aries
The month looks great for all the Aries natives. According to Aries monthly horoscope, you would strive towards maintaining a healthy work-life routine. Your health looks perfect at the moment. Stay away from binge eating and take up any exercise such as cycling, jogging, swimming, boxing etc. A routine health checkup is on its way. The more transparent you are about your health, the better it gets.
The fiery Mars warrior needs to be careful when it comes to love and relationships. Plenty of opportunities for you to spend memorable time with your partners, opportunity to express feelings, you may even go on a date. Negatives are you might get into heated arguments and blow the whole thing up. The professional front seems full of surprises like receiving financial gains, work promotions, opportunities for new learnings.
Chances are high that your thought process will change, leading you to new careers. All the hard work and determination performed by students will reflect in their grade sheets. Investing in health insurance this month looks mandatory and won't bite you for sure. A sudden rise in domestic expense might give you a financial blow. Positive development in government policies and support from business partners may help you to enhance your business.
DO YOU KNOW?
A Supercelestial event that is Jupiter-Saturn-Mercury conjunction in Capricorn (Triple Transit) is going to take place on 5th January. Amazingly it might shower upon you a lot of benefits in major spheres of life such as career, business, education, marriage, health, relationships, and a lot more. Try to catch it live on your nearest space observatory.
---
Taurus
You got no chill this month when it comes to working. Prioritise your work schedules and begin implementing a work strategy. The bulls might face some ups and downs in personal life, but they know how to hustle right? Aggressiveness at work might cause you problems. Try to keep it calm. The Taurus monthly horoscope reveals that allocating appropriate time to health and relationships will ease your burden for the month. The good news about a close relative might make your day. Stay aware that your rigid thoughts might not stress out your marital life. Keeping down your aggression and providing space to your partner might resolve a lot of things.
This month chances are that you may falter on your savings, especially when the health is concerned. Keep a close grip upon your earnings and expenses. This month your career seems to take an upward swing with all good things coming your way. Achievements at workplaces, success in job searches and appreciation for your hard work things like that.
Students preparing for competitive examinations and taking distance education will be like Kudos!!! Health must be your major concern this month. Avoid stress and boost up your immunity with an intake of some bitter gourd juices and stuff like that. Eating light and less for a month won't turn you into a strawlike. Watch out for sudden disagreements which carry enough potential to add stress into your lives.
Would your dreams come true in 2023?
Find out what 2023 carries for you with the Free 2023 Horoscope report written by the experts.
---
Gemini
Your eccentric nature makes it difficult for you to adjust in public right? Apology for spilling the beans. The Gemini monthly horoscope advises you to just perform hard work and start some meditation, yoga, and stuff like that. This month you will face the crowds confidently ushering all the negativity aside. People around you know that you are under significant pressures right now making it more difficult to manage relationships.
Superficially you may feel fearful and defensive but always remember from inside you are playful and intellectual. Your magnetic and reliable personality literally draws the crowd. You are strong and honest, that is why the opposite gender seeks you all the time. Avoid having false pride at all cost which will definitely make you act like a headstrong and arrogant person. The time is best to execute the alterations into your house and the office that you were planning for like for the past decade. Forgiving the person whose mistake hurt you will earn you a lot of respect among loved ones.
This month brings you excellent health with minor but easy to recover problems. Please let go of all the confusion going around in your mind before it severely limits your work. Although you carry good intentions, gaining public recognition will take some time. Watch out for the journeys you are planning for this month as chances are high they might drain out a lot of money from your bank vaults.
Stop worrying about your career. Get all the information about how exactly your career would shape this January 2023 by going through January 2023 Monthly Horoscope Career.
---
Cancer
Lewis Hamilton starts for you this month. Imagine yourself this month in a boxing ring hustling through challenges like Mohammad Ali used to pound his opponents. The impact of transiting Jupiter and Saturn will bring productive and profitable results on the career front. In the middle of this month, you might bounce upon some new opportunities. Towards the closing of the month, you will definitely feel a positive momentum.
This month you will feel a strong sense of connection with your loved ones. Thanks to the impact of Venus, you will be able to nerd out many complicated issues and problems. Watch out for the period around the third week as your wait for love in life is likely to get over or your dumb love life may become Albert smart once again. The Cancer monthly horoscope reveals that the impact of Mars may result in conflicts in your relationships till the month ends. Do not worry your month is ending on a positive note, and you are bound to receive a lot of happiness from loved ones. This particular month will help you strike gold by bringing upon the table many good financial deals.
The middle of the month might make the floor slippery for you. Grip on to your finances and practise much more caution around this time. The end of the month might result in sweepstakes for you bringing marvellous opportunities to earn amongst a few nasty challenges. Managing your work life will definitely seem easy provided the reduced stress levels. Your health levels may bounce but never go beyond extreme. The month is auspicious for making progress in education. This month all your hard work will pay off, bringing you one step closer to your dreams. Look out for the overconfidence, which might hinder your concentration and studies.
Do You Know?
A very special cosmic event that is Jupiter-Saturn-Mercury-Sun conjunction in Capricorn (Stellium) is going to take place on 14th January 2023. The particular arrangement is bound to bring grounding and stabilizing energies which may profoundly affect your life. You might feel its benefits in your career, health, relationships, education, business, finance, and about every other important aspect of life. The best thing for you would be to reach out for the nearest space observatory and catch the action live.
---
Leo
The eternal warrior needs no predictions, still, let's begin. Kicking off on an average note the month may gradually pick upon. Due to Saturn and Jupiter combining their forces, you may experience mixed feelings around you. No need to worry as things are likely to fall in place, mid-month onwards. The Leo monthly horoscope predicts that the positive impact of Mars may bring a lot of opportunities for you to progress around the latter part of this month. People in business must be ready to clinch the deal of their lifetime.
The planetary movements may provide an upward push to your finances. According to the movement of Mercury, it is advisable to refrain from making hasty decisions in major financial matters. Consider mid-month as the Santa Claus period bringing, encouraging opportunities to boost your earnings. The impact of the love planet Venus can bring harmony in all your major relationships provided you let your partners breathe (Not Kidding). Contradictions, Confusion, Chaos in the latter half as you may be sweating about future growth and progress and at the same time you wish to take a sauna bath and visit the beach all day, predicts Leo monthly horoscope.
Do not leave the bout, no matter what, keep pounding the challenging times all month which will bring the best (or beast) out of you. All green in education and similar endeavours this month provided you get not lured by stupid distractions (Stay focused). The transiting Sun may bring up some old health issues that too at the beginning of the month. With favourable planetary influences, this is a good time to show the world you got the energy. Say these petty health fluctuations won't bother you and paint it red (You got it).
Is marriage on the cards in 2023? Check the influence of planets on marriage, career, health, and more from Free Personalised Janampatri.
---
Virgo
Who can stop Virgo from growing? Just remember to face all your challenges with your raw intellectual, and it's all green. The combined impact of Saturn and Jupiter may help you build a strong foundation. The Virgo monthly horoscope reveals that you may pick up strong momentum, but Mercury, your own goddamn mentor might bring confusion as the month starts. Throw away all the uncertainties and just focus on your performance. This month might allow you to flex your financial muscles. Chances are skyrocketing that you form some new, meaningful, and interesting relationships down the block.
Students need to chill as their hard work and intelligence are sure to get them good results. It is very likely that hectic work schedules would result in fluctuations in your health at the start of the month. Virgo monthly horoscope suggests that job seekers need to get themselves buckled up as many good work opportunities await them as the month progresses. Expansion of business seems on the platter. The middle of the month might bring some temperamental issues in relationships. Stay calm, no major damage in relations. Bad news, the impact of transiting planets might result in career disruptions that too during the latter half of the month. Please do not act stupidly, things are looking better as the month approaches its end. It's just the good cop bad cop routine.
People are already talking about your financial planning skills. Keep blushing you are going to get better with finance as the month approaches its end. It seems you are facing some conflicts in relationships. Adding upon, that there won't be a better problem solver in the room than you. Talking out the issues and analysing the pain points will bring the required resolutions. Your perfectionist attitude will bring great improvement in studies. It seems all fit and healthy in the latter part of the month just try to eliminate the unnecessary stress. You are the workout zodiac, right? Practise some yoga, dancing, jogging or something to bring down the stress levels.
---
Libra
You are the best of citizens. Try to practise diplomacy before things blow up in your personal and professional relationships. The Libra January horoscope reveals that this month might bring you emotional turmoil, so you are advised to stay calm and hold on to your nerves while facing difficult situations. Providing the hint with a little bit of sympathy from your side to your close ones will save any harm to your image.
Chances are high, you get swept away by an attractive soul. With Venus as your planet and romance in your genes, you know very well how to bind that soul for the timebound (Even a lifetime). Aren't creativity and imagination your showoff traits? Begin nurturing them from the start of the month and take all the support you require. It is strongly advised that you take help. Getting the right job is very likely to improve your fortune, says Libra monthly horoscope. People may think you are being irresponsible, but it is very possible that they don't understand the inner genius in you. Although you don't like to be dependent on others, love will act as a motivation to plan for your financial future.
Things like balance and harmony come naturally to you, reveals Libra monthly horoscope. Perform some meditation and yoga, which will vitalize your mind and body which as the month requires extra care. Those of you planning to settle abroad may initiate planning from this month. You should try seeking advice from an expert to perform documentation and all other necessary tasks. It is very likely that towards the month-end you may meet an old friend who will share his/her experience with you. You are advised to pick what is informative and helpful as you will be quite content with your achievement in life.
---
Scorpio
The month starts on a good note for the vice of all the zodiac. During this time, the majority of the people will be content with the way the month treats them. Your way of life seems perfect with everything in place. The Scorpio January horoscope reveals that the time calls for many of you planning to start new roles or even undertake stiff resolutions. You may face difficulties in paddling your resolutions. You are advised to leave no stone unturned.
Around the middle of month, you will achieve firmness to put your resolutions into practice. The middle of the month might bring a lot of travel for some of you. Chances are skyrocketing that you enjoy leisure and travel to your fabled destinations. The middle or later half of the month brings an opportunity to plan out a business partnership. Surprisingly it is very likely that a foreign partner will wish to work with you on an immediate basis. The deal will boost your confidence and bring in the much-required resources which are rewarding in itself.
This month you may meet an interesting personality that can be your life partner, of course, and why not? The month is full of surprises for people finding suitable partners according to Scorpio monthly horoscope. You are advised to take this relationship slow and steady. Marriage might throw new challenges such as personality clashes, power struggles which might irritate both of you. Do not allow the stress to get beneath your skin. Otherwise, the health might take a toll.
Do You Know?
An amazing astrological event that is Jupiter-Saturn-Venus-Sun conjunction in Capricorn (Rare and Powerful Stellium) is going to take place on 28th January 2023. Stay surprised as the event carries a lot of benefits regarding your health, career, education, marital life, relationships, business, finance, and almost every aspect of life. Reach out for your nearest space observatory and observe it live.
---
Sagittarius
Usian Bolt start for all the Sagittarius native. The archers will experience consistent progress in their efforts summing up to their improved performance. Many of you may go on a short trip for like a weekend or something in the second half of the month. The Sagittarius January horoscope amazingly reveals that some of them might showcase their business acumen initiating or setting up ventures.
The middle of the month is auspicious for marriage and love affairs. Magic might happen in your love life, but you need to put in the required efforts. You may require to perform the much required deliberation of sweet talk and shower affection in the form of gifts upon your spouse or partner. You are advised to not adopt a lenient approach regarding your relationships. Otherwise, your bonding will get affected in the days to come. An interesting fact is that the time after the third week seems very good for some of you to join hands and start a business in partnership. Please make sure to perform the required paperwork in place to avoid any future disputes, advises Sagittarius monthly horoscope. It might save you from committing grave and costly mistakes. Chances exist that many of you would pursue higher studies in electrical and mechanical engineering. Your hard work may lead to good performance in internal exams, and you secure good grades. Meritocracy will gain enough importance around this time.
The time around the month may tempt many of you to become money lenders making extra bucks through arbitraging, suggests Sagittarius monthly horoscope. This seems a risky proposition which might lend you in trouble. Mind being overconfident because chances are you might fall in a ditch. Your health might experience a swing hence keep a check on your immunity levels. In January month, plenty of guests might be visiting you, making the atmosphere lively and pleasant. It is very possible that you may get interested in outbound recreational trips.
Make the most today by having insights into imminent events happening today from your Free Personalised Daily Horoscope beforehand.
---
Capricorn
This month predicts you looking for some adrenaline-pumping adventures such as skydiving, scuba diving and much more on the platter. Capricorn January horoscope predicts you may feel more impulsive, confident and independent compared to the last few months. Get ready as a herd of career-related opportunities coming down your block. Prepare to get your hands dirty as chances are you get immense success in the business world. Be careful while planning things before executing them as it is very likely that your thought process will affect your work.
The higher possibility is that you may have to spend a lot of time and money on the enhancement of knowledge and learning new skills. This is obviously not the very right time to plan long trips or attend business meetings if you do not wish to incur heavy losses on your part (It's Astrology). It is needless to say you love being bosses, but you are advised to avoid any heated arguments with female colleagues or managers. Otherwise, the thing might just get blown up. This month may draw some of you towards designing or creative work forms. Chances are high that you might undertake some of these design and creative courses at a professional level. Are you ready to speak about the same in some kind of discussion forum? (Just take the hint).
The time is literally ripe just like a plush mango to spend some bucks on advertising your skills and talents. If married, convince your life partner to at least dedicate some life in these projects, reveals Capricorn monthly horoscope. The months carry a lot of hope for people pursuing their studies. Your dream of travelling abroad to pursue higher studies might literally come true. Chances are super high that you might easily get the required financial assistance.
---
Aquarius
People pursuing their careers are advised to tightly hold on to the research and analytics projects in hand. This just might be your stairway to success. Aquarius January horoscope predictions showing a change in your work environment and chances are skyrocketing that you will receive a job far away from your homeland. Mind keeping a gap in your new project because unknown fears and workload can result in too much stress in addition to the dreaded transit of Sun and Venus.
Financially this month carry opportunities for you to make good gains in your business but not without bearing few expenses. Chances are good that you receive a fairytale business offer from a far away disneyland. Stay prepared for some unplanned expenses as your friends or colleagues might demand a party or get together from you. You are bound to face challenges, and it is very possible that unexpected responsibilities may come to your shoulders, resulting in too much stress. Due to the Mercury and Sun conjunction students are advised to follow all the guidance, suggestions and leads provided by their mentors & parents to achieve their aims (On a serious note). Aquarius monthly horoscope predicts you chilling a lot with your friends enjoying some groupie love.
The last phase of January brings the transit of the Sun and its conjunction with Saturn due to which you are advised to provide some room to your loved ones thus empowering them to express their feelings. In short cool off your bossy attitude or stop choking them for some time (Teary Eyes). Great news for people in a frantic search for partners, the month of January provides you much assurance. (BAM another great news) This month brings along enough opportunities for you to spend time with your children. You are advised to pay great attention to your health and diet, like mind adding some green leafy vegetables or take upon kickboxing or stuff like that. You are advised to avoid unnecessary discussions and switch off your electronic gadgets for some time. Saturn and Jupiter may result in you losing sleep, you may face health challenges, unwanted stress, and a lot of bad stuff like that this January.
Say Goodbye to never ending challenges, Talk to Astrologers Now for instant solutions!
---
Pisces
January looks pretty exciting for you. You may celebrate with your friends (party haa!!!). A get together with your family and friends this month seems to add upon your happiness. Pisces January horoscope reveals it is very likely that a practical financial decision may help you accumulate good gains this particular month. There exists a possibility for unplanned expenses on a foreign business trip. Try not to make any major changes in your business plan this month as till the time being things are not placed in your favour (It's not gravity).
Planetary moments predict that your mentor may not help in your career (You are on your own). Chances are ego clashes or differences of opinions may raise up the heat at the workplace (Keep it cool). If you work into a medical service or are well connected with charitable work, you are advised to fasten up your seatbelts as the road ahead seems extremely busy for you. Wait till it ends you are likely to make good financial gains. You may receive financial help from your father (Please don't refuse, consider it luck). Next in line a proposal from a friend for marriage. The commitment may play an important role. Beatings begin for the night. Also, there is a higher possibility of a communication gap in your marital relationship. The transit of planets may give you sleepless nights (I know it hurts). It is advisable to avoid silly arguments and unnecessary discussions before going to sleep. Additionally, you may face major health issues all due to ignorance like carefree diets, not hitting the gym nor roads.
Good chances for students to get admission in a foreign college. Beware students, chances are high you may face disturbance or detachment from studies all due to your ill company of friends. Make it mandatory to follow the suggestion of your mother and try to bring regularity to your studies. Get ready for some additional responsibilities at home (Wear it like a badge of honour). The time requires you to pay special attention to the health of your mother. Get her a regular health checkup. The month is not at all a favourable month for making any decision regarding land and property.
Make your New year 2023 more interesting by knowing your Lucky Number and Colour for the month of January.
---
---