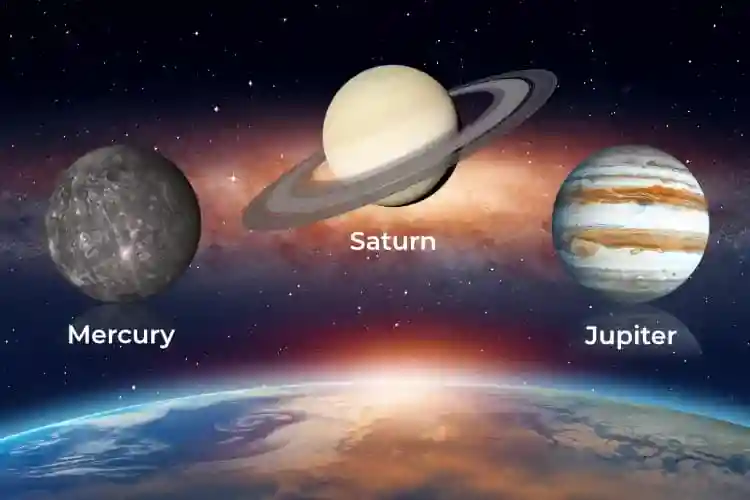 After a rare sky show on the 21st of December, where two heavenly spectacles, Jupiter and Saturn huddle closer forming historic Great Conjunction, the celestial events happening in Capricorn sign are unstoppable. Yaas, Mercury is joining the team on January 5, 2021, which would lead to the triple planetary conjunction of Jupiter, Mercury, and Saturn. What a great way to start New Year 2021! The rare alignment of Jupiter-Mercury-Saturn is getting warmed up in the house of Saturn to shake things up. With the addition of a planet like Mercury to the Jupiter-Saturn conjunction may also add mental strength factor to the conjunction. Jupiter stands for religion (dharma), whereas Saturn stands for a person's karma. Together, these big guns can form Karmadhipati yoga.
Will this rare combination bestow Raj Yoga in your Horoscope?
Dharma Karmadhipati Yoga is formed when the lord of the 9th house is mutually exchanged together with the lord of the 10th house, and then the Yoga becomes Raj Yoga when they come together in conjunction.
The planet Jupiter may lose its strength in the Capricorn sign, whereas planet Saturn is becoming powerful. Planet Mercury playing a supporting role in this conjunction may disturb the peace of various countries in the world. Also, because of planet Saturn, the world may soon run out of food, facing a food shortage.
The impact of Mercury, Jupiter, Saturn Conjunction may be huge in India and the entire world. India's seacoast regions like Assam, Leh-Ladakh, Kashmir, and Rajasthan which may have high impact and that too mostly malefic due to the influence of the Triple planetary transits. This conjunction could lead to unemployment, crashing of the stock market, and exposing politicians. Though the conjunction of Jupiter, Saturn, and Mercury will remain in Capricorn until January 25, 2020, its impact will be there on all zodiac natives for approximately 3 months. The first month may have a positive impact, but the second and the third month may get even worse, and by approaching the 3rd month, it may have a totally negative impact on every country worldwide.
Let's go ahead and see the Pros and cons of Mercury, Jupiter, Saturn Conjunction and their impacts on all zodiac natives.
Effects of Mercury, Jupiter, Saturn Conjunction on all Zodiac Signs
Mercury, Jupiter, Saturn Conjunction effects on Aries Moon Sign-
This may be an important phase for Aries pals. As the conjunction of these important planets in the 10th house could do a lot of wonders in many areas of their life. People employed may see the change in their workplace in this phase. The change in location could be either because of transfer or moving to another place along with your office. In terms of family, there may be an unconditional that you may have especially from your father. The business may see bloom, the desired progress in your business may be foreseen in Mid-January.
In terms of love relationships, there may be some ups and downs. For the Arians who are single, they are likely to get married as marriage seems to be on the cards. The ones who are married or in a relationship may see ego clashes with their spouse. In terms of other relationships, like the relationship with your neighbours or tenant, may improve. In terms of property and vehicles, the on-going pending issues may no longer continue as you may get solutions for your pending issues. This was a summary of the effects of Mercury, Jupiter, Saturn Conjunction on the Arians. Many positive changes on their way for the Arians.
You could also know how the recent Mars Transit 2020 would affect all zodiac signs here
Mercury, Jupiter, Saturn Conjunction effects on Taurus Moon Sign-
The conjunction may bless the fellow Taureans with Good luck. There may be many good effects because of triple transit in the 9th house. Transit of Mercury, Jupiter, Saturn Conjunction may have an impact on your family life. You may see an increase in your father's income, and your younger brother and sisters may face several ups and downs in their relationship while your elder brother and sisters may enjoy a quality time by travelling abroad. Students who are aspiring to study further.
Well, because of the conjunction, this may be a good time for higher education aspirants, especially the students who wish to pursue their education by going abroad. The ongoing issues which you may have been facing for long, well you may find a solution for your current issues related to inherited property. Suitable phase for politicians and journalists, so make the most out of it. You should refrain from taking any type of loan as you may find it difficult to make a repayment. Love life may be glorious for Taurus.
Apart from the Conjunction of Jupiter-Mercury and Saturn, planetary placements at the time of birth also have immense influence. Check your personalised Free Janampatri.
Mercury, Jupiter, Saturn Conjunction effects on Gemini Moon Sign-
Coming to the third zodiac sign, which is Gemini. The folks of the Gemini zodiac sign may get a chance to resolve pending work related to the paternal property. Long term investment during this time could get favourable results as conjunction will happen in the 8th house. Hence, long term investments could be a good idea. Moving on over to health, as health is wealth, isn't it?
In terms of health, Gemini may need to take care of themselves and their family members health as the conjunction could cause some health issues within the family. Hence, regular checkups would be recommended. Moving on to the brighter side, this period marks the victory of the good against the evil side, so those who are busy in court-related works may see that the outcome works in their favour.
Your elder siblings may get success on the professional front. Politicians or journalists will find themselves busy and may have small work trips.
Mercury, Jupiter, Saturn Conjunction effects on Cancer Moon Sign-
The sensitive and the reserved Cancer may see some good times during the transit in the 7th house, especially in terms of getting married. To the natives of this zodiac sign, you may have been noticing delays in their marriage until now. However, you may get to overcome the obstacles and may get married. Well, we would like to congratulate the folks getting married.
The ones who are already married, may see some issues within their marriage. You may have confrontation or arguments with your spouse. It may be a good time to accomplish pending international work. Also, during this time, building a new partnership in any field may be successful. In case, you have unmarried younger siblings, then there is a chance that they might get married during this period. You may fall victim to your enemies, so you should stay aware of that. During this time, you may stay away from your home and have more international trips.
Mercury, Jupiter, Saturn Conjunction effects on Leo Moon Sign-
Well, we definitely would want to see what is the impact of Mercury, Jupiter, Saturn Conjunction in the 6th house going to be the Lion. In terms of personal life, Leos may be at odds with their dear ones. Hence it would be advised to maintain patience and be calm while having conversations with their dear ones. For the Leo natives who have older siblings may approach the court to get solutions for paternal properties.
In terms of professional life, working employees may move to another workplace or may receive a promotion. Also, you may have arguments with your seniors. Hence, try to be updated to date with your performance at work. This may not be a favourable phase for your children and spouse. There may be expenses behind your child's education and international higher studies. Those who are unmarried may find a spouse aboard. This may be a suitable time for a person related to media or communication.
Get solutions for Career, Business, or Financial problems instantly, Talk to Our Astrologers Now!
Mercury, Jupiter, Saturn Conjunction effects on Virgo Moon Sign-
The perfect Zodiac sign or rather the natives of this zodiac who excel for perfection! The conjunction seems to really favour the perfectionists. As Mercury, Jupiter, Saturn Conjunction in the 5th house may prove to be favourable for this zodiac sign in more ways than one.
The conjunction may help Virgos to have good health, and hence you can keep all the worries of your health issues at bay. This may be a good time to invest in property too. So, in case you were eyeing on any, it may be time you booked it as well.
Adding to the list of all things good. It could be favourable for students planning to study abroad and family support can be foreseen.
This could be an unfavourable time for your younger siblings while an enjoyable time with your elder sibling barring issues within your marriage relationship. Those who are related to import-export works, politics, or media may experience a good time.
Mercury, Jupiter, Saturn Conjunction effects on Libra Moon Sign-
For the exceptionally good, in fact, the goody-goodies of the zodiac signs. This conjunction in the 4th house could get some mixed results. It could get good results in some areas of life, and some may take a troll because of this transit. In terms of decision making, it is highly advised that you refrain from making a hurried decision. Think through and very mindfully through the entire decision-making process. During this time, there may be some strains on your personal life as well as may see some unstable relations with your friends and colleagues. Short trips during this time could be favourable for Librans.
Students may also see a mixed-phase. Some Libra natives may get a chance to go aboard to pursue their education.
Married people may have a peaceful relationship. However, you may be able to resolve your internal issues in a quick time. You may have a stable income and expenditure during this time. Media persons or politicians may have a decent time.
Mercury, Jupiter, Saturn Conjunction effects on Scorpio Moon Sign-
Well, coming straight to the predictions for Scorpions along with making it straight and clear as Scorpions don't like a rosy picture being painted for them. However, this conjunction in the 3rd house definitely gets positive results for the hard work they put in. It foresees that the Scorpio natives may profit from different kinds of communications. You may also need not worry about health as good health is bestowed upon you during this phase. Your elder brother and sisters may also be profited during this transit.
This seems like a favourable time to get married as singles who are keen to enter the marriage phase may have a chance to get married. Well, we would love to pour in the congratulatory wishes well in advance. International trips and settling abroad may be on the cards. Researchers, politicians, or any media person may also have a favourable time. Communication skills may be affected during this time. It will be a good time for professional workers as well.
Mercury, Jupiter, Saturn Conjunction effects on Sagittarius Moon Sign-
The globetrotters and the adventurous Sagittarius! Well, even conjunction knows about their travelling and socializing ambitions as aboard trips, small events, or get together in your family are seen on the cards. In terms of finances, Sagittarius may have equal income and expenditure. The expenditure mainly foresees to be unnecessary expenditure on children during this triple transit in the 2nd house.
In case you are facing court-related pending works, you may be able to resolve it, or you may even find a permanent solution, putting the issue to rest. Put on your dancing heels as this period seems a very favourable time to arrange wedding and events. For the Sagittarius natives who are studying, they may need to put extra efforts to get the desired results. Hence study hard and don't give up as hard work does pay in the end.Politicians or media persons may face an adverse situation. You may have a verbal spat with your in-laws because of your different ideas and thoughts.
Mercury, Jupiter, Saturn Conjunction effects on Capricorn Moon Sign-
During the phase of this conjunction in the 1st house, natives of the Capricorn zodiac may see a surge in their confidence making them feel powerful as well. Along with a surge in their confidence, energy levels may also spike. Relationships with their younger siblings may also improve. Hence make the most of this time and plan activities to bond over with them. The parental issues that may have troubled you for a while now may take a back seat, and hence you may feel more relaxed and at ease.
In fact, you will be very happy as you may see a sudden increase in your father's income, because of which you and your family may be happy. It may be a good time to perform marriage rituals as this phase can be considered the perfect opportunity for marriage. Small trips may get favourable results, along with your court-related issues. Students, politicians, or media people will have a decent time.
Also Read:- Maybe it's the gauze and bandage 2020 is applying by a way of gifting the Great Conjunction of Jupiter and Saturn to us! Once in a lifetime kinda event.
Mercury, Jupiter, Saturn Conjunction effects on Aquarius Moon Sign-
Aquarius natives may see an inclination in religion and religious purpose as triple transit will form in your 12th house. Owing to this inclination they may even commercialize to organize religious events. During this period, it is advised that you take good care of your health as you may see some health issues coming down your way. Hence, try to take your regular health checkups and stick to your health plan.
Abroad trips seem to be on the cards as it may be a suitable period for travelling. However, avoid making short trips as there is a high chance that you may have an unpleasant travelling experience. Those associated with import/export or international trading may get satisfactory results in their work after going through several hurdles.
You may get the desired support from your father if you want to purchase land, property or vehicle. Government officials may foresee an upcoming transfer. Also, it's a perfect time to make long-term investments.
Mercury, Jupiter, Saturn Conjunction effects on Pisces Moon Sign-
The sensitive Pisces can dance with merry as lady luck definitely seems to favour them during this transit happening in the 11th house. May the most of this time as there are very few times when lady luck shines brightly on people. In terms of finances, you may see favourable results if a financial plan or work plan executed during this phase. Pisces natives who are studying may see instability in work. Hence, try to induce stability in your work as that may help with their academics.
In case you are awaiting the travel of children to a foreign country because of studies or work, well, they may meet your expectations. This phase also foresees immense support you may receive from your friend circle. There are chances of love marriage. Also, try to sort out any misunderstandings with your spouse to build a harmonious relationship. Politicians or media persons may achieve success during this time.
So, these were the effects of the very great conjunction of Mercury, Jupiter, Saturn on all the zodiac signs.
All the predictions of Mercury, Jupiter, Saturn Conjunction are as per the vedic astrology.