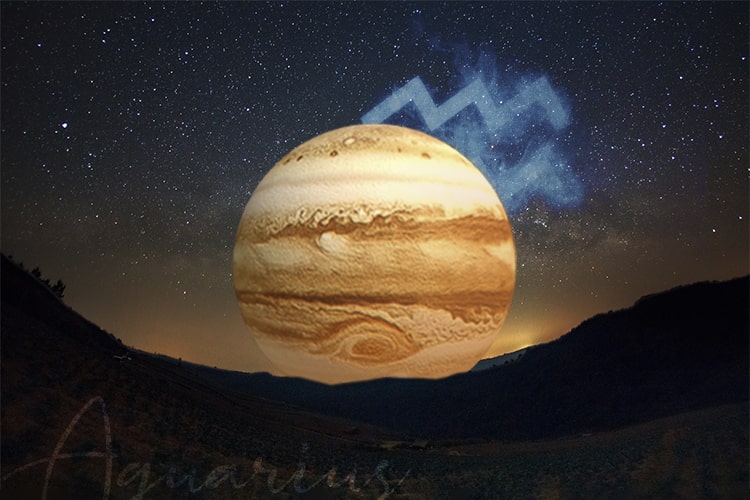 Jupiter Transit 2022: Effects on all Zodiac Signs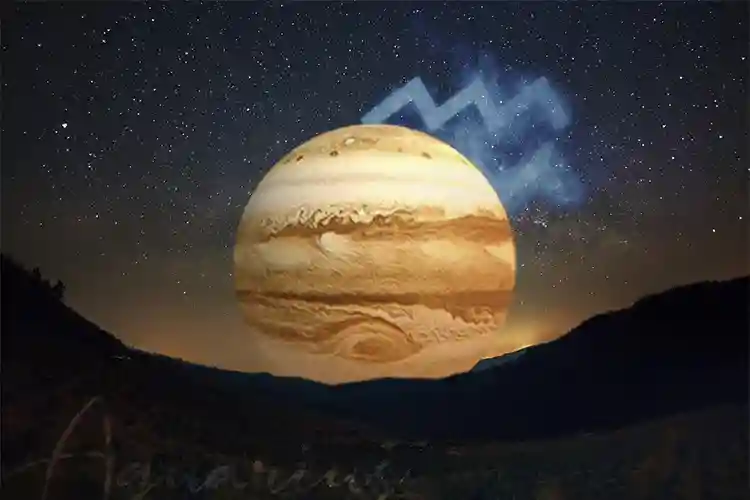 Knock, knock, who's there? – the mighty Jupiter it is. Feeling lucky about yourself, right? No doubt, we all are expecting the same. Jupiter has done it all, from sending numerous blessings and fresh energy to reducing the aspect of malefic planets. And so, who does not like to invite Jupiter in their house. If Jupiter has decided to change its house, it should get a warm welcome regardless of time and date. And the host Aquarius is no different from this. So WBU? Of course, you too are ready to welcome biggie and can't wait what the planet of abundance brings this time.
---
Effects Of Jupiter Transit In Aquarius On India
Transiting Jupiter in Aquarius will be passing through the 10th house and will aspect Mars in the 2nd house, reveals India's Kundali. It further signifies India will continue to develop day by day. Seriously? Astronomy believes so. Woah! One more good news is the nation is likely to achieve higher income and may improve GDP rate.
Working in a private institution? Then, you will cherish Jupiter transit period in Aquarius. Why? The government may soon introduce new strategies, offering maximum benefits to you. Will it be a favourable time? Yes, we guess. India may see positive results in the import-export business, so if you are associated with it – give a high five to Jupiter. Expansion of your business is imminent. Also, India may have a fine grip over the current pandemic. (but you may continue smiling under your mask.)
However, Jupiter's stay in the Aquarius sign from Nov 21, 2021 to Apr 13, 2022 means that things may take U-turn in your life. Jupiter will be happy to bless you, but at the same time, you may face challenges too.
Scroll down to know what Jupiter in Aquarius has in store for you.
Discover what stars say about you by accessing Free Personalised Janampatri!
---
Jupiter Transit 2022 Effects On Zodiac Signs
Throughout the year 2020, and from April to September, we observed how Jupiter played a significant role in the past events, and once again we are close to witnessing Jupiter transit in Aquarius from mid-November to April. Here, not to forget that Jupiter will get progressive from mid-November 2021 till April, 2022. And that's why stargazers are on the edge of their seats to know the effects of Jupiter transit.
---
Will Jupiter Transit 2022 Gift You the Real Wealth?
Needless to say that good health is your real wealth. The massive Jupiter entering the free-spirited Aquarius after almost 12 years will surely have a lot in store for our principal capital asset, which is good health and well-being. No wonder, in these trying times, all we need is the blessings of Jupiter to stay fit.
Health Prospects for Aries Moon Sign – You are likely to carry normal health but may have some minor problems like leg pain, knee pain, or back pain.
Health Prospects for Taurus Moon Sign – You may have minor health issues due to the seasonal changes. It is best to avoid eating outside foods. Otherwise, you may have a stomach ache.
Health Prospects for Gemini Moon Sign – Transiting Jupiter in Aquarius indicates good health. However, home-cooked food would be the best option to safeguard yourself. So, carry them when you are on a trip.
Health Prospects for Cancer Moon Sign – There may be some health concerns, and therefore, you should be under the consultation of health experts. Male natives may complain of a stomach ache or chest pain. While, female natives may have back pain or muscular pain in this period.
Health Prospects for Leo Moon Sign – You may experience minor health troubles in July and August. Other than that, you may continue to maintain normal health throughout the transition.
Health Prospects for Virgo Moon Sign – You may deal with health challenges, career struggles, or financial woes. Natives are advised to pay proper attention to their health. Else, you may face acid reflux, gas-related troubles, common cold, or intestine problems from April to June.
Health Prospects for Libra Moon Sign – You are suggested to be attentive to your health by taking good sleep and a proper food diet. Moms-to-be are advised to eat home-made foods and don't forget to drink more water.
Health Prospects for Scorpio Moon Sign – Certain health issues like gas, acidity, or obesity can be seen in male natives. While female natives may feel stomach pain. Elders should look after their health as well.
Health Prospects for Sagittarius Moon Sign – You are advised to take proper care of your health. Children may have neck pain. While female natives may deal with leg pain. The 6th house is missing the aspect of an auspicious planet, and therefore, you should seek the doctor's attention, even if you have minor health issues.
Health Prospects for Capricorn Moon Sign – Capricorn natives may get minor health troubles and muscular pain. Female natives are advised to take care during this phase as they may suffer from stomach ache, pregnancy issues, or gynaecological problems.
Health Prospects for Aquarius Moon Sign – Aquarius natives dealing with heart problems are advised to look after their health, if possible avoid trips. However, youngsters are likely to remain active and healthy.
Health Prospects for Pisces Moon Sign – Healthwise, elders and female natives may suffer from a stomach ache, blood pressure problems, urinary problems, or muscular pain. Pisces teenagers are advised to avoid going at crowded places from 8th April to 15th May 2021 as they are likely to get virus infections.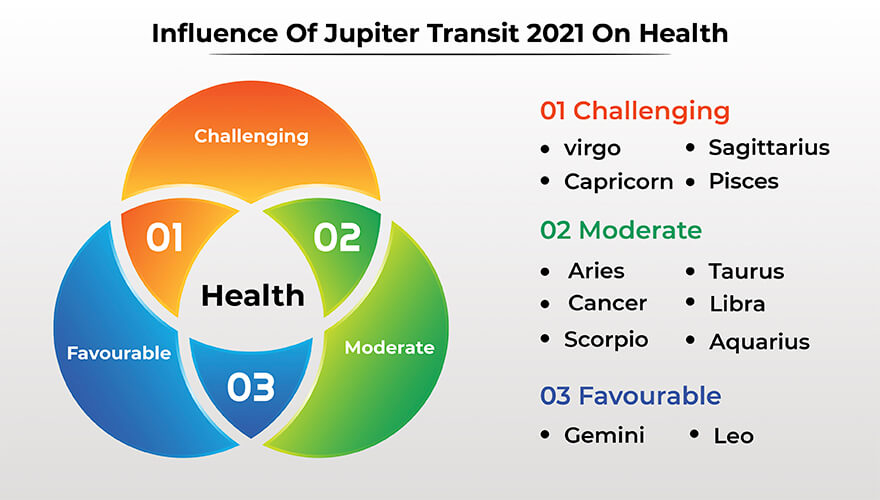 Major change is heading your way, stay updated with all imminent events in your life with your Personalised Daily Horoscope!
---
Good Fortune Will Knock in the Love Life of these 6 Zodiac Signs. Are You In the List?
Love is the journey where many unexpected changes are expected. And why not? Jupiter in Aquarius is a ray of hope for these 6 zodiac signs, while others need to be ready for the challenges. So, without ado, let's figure out the effects of Jupiter transit from Capricorn to Aquarius on your love and relationships.
Love Prospects for Aries Moon Sign – You may improve your previously spoiled relations with your loved ones. Other than that, you may rebuild your mutual understanding with your partner and may spend quality time with him/her. In this phase, parents and elders are suggested to be more friendly with their children.
Love Prospects for Taurus Moon Sign – Lovers are advised to avoid indulging in arguments to enjoy a healthy relationship. Against all odds, your cousins will help you to spend a memorable time with them.
Love Prospects for Gemini Moon Sign – Singles may receive a marriage proposal soon. Whereas, some of them may get a chance to propose to their dating partner, so yeah! don't miss it. This favorable time for you to buy a new house or land.
Love Prospects for Cancer Moon Sign – Married natives may enjoy a good time with their spouse. Also, Jupiter in Aquarius brings a decent time for relationships with your siblings and cousins.
Love Prospects for Leo Moon Sign – Married couples are suggested to avoid arguments to develop formidable bondings. But the natives in committed relationships are likely to get favourable results.
Love Prospects for Virgo Moon Sign – Married Virgins may receive support from their spouse. Female natives may have a war of words with their parents.
Love Prospects for Libra Moon Sign – In regards to your love relationship, there is not much help from the Jupiter transit except in the month of August, where you may achieve the likes of harmonious relationships.
Love Prospects for Scorpio Moon Sign – Singles may make life commitments in the month of April or June. As the transit of Jupiter in the Aquarius sign helps you to develop new relations. However, benevolent Jupiter may also call off marriage delays.
Love Prospects for Sagittarius Moon Sign – Singles may find the love of their life. While Sagittarius lovers may take their relationship to the next level.
Love Prospects for Capricorn Moon Sign – Besides, Capricorn lovers may experience hiccups in their love relationship. You are suggested to take care of relations with your buddies and siblings.
Love Prospects for Aquarius Moon Sign – Married couples may enjoy a great time. Singles may meet their life partner in the coming months. It is better to be friendly with their children as well as elders to maintain cordial relationships.
Love Prospects for Pisces Moon Sign – Pisces lovers being honest to their partners are likely to achieve harmony in their love life. But you are suggested to avoid hot arguments with your parents as the influence of Jupiter may strain your relationships.

Friend or Foe? Role play by Jupiter in your love life. To reveal, Talk to Our Astrologer Now!
---
Career Opportunities Comes Your Way When Auspicious Jupiter is at Your Back
Want to catch excellence in Your Career and Profession? Well, nothing is impossible when the planet of luck and fortune is backing you. So, check out, whether Jupiter Transit in Aquarius will give a push to your career or not.
Career Prospects for Aries Moon Sign – Natives related to the technical field may meet fresh opportunities. However, Aries natives may earn profit in the stock market investments in the months of April and May.
Career Prospects for Taurus Moon Sign –  Students may have career-related queries in May and June. Whereas, professional workers may need to wait longer to achieve their desired opportunities. Business planners or investors are advised to keep their plans on hold during the transit phase.
Career Prospects for Gemini Moon Sign – Huraah! Jupiter brings success in the field of career and finance too. April, May, and June will be more beneficial for students who are appearing for government exams. Marketing professionals may fulfil their work targets, while medical professionals may achieve new heights in their careers.
Career Prospects for Cancer Moon Sign – You may get a chance to make remarkable progress in your career. Job seekers may meet new opportunities. Your past investments may help to reap profits. However, if you are willing to make investments, then you should have a word with a financial advisor.
Career Prospects for Leo Moon Sign – Your sincere efforts in your work may help you to accomplish the target soon. Leo students may fly abroad to complete their studies in April-May. For investors, it is not advisable to make stock market investments. In case, you want to make an important investment you should think twice.
Career Prospects for Virgo Moon Sign – Professional workers should not resign in haste as they may not get desired work opportunities. Natives planning for long-term investments should consider the dates from 3rd June to 7th July only.
Career Prospects for Libra Moon Sign – Marketing professionals may have more business trips to complete their work. Job seekers' efforts may go in vain but if you keep trying, you may get success around May-June. Stock market investors may earn profits but soon indulge in unnecessary spendings.
Career Prospects for Scorpio Moon Sign – Scorpio natives may find opportunities to go abroad for studies. Professional workers may find more hassles in work, which may affect their mental health. You are advised to make investment plans only after consulting a financial advisor. Partnership business owners may earn maximum profits.
Career Prospects for Sagittarius Moon Sign – Students may require an extra dose of hard work to pass their exams. Jupiter transiting in Aquarius motivates you to uplift your career. In terms of finance, you should be careful while making a financial plan.
Career Prospects for Capricorn Moon Sign – Professional workers are likely to get promotions. Whereas, Job seekers may find their new workplace. However, it is not advisable to make stock market investments or property investments.
Career Prospects for Aquarius Moon Sign – Students preparing for government exams may achieve positive results in this phase. Commuters may get promotion or a salary hike between April to July. Also, stock market investors may execute their strategies well. But, it is advisable to refrain from making hasty decisions at this time.
Career Prospects for Pisces Moon Sign – During the transit period of Jupiter in Aquarius, businessmen are likely to earn profit and may strengthen their economic status. Also, Pisces natives may lose their control over money spendings in the months of April, May, and June.
Are the desired opportunity gonna knock on your door? Get a free yearly astrology report for details.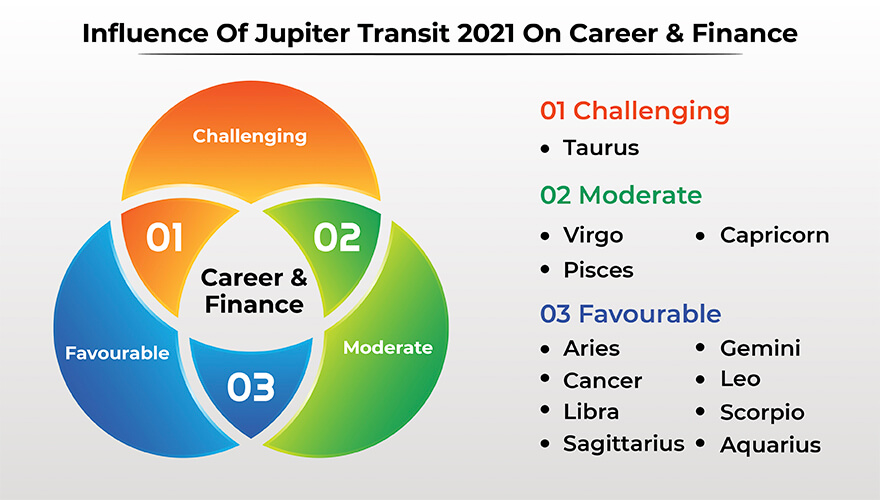 Is your luck about to change in your career? Uncover your Career Horoscope 2022!
---
Jupiter Transit dates 2021-22
Jupiter Transit in Aquarius 2021-22
Jupiter Direct in Aquarius: From 6th April 2021 to 20th June 2021
Jupiter Retrograde in Aquarius: From 20th June 2021 to 14th September 2021
Jupiter Retrograde in Capricorn: From 14th September 2021 to 18th October 2021
Jupiter Direct in Capricorn: From 18th October 2021 to 21st November 2021
Jupiter Enters Aquarius: From 21st November 2021 to 13th April 2022
Fellas, this is what Jupiter has to say about your zodiac signs. In the coming days, Jupiter may forget to give you its special powers but surely not for a long time. But if you have a favourable time during the transit, then make sure you do not forget to thank Jupiter for its assistance. Below is the graphical representation to check how the transit effects will be on 12 zodiac signs.
---
Lastly,
Week in, week out, we are unknowingly passing through good or bad times, well, it is a part of our lives. But, to learn about the upcoming phase, we can only knock on the door of astrological pandits. Lastly, before Jupiter makes the move, do not forget to take precautionary measures and in case of any queries, you always rely on us. You can talk or chat with the MyPandit expert team in case of struggles and queries. Handing out the predictions notebook, it's time for us to sign off on a positive note. We wish congratulations in advance to Jupiter for its new house and a pleasant time to our readers.
Disclaimer: Astrological predictions are based on the Moon Signs.
---
---