Solar Eclipse On Diwali: Know All Important Things For This Day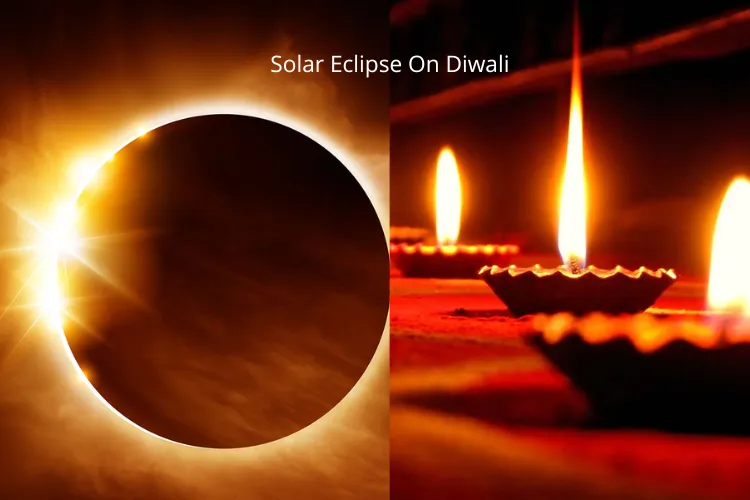 Get ready for a massive Astronomical occurrence! The last Solar Eclipse of the year 2022 is going to occur. But this time, this solar eclipse is going to take place on Diwali – the festival of light, the festival for which all have been waiting for a long time. 
This solar eclipse will be visible in India. However, it is said that no auspicious work should be carried out during an eclipse. But with this Solar eclipse, many folks are confused about whether to celebrate Diwali this year or not. Whether or not the fortunate and prosperous deities Lord Ganesha and Goddess Lakshmi will be worshipped, not only this, but you might also want to know when Diwali will take place this year.
Not only you, everyone is seeking for the answer. Hence, to clear all your confusion and doubts on this, Kalpesh Shah, founder, and CEO of MyPandit has shared some important things for you on this. Let's reveal what it is!
When Will Be Diwali Celebrated This Year?
As everyone is aware, the celebration of Diwali takes place on the new moon day of Krishna Paksha in Kartik month. And it is said that during this time, Kartikamas Krishna Paksha Chaturdashi will end on Oct 24, 2022, at 4.44 pm. This will ensure that on Oct 24, 2022, both Narak Chaturdashi and Diwali will be observed. This solar eclipse is going to occur on Oct 25, 2022, that is on Tuesday, the day of Kartika Krishna Paksha Purnima. 
However, there is nothing to be concerned about, regardless of when the eclipse begins or what day it occurs. Since the solar eclipse coincides with Siddhilav, the saints refer to it as Siddhikal.  It is said that during the solar eclipse, Lord  Rama was initiated by Guru Vasishta. Not only this, but even Shri Krishna also received his initiation from Sandipan Muni. Hence, according to the Shastras, solar eclipses that occur after sunset do not have any negative effects.
Know if Sun is favourably-placed or not, access your Personalised Free Janampatri.
Which Zodiac Sign Should Avoid This Solar Eclipse?
As per the IST, the solar eclipse will start at 04:31 AM and will be at its peak at 5: 57 am. After that Sutak period will start at 4:31 pm. This solar eclipse will occur in Libra under Swati Nakshatra. So, as a result, Libra folks are suggested that they should avoid watching this solar eclipse. 
Hope, this read has cleared all your doubts and confusion!
Get remedies to reduce the harmful effects of Sun, Talk to Our Astrologers! @ Re. 1 / min
---
---