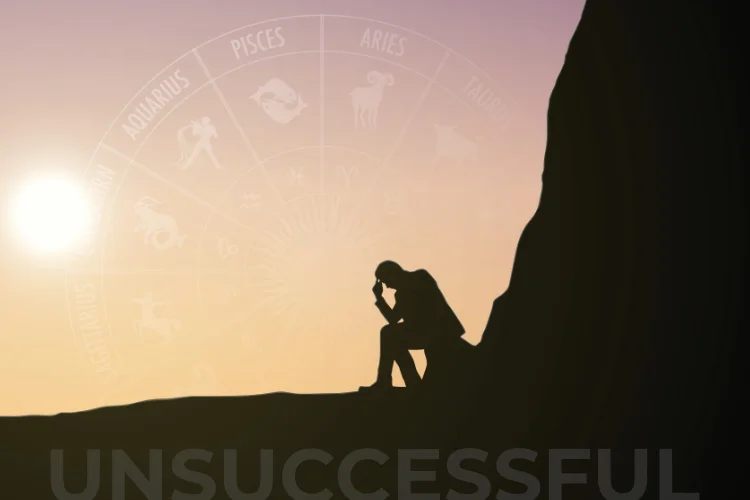 Finding it hard to become a successful person? Worry not, our best astrologers team is always on their toes to pull you out of a bad situation. Sometimes, we run out of luck despite working hard and find ourselves on the receiving end. But, what's the reason for falling sort of success? Maybe it's we who often fail to recognize our own mistakes in a hurry. Remember, Success doesn't like a shortcut, so we should change our habits of taking shortcut routes. Ever heard seeti maar dialogue of the movie '3 idiots' – 'Success ke peeche mat bhaago; kabil bano, kamyabi toh jhak maarke peeche aaegi'. Yes, you can become a successful person, but how is it possible? For that check out the below list of habits for all signs that individuals should try to change.
What Are The Habits That Lead To An Unsuccessful Life?
Read carefully about your or your partner's sign to achieve a successful life. Know the bad habits of natives of every zodiac sign hampering success.
Aries
Individuals of Aries are stubborn and easily get angry with their pals, so you should avoid being angry. Also, you don't like to work as a team as you have different views and thoughts. You are always in a hurry and that's why you miss some of your important pending works. Moreover, you are straight forward, so you don't like to talk behind anyone's back, but you should remember that your frankness may hurt other people's feelings as well.
Taurus
Just like Aries individuals, Taurus are stubborn and possess strict nature, which you should let go of. Another habit that may be stopping you to become successful is you are too lazy. You don't put your ideas into work and just follow the footsteps of your colleagues or partner. Generally, you don't participate in teamwork, or if you do you make sure you have the easiest task in the world.
Gemini
Who does not like to be talkative? Everyone, we guess. The same thing goes with the Individuals of Gemini, they are not just talkative but they don't know the best use of their tongue. You don't know how to hold your secrets, so you share them with others and as a result, you become the destroyer of your fortune. Also, you never like to concentrate on your work.
Cancer
The individuals with cancer zodiac sign are emotional. Oops, we forgot you look so cute being emotional, but it's normal for all Cancerians. If you really want to become successful, you should stop playing games of emotions. Also, your ever-changing mood is another reason that makes you unsuccessful. You don't interact much with your friends and usually, walk out while partying with two or more friends.
Leo
Leo are powerful but fail to appreciate the work of others. Being a lion, you just want someone to listen to your order which could extend your unsuccessful period. You just love giving credit to yourself no matter what work you completed or not. Your unnecessary spendings is another bad habit and so you should think about it.
Virgo
Virgo make friends easily but you don't want them to read your mind and you are scared to share secrets with BFFs. You know different ways to complete your work, but the only way you choose to do so is the use of old strategies. You are also a shy person, so you avoid interactions in team meetings. You don't take your friend or cousin's advice seriously as you are not a good listener.
Libra
You not only care about yourself but also have a soft corner for others. It is a good thing about you but you should stop worrying about them. Libra fail to differentiate between good and bad people as you give similar respect to everyone you meet. You understand where to speak or not and so, you prefer to remain quiet. You are a bit lazy too as you don't want to come out of your comfort zone.
Scorpio
You are complicated for others to understand as you keep yourself busy in seeking revenge. And for revenge, you are never afraid to cross any limits. Scorpio know the secrets of other people and therefore you use it against them. You are another example of being lazy so you don't want to come out of your comfort zone to take any risks.
Sagittarius
The one thing you surely want to change is your overconfidence. Sagittarius do keep yourself busy by participating in teamwork but the awful thing is you try to degrade other people during the work. Like other natives, you too like to have a long conversation with friends, and therefore, you lose your concentration from your work. Also, you don't like to keep a friendship with your old mates.
Capricorn
You love to receive appreciation from your close friends and colleagues and therefore you stay on cloud seven, which sums up your unsuccessful life. Capricorn don't care about others and you don't want anyone to give you unnecessary orders. Also, you don't like to hear bad things as you easily lose your cool mind. You are scared to talk to the new person entering your life and that's why your friend circle is small.
Aquarius
You are so confident that according to you no one is right except you. Albeit, you love to be a part of teamwork, you don't give credit to others for their contributions. And, somewhat lazy too because you like to relax in your comfort zone. Aquarius natives do dream big but what really lacks is your hard work, which is a significant key to unlock the success route.
Take advice from our astrologers to choose the right path to success, speak to an expert astrologer now!
Pieces
Fishes do like to swim but it's understandable as they can't survive without water. Just like that, natives of Pisces do like to stay inside their comfort zone but they can come outside it if they want to be successful. Pieces do have confidence but you fail to carry it with you in challenging times. You easily trust someone who doesn't even want to be a part of your world. You don't think before expressing your feelings to others.
Helpful Astrological Remedies For All Sign's Natives
Keep fast and offer prayers to Lord Shiva
Remove Pitra dosha (Perform Pitro Dosha Puja)
Read Bhagvat Gita (Sacred book of Hindus)
Organize Vishnu Puja or Lakshmi Puja
Analyze your birth chart to know the influence of inauspicious planets
Ending Note
You must be amazed that how we learned about your habits? Well, it's all because of our top astrologers who inspired us to share the secret of success with you. Those are the bad habits of yours that may delay your success in life. So, let us know which are the habits that you are going to change this year? And if you find this article helpful, do share it.