Top Five Travel Destinations for Libra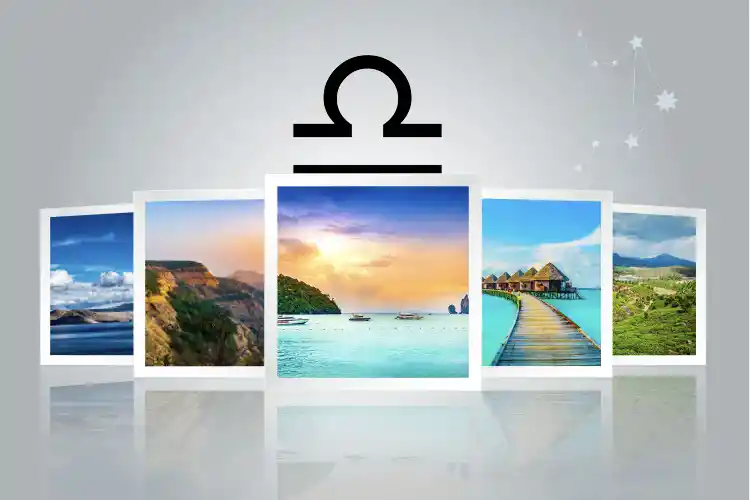 The individual born with the Libra zodiac sign always puts hard efforts to attain peace and harmony in life. Their travel choices are also like that as they look for the same traits while picking places to go out. Libra individuals always stay away from potential conflicts. Also, they allow other people to interfere in their lives. Libras are social as well and enjoy little moments of life with music, dance, dine out and shopping.
Based on their choices and characteristics, these are the top five travel destinations for Libra:
---
Munnar:
Munnar is a world-famous travel destination located in the southwards state of Kerala, also known as God's Own Country. The tea gardens, lush green sites, eye-catching hills make it one of the best travel destinations for the Libra zodiac. Munnar is also one of the most travelled hill-stations in Kerala. Apart from the Tea-Plantation activities, Munnar also hosts some breathtaking viewpoints. It is, without any ifs and buts, the perfect travel destination for Libra couples who seek romance and travel together.
Know More About Your Married Life Predictions? Talk to Astrologers
---
Maldives:
An out of India island paradise that has the ability to entertain everyone, Maldives is the best travel destination for Libra. There are many wonderful sites and activities in the Maldives to look for. Food loving Libra individuals can enjoy a variety of seafood, and swimming enthusiasts can go for a swim with manta rays and reef sharks. This vacay is the ideal option to get rid of the rusty roar of city life. It has pristine waters, beautiful lagoons and white sand beaches to roam hand in hand with your life partner.
What will you do in your life? Get access to premium horoscope reports.
---
Ladakh:
Located in the state of Jammu and Kashmir previously and now a union territory, Ladakh is a mountaineer's paradise. It has everything to attract a Libra zodiac sign. Peaceful Buddhist monasteries, scenic natural beauty, cute eyed people in the market and Pangong Tso lake. Many things are there in Ladakh that makes it one of the best travel destinations for Libra men who want an adventure in life. Undoubtedly, Ladakh is nothing less than a heaven on the earth.
---
Matheran:
Matheran is a beautiful hill town situated near Mumbai in the state of Maharashtra. It is a place of wonder where no vehicles are allowed for transportation. The hill-station has red-soiled roads, lush green hills, accessible pathways to roam around. This travel experience at Matheran might take you back down the memory lane when there were no vehicles in existence to pollute our environment. Matheran is cold and fresh with purity in the air. It is tempting and one of the most suitable travel destinations for libra couples planning to go for a romantic outing in the middle of the hills.
Is Romance missing from your Love life? Check Your Zodiac Compatibility Today
---
Port Blair:
Located on the serene island of Andaman, Port Blair would offer an unforgettable travel experience to the Libra Individuals. Without applying more pressure to travel brains, it is one of Libra's best travel destinations in India. The rich flora and fauna of Port Blair and diverse marine life will surely attract the Libra individuals. It has many enticing sites to visit like Marina Park, Japanese Bunkers and high peaks. Water sports and lavish island resorts make it one of the best travel destinations for Libra couples planning for an island vacay.
Know about your strengths and weaknesses. Get access to our free Jnampatri  now!
---
---