Eid Ul Fitr: Know About The Festival Of Breaking The Fast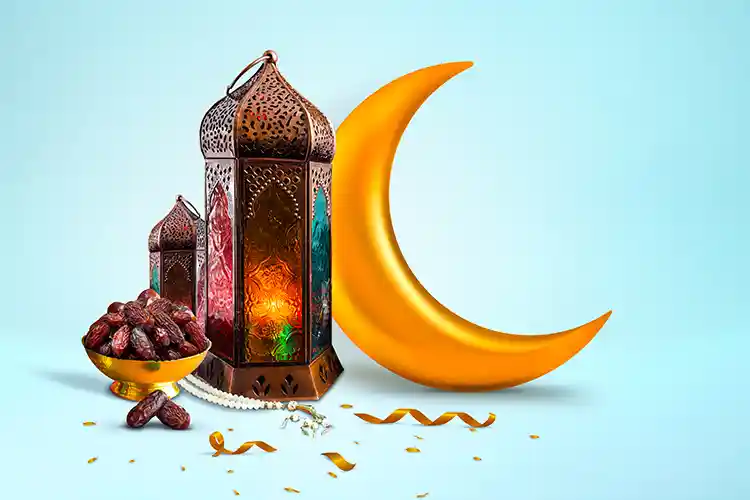 Eid al-Fitr or Eid ul-Fitr, is a religious festival observed by all Muslims around the world. It marks the culmination of the month-long fasting of Ramadan. This religious Eid is the only day in the Shawwal month when Muslims are not allowed to fast. The start of any lunar Hijri month is determined by when local religious authorities see the new moon, so the day of celebration varies by place.
The Islamic prayers for Eid al-Fitr consist of two Rakats (units) and is usually performed in an open field or large space. The prayers in Shia Islam has six Takbirs in the first rakat, before ruk, at the end of qira'a, and five in the second. Depending on the locality's legal opinion, this salat is either far or close. Let's discuss in detail about this auspicious event.
---
The Reason Behind Celebrating Eid al-Fitr
The Islamic Prophet Muhammad is credited with inventing Eid al-Fitr. These festivities began in Medina after Muhammad migrated from Mecca, according to some traditions. And they arrived in Medina for celebrating two separate days in which they amuse themselves with leisure and merriment, as per Anas, a well-known companion of the Prophet. The Prophet then informed that instead of these, the Lord has fixed two days of festival, Eid al-Fitr and Eid al-Adha, which are greater than these.
For Any Questions, you can Ask an Astrologer, First Consultation with 100% Cashback!
---
Rituals Of Breaking Fast
Eid al-Fitr is a Muslim festival that starts at sunset on the night of the crescent Moon's first sighting. Earlier, Muslims observe a fast for one month by avoiding food and water. This auspicious day is considered to be the perfect time to break the fast. If Moon is not visible after the 29th day of the previous lunar month, the festival occurs the next day.
The rituals of breaking the fast take place at different times around the world depending upon the Moon's visibility. The rituals are followed for three days, and it also includes the performing of special prayers. Moreover, Muslims also donate things to the poor or may indulge in generous works.
Two to three days of Eid al-Fitr celebrations are held, including special morning prayers. People exchange formal hugs and say "Eid Mubarak," which means "Blessed Eid." At home, sweet dishes are made and gifts are offered to children and those in need. Muslims are also encouraged to forgive and ask for forgiveness. Practices differ from one another.
---
Eid Prayers
Mostly, Eid prayers are performed in open areas such as parks, community centres, or mosques. This Eid prayer has no call to prayer and just two units of prayer, with varying amounts of Takbirs and other prayer elements depending on the branch of Islam observed. The Eid prayer is accompanied by a sermon and a supplication to Allah, seeking forgiveness, mercy, justice, and blessings for all living creatures.
The sermon also guides the Muslims about how to carry out Eid rituals such as zakat. Listening to the sermon during Eid is optional, according to some prophets. Muslims visit family, colleagues, and acquaintances after prayers, or conduct large public gatherings in houses, community centres, or rented halls.
During the holy month of Ramadan, it is generally believed that Prophet Muhammad received the first revelation of the Holy Quran. In addition, Eid al-Fitr is observed to thank Allah for providing strength and stamina during the month-long fasting rituals.
---
Prayers Performed By Sunni Muslims
Sunni Muslims remember God by saying, Allahu Akbar. They perform sincere prayers to the Lord for seeking forgiveness or relief from past sins. Then, they perform prayers by reciting Takbir by the prophet and his followers. Then "Takbeer-e-Tehreema" is recited, followed by Allahu Akbar three times, with the hands raised to the ears and then dropped, except for the last time when the hands are folded.
The Imam then reads Surah-e-Fatiha as well as other Surah. The congregation then conducts Ruku and Sujud in the same manner as other prayers. For the second Rakat, the Muslims rises and folds their hands, after which the Imam recites Surah Fatiha and another Surah. Three Takbirs are recited before the Ruku. Then, the followers say Allahu Akbar for the fourth time and then enters the Ruku.
---
Prayers Performed By Shia Muslims
Shia Muslims begins the prayers by reciting the Niyyat first, followed by five Takbirs. A special prayer is performed during each Takbir of the first Rakat. The congregation then performs Ruku and Sujud as in other prayers after the Imam recites Surah al-Ftiah and Surah Al-'Ala. The same steps (five Takbeers, Srat al-Ftiah and Surah Al-'Ala, Ruku and Sujud) are repeated in the second Rakat.
The majority of Muslims often adhere to their own versions of compilations claiming to be Muhammad's (sunnah) teachings and practices as documented in traditional accounts (hadith).
---
How Muslims Of India Celebrate Eid al-Fitr?
Indian Muslims join in the Eid celebration with immense joy and pleasure. They attend communal prayers and listen to a khutba, or sermon. In certain areas, these prayers are conducted at large venues, such as sports arenas. Many Muslims flock from other places to religious places to participate in the festivals. On this day, some cultures hold various celebrations, such as shared meals or children's activities.
It is believed that if a person didn't follow zakat al-fitr during Ramadan, he or she should perform the rituals of Eid-al-Fitr. Zakat al-fitr is a form of charity in which the poor are given a certain amount of food, such as barley, dates, raisins, or wheat flour, or its monetary equivalent. Many Muslims also prepare festive meals and later distribute among others. They wear new clothes and visit their relative's house.
---
Date For Eid-ul-Fitr 2022
Eid al-Fitr signifies The end of Ramadan, the Muslim holy month of fasting, is commemorated during the first three days of Shawwal, the Islamic calendar's tenth month (though the Muslim use of a lunar calendar means that it may fall in any season of the year).
'Eid' is Arabic for 'feast' or 'festival.' Muslims celebrate both Eid al-Fitr and Eid al-Adha each year, but the names are often simplified to only 'Eid,' which can be confusing. Below is the date of Eid ul Fitr 2022.
Date – May 3, 2022
Day – Tuesday
---
Best Wishes For Eid-ul-Fitr
May Allah bless you and your family with peace and prosperity. This Eid, may you have a pleasant time, and God may accept your prayers. Wishing an Eid Mubarak to our Muslim followers.
Issues constantly cropping up in your life. Talk to astrologers for guidance. First Consultation with 100% Cashback!
---
---