Why do Devotees Worship Lord Vishnu on Shravana Putrada Ekadashi?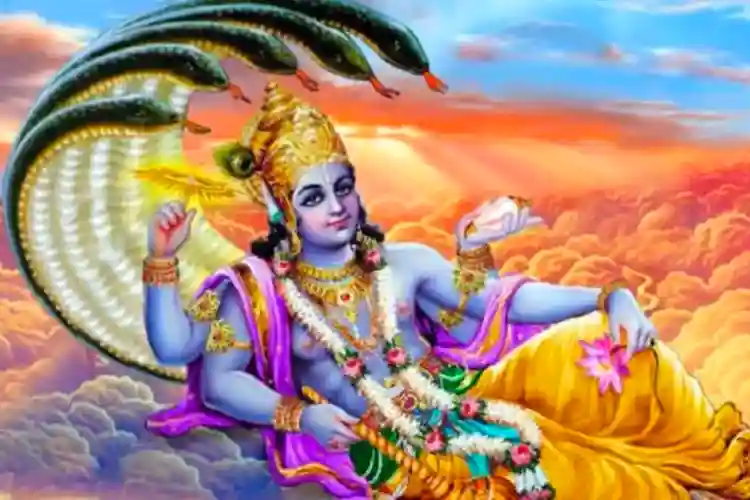 2023 Shravana Putrada Ekadashi Date and Time
| Ekadashi Muhurats | Date / Timings |
| --- | --- |
| Shravan Putrada Ekadashi Date: | Sunday, 27 August 2023 |
| Parana Time | On 28th Aug, 06:14 to 08:42 |
| Dwadashi End Moment On The Day Of Parana | 18:22 |
| Ekadashi Muhurat Timings Begins | On Aug 27, 2023 at 00:08 |
| Ekadashi Muhurat Timings Ends | On Aug 27, 2023 at 21:32 |
Shravana Putrada Ekadashi Vrat Katha
In ancient times, the city of Bhadravatipuri was ruled by a monarch named Suketuman.
The king got married with a lot of fanfare. But, even after a long time after the marriage, he had no child. The king and queen were frequently concerned about who would conduct their final rites after their death and who would do the tarpan of their ancestors. The monarch used to spend the entire day thinking about this. The distressed king then rode his horse into the wilderness one day. After some hours, he arrived in the heart of the deep forest. He walked near the pond to satisfy his thirst after a long trek. He saw an ashram where some sages lived. 
The monarch, after drinking water, went to the ashram where he saw rishis reciting Vedas. When the king inquired about the cause for reciting the Vedas, the sages informed him that today is Putrada Ekadashi. On this day, whoever fasts and worships Lord Vishnu, gets blessed with a son. The king was overjoyed when he heard this and made a commitment to follow the Putrada Ekadashi fast at the same time. On Putrada Ekadashi, the king fasted and worshipped the Gopal – child avatar of Vishnu. Following that, the queen gave birth to a baby boy on the day of Dwadashi. And from there onwards, the couple started following the Shravana Putrada Ekadashi vrat.
Shravana Putrada Ekadashi Significance
According to the ancient texts, devotees should follow fast on this day in order to have children and for their offspring to live a long life. By doing so, one can get rid of life obstacles and their children live a long life by observing the fast of Shravana Putrada Ekadashi. On this day, child-related problems may get resolved if you keep fast with the utmost sincerity. Couples who want to avoid having children or who want to be childless must adhere to this fast. If the pair fasts together, the fast will bear fruit shortly. Those who read or listen to the significance and tale of the fast with complete dedication receive a blessing comparable to the donation of several cows.
Tips For Fasting Rituals
One should wake up early in the morning and clean the area around home temple 

Eat vegetarian food items for a few days

Take a vow of fast by lighting a lamp in front of Lord Vishnu's idol

Now, place the Kalash and worship it by tying it with a red cloth.

Offer prasad of fresh fruits, flowers, coconut, betel, betel nut, clove, plum, gooseberry etc.

Recite devotional songs at night

Next day, eat food only after giving to Brahmins
Parana Rituals (Breaking of Fast)
Parana means the breaking of a day-long fast in Hindu culture. It should be performed before the end of Dwadashi Tithi. To perform Parana, one should wait till the completion of Hari Vasara as it can not be performed during this inauspicious phase (Hari Vasara). One should avoid breaking the fast in the middle of the day. The best time to break this day-long fast is in the early morning of the next day. If you are unable to break the fast in the morning for some reason, you may break the fast after midday. Many devotees also keep Ekadashi fasting for two straight days along with their family members. Ancient scriptures recommend second-day fasting for widows and for ones who want moksha.
Parana Time: On 28th Aug from 06:14 to 08:42
Ending Note
This is how Hindus celebrate the auspicious day of Shravana Putrada Ekadashi. The couples seeking a child may receive good news following the fast. There is great significance in worshipping Lord Vishnu by organizing Vishnu Puja as well. With this, we hope you get your wishes fulfilled by Lord Vishnu's divine blessings.
Dealing with too much confusion? Talk to astrologers for Guidance. First Consultation with 100% Cashback!