Govatsa Dwadashi 2023: Why Cow Is Worshipped On This Day?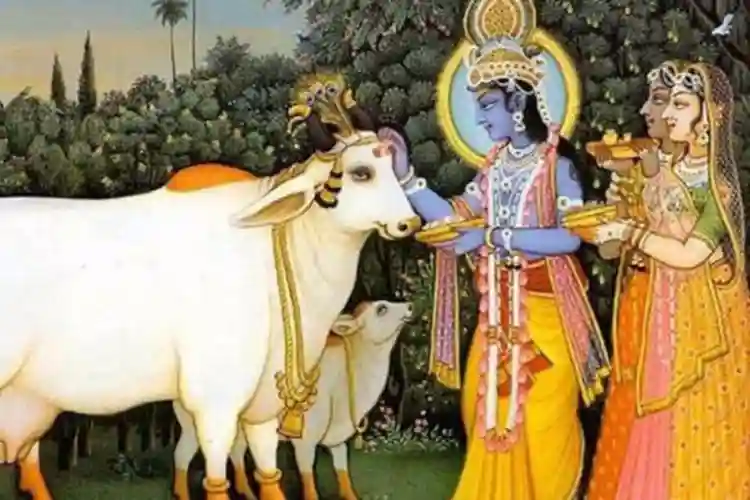 Govatsa Dwadashi 2023: Date, Tithi and Muhurat
Govatsa Dwadashi 2023 will be celebrated on 09 November 2023. Govatsa Dwadashi is also known as Bachh Baras. There may be a variation of the name in the regions, but the beliefs and rites associated with the festival are almost the same in every region. But let's first know the date of Govatsa Dwadashi 2023.
| Govatsa Dwadashi | Date and Time |
| --- | --- |
| Govatsa Dwadashi | 09 November 2023 |
| Govatsa Dwadashi Tithi Starts from | 10:41 AM on Nov 09, 2023 |
| Govatsa Dwadashi Tithi Ends at | 12:35 PM on Nov 10, 2023 |
| Pradosh Kaal Govatsa Dwadashi Muhurat | 05:59 PM to 08:26 PM on 9 Nov 2023 |
| Duration | 02 Hours 27 Mins |
Govatsa Dwadashi Significance
Cows are revered in Hindu mythology and are regarded to be a manifestation of the divine. In different parts of the world, this day is referred to as Vasu Baras, Govatsa Dwadashi, or Nandini Vrat. However, the holiday is most widely observed in the Indian state of Maharashtra, where it is associated with the veneration of cows and calves and is hence very popular.
The mythology of Samudra Manthan, during which gods and demons competed to find nectar by churning the ocean, is thought to have inspired the creation of this event in its present form. The celestial cow Kamadhenu was also given to him as a gift during this process, which was orchestrated by the seven major deities. Associated with the blessings of motherhood, fertility, divinity, and sustenance, Kamdhenu is a goddess of fertility and abundance.
This divine animal is strongly identified with Lord Krishna, the Vishnu avatar, and is said to be his closest companion.
History Of Govatsa Dwadashi
The story of Govtsa Dwadashi is mentioned in the Bhavishya Purana. In the Bhavishya Purana, we find mention of the story of Nandini, the divine cow and her calves. A cow is considered very sacred in Hinduism. They are also worshipped as holy mothers as they provide nourishment to mankind.
Govatsa Dwadashi Vrat: For The Long Life Of Kids
Every year around this time, women fast in order to ensure the long life of their children. It is a widely held belief that if a childless couple devotes their time and energy to doing Govatsa Dwadashi Puja and observing ovatsa dwadashi 2023 Govatsa Dwadashi 2023 date 320 govatsa dwadashi katha 10 Govatsa Dwadashi 2023 date in hindi 110 govatsa dwadashi 2023 date Govatsa Dwadashi fast, they will be blessed with children.
Govatsa Dwadashi is also known as Vagh Dwadashi in some parts of northern India, and it refers to the practice of repaying one's financial debt. As a result, on this designated day, the businessmen make corrections to their old ledgers and complete additional transactions in their new ledgers. The cow is worshipped on the day of Govatsa Dwadashi, and the individual who does so is blessed with abundance and long and healthy life.
Worshipping your preferred diety can solve a lot in life. Book personalised live puja to achieve peace and prosperity.
Govatsa Dwadashi Puja Vidhi
Understand the do's and don'ts on the day of Govatsa Dwadashi through the points given below.
The cow is worshipped on the day of Govatsa Dwadashi. After bathing them, vermilion is applied to their forehead. The cows and their calves are then beautifully decorated with bright clothes and garlands of flowers.

On the day of Govtsa Dwadashi, if a cow is not found, then the devotees also make idols of cows and their calves from clay. These clay idols are then decorated with kumkum and turmeric. In the evening aarti is performed.
Various offerings like gram and sprouted moong are given to the cows. Prasad is considered a symbol of Nandini on earth.
Devotees also worship Shri Krishna, who is an incarnation of Lord Vishnu and has deep gratitude and love for cows.
Women keep fast on this day for the well being of their children. They cannot eat or drink anything in a day and can only eat once. The observer of Nandini Vrat should avoid physical activity and stay awake throughout the night. However, if a person wants to sleep, he should sleep on the floor and avoid sleeping on the bed.
In some areas, people abstain from drinking cow's milk and consuming curd and ghee on the day of Govats Dwadashi.
Mythological Significance of The Cow
The Vedas contain the earliest known mention of the cow's religious significance, which dates back thousands of years. The cow is associated with riches and a happy worldly existence according to the oldest Vedic text, the Rigveda. According to a passage, if cows have arrived, it means that they have brought us good luck. We hope they find satisfaction in our courtyard! They give birth to multicoloured calves for us, and they provide milk for Indra on a daily basis as well.
Cows provide man with the ability to labour, and it is only with their blessing that he can do so. As a result of these words, it is believed that the significance of the cow was introduced into Hindu society approximately 3,000 years ago.
Conclusion
In Vagh Dwadashi, the followers of Sanatan Dharma revere the cow as their ultimate goddess, and they believe that she bestows enormous favours on them. If she is worshipped, revered, and loved on Govatsa Dwadashi, she has the ability to grant the owner's every want and desire if she is so treated.
If the problem still persists in your life, talk to astrologers for guidance. First consultation with 100% Cashback.