Diwali 2023: Read the Dates, Muhurats, Rituals, Stories and Significance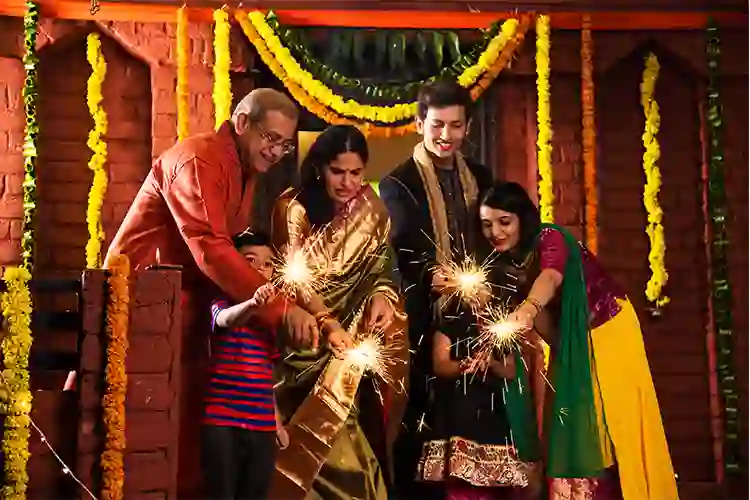 Diwali is the most popular festival in India. It is also known as "Deepawali" which in literal terms means rows of lamps (earthen lamps). However, it is celebrated on the 15th day of Kartik (October / November). It is one of the most enjoyable festivals in India.
Diwali is also called 'Deepotsav'. 'Tamso ma jyotirgamay' Arthat (O Lord!) Take me from darkness to light. This year Diwali will be celebrated on Nov 09 all over the country.
The Amavasya tithi begins 02:44 PM on Nov 12, 2023 and ends at 02:56 PM on Nov 13, 2023.
Here is the complete detail about Diwali week. Let's have a look-
Deepawali Day 1: 9th November 2023 Thursday
Deepawali Day 2: 10th November 2023 Friday
Dhantrayodashi
Dhanvantari Trayodashi
Yama Deepam
Deepawali Day 3: 11th November 2023 (Saturday)
Deepawali Day 4: 12th November 2023 Sunday
Tamil Deepavali
Diwali
Kedar Gauri Vrat
Chopda Puja
Sharda Puja
Kali Puja
Deepawali Day 5: 13th November 2023 Monday
Diwali Snan
Diwali Devpuja
Deepawali Day 6: 14th November 2023 Tuesday
Govardhan Puja,
Annakut
Bali Pratipada
Dyuta Krida
Gujarati New Year
Bhaiya Dooj
Yama Dwitiya
---
Diwali 2023: Dates and Lakshmi Puja Muhurat
Diwali 2023 Date: Sunday, November 12, 2023
Tithi Timings: Amavasya tithi begins at 02:44 PM on Nov 12, 2023 and it ends at 02:56 PM on Nov 13, 2023
Lakshmi Puja Muhurat 2023: 06:11 PM to 08:15 PM
Duration: 02

Hour

04

Mins

Diwali 2023 Pradosh Kaal: 05:59 PM to 08:26 PM
Diwali 2023 Vrishabh Kaal: 06:11 PM to 08:15 PM
---
Significance of Diwali 2023
Diwali is not all about fireworks, lights, and decoration. It also symbolises the victory of light over darkness, of good over evil and of knowledge over ignorance. It is celebrated by all, irrespective of religion, castes, and creed. Needless to say, all are united during the occasion of Diwali and celebrations happening all across the nation. However, on this day, individuals sit back and reflect on all happenings in their life. Also, they plan how to make things better going forward.
Plan your day precisely with Personalised Free Daily Horoscope!
---
Astrological Significance Of Diwali
Diwali festival marks the conjunction of Sun and Moon in the Libra sign under the Swati nakshatra. Swati nakshatra is a feminine constellation and linked with Maa Saraswati according to Hindu mythology. The period of conjunction is believed to promote harmony whereas Swati Nakshatra ensures a happy time.
As Diwali falls on the same tithi i.e. Aswayuja Amavasya, this day conjunction of Sun and Moon in the Libra Zodiac sign. As Libra signifies the balance and rules business and professional life, starting a new venture on Diwali is considered auspicious.
---
Scriptural Significance of Diwali
Diwali is celebrated during the Hindu month of Kartik's Amavasya, while the MahaLaxmi Puja is performed during Pradosh Kaal. Diwali is celebrated on the second day if the Pradosh Kaal does not coincide with Amavasya within two days. This is the most popular method of commemorating this sacred day. If Amavasya is not observed and Chaturdashi is followed by Pratipada, Diwali is observed on the day of Chaturdashi.
Also Read: Amavasya Dates 2023
Mahalakshmi Puja is best performed during Pradosh Kaal when any of the fixed ascendant signs of Taurus, Leo, Scorpio, or Aquarius is rising on the eastern horizon. After dusk, the Pradosh Kaal dominates for around 2 hours and 24 minutes. Goddess Laxmi's blessings would be showered with all of her heavenly glory if suitable rites are performed.
Expand your business and increase profit by performing personalised Laxmi puja.
---
Mythological Stories Behind Diwali Festival
India is a country of diversified cultures and traditions. Diwali is the five-day festival of lights that not only holds religious significance in the lives of Hindus but is equally important for non-Hindu communities like Jains, Sikhs and Buddhists who celebrate the glorious festival with great joy and fervour. The festival is said to coincide with harvest and new year celebrations. It is believed to be an auspicious day for new beginnings that also sends across a message of the triumph of good over evil and light over darkness.
What lies ahead of you today? Does your horoscope show a new start? Get Your Free Daily Predictions Now!
The Jain community commemorates Diwali as the day of the passing into Nirvana ( freedom from the cycle of rebirth) of Lord Mahavira, one of the 24 Tirthankaras ( one who follows the righteous path). On this day, people of the Jain community light lamps that are explained as a material substitute for the light of holy knowledge that was extinguished with Mahavira's passing. They use earthen saucers containing either wicks immersed in coconut oil or pieces of lighted camphor to light lamps. This light is the symbolisation of keeping the light of Lord Mahavir's knowledge alive.
Since the 18th century, Diwali has been celebrated in Sikhism. The Sikh community dedicates the day to their sixth Guru, Shri Guru Hargobind, who unshackled the chains of the Britishers of the Mughal Empire and freed himself. This apparently is an echo of Rama's return to Ayodhya. They honour the day as Bandi Chhor Divas and express glee by lighting lamps throughout the city to celebrate the occasion.
Generate your Free Janam Kundli by using birth details. You can now predict your own future by reading the birth chart.
---
Celebrations and Rituals of Deepawali
On the day of Diwali, Hindus light rows of lamps around their houses. Also, they draw elaborate sand paintings, popularly called rangolis outside their homes. The Goddess of Wealth, Maha Laxmi is also honoured.
Houses are cleaned people get their houses painted and decorate them with lights.
New clothes are worn.
Crackers and fireworks are burnt to celebrate the festival.
Gifts are exchanged with friends, relatives, and loved ones.
Bath in a holy river.
Neighbours, family, and friends come together to celebrate the festival.
Younger takes the blessing from the elder members of the family.
---
How Diwali is celebrated throughout the India?
Diwali is celebrated with utmost excitement in all across. The five days of celebration varies in every state. For instance, Goddess Kali, worshipped on Diwali, also known as Shyama Puja or Kali Puja, in West Bengal and other regions of Eastern India.Whereas the day of Diwali commences Vasu Baras in Maharashtra. Lets see ahead how Diwali is celebrated in some of the states of India.
Gujarat
Diwali marks the ending of a year in Gujrat. Hence, the next day of Diwali is the Gujrati new year known as Bestu Varas. The celebration of Diwali in Gujarat is lined up is Vaag Baras, Dhanteras, Kali Chaudash, Diwali, Bestu Varas, and Bhai Bij.
Goa
Diwali is primarily dedicated to Lord Krishna defeated the demon Narkasur in Goa. On Narakasura Chaturdashi, a day befor e Diwali, giant life-size maodel of demon is made and burnt on the dawn.In fact, many people in Goa apply coconut oil on body to free themselves from the sin.
Maharashtra
Diwali starts the Vasu Baras ritual in Maharashtra which is dedicated to cow. Here on the day of Dhanteras, people pay homage to the Dhanvantari, Hindu god of medicine and an avatar of Lord Vishnu. Godess Laxmi is worshipped and Diwali Cha Padva is observed on the celebrating the love between marrried couple. In the final day, Bhav Bij and Tusli Vivah are celebrated.
Odisha
People perform Kauriya Kathi, on the occasion of Diwali. It is a ritual dedicated to ancestors. Jute sticks are burned to pay homage to ancestors. On the ocassion of Diwali, Godess Kali, Godess Laxmi, and Lord Ganesha is worshipped in Orissa.
Varanasi
Dev Deepawali is celebrated in Varanasi. Devotees pray to Ganga and offer diya to the holi river. The popular belief is that on the day of Diwali, gods and godesses come to earth and take a dip in the holy river Ganga.
West Bengal
Kali puja or shyama puja is perfomed on the day of Diwali in West Bengal. Godess Kali is decorated with hibiscus flower and worshipped in Bengali households and temples. Bengalis celebrates Bhoot Chaturdashi before the Diwali in which they light-up fourteen diyas.
---
Diwali Puja Vidhi
Ingredients required for Diwali worship:
Kalava
Roli
Sindoor
coconut
akshat
red cloth
flowers
five betel nuts
cloves
betel leaves
ghee
Kalash
mango Pallava
chowki
samidha
havan kund
havan material
lotus gatte
Panchamrit (Milk, curd, ghee, honey, Ganges water),
fruits
betashes
sweets
asanas for sitting during the worship
turmeric
Incense sticks
kumkum
perfume
lamp
cotton
06:11 PM to 08:15 PMaarti plate
Kusha
Rak Chandanad
Shrikhand Chandan
Procedure:
Before starting the worship.
Make a Rangoli in the worshipping area of Ganesh and Lakshmi.
Light one lamp each on the four corners of the outpost on which you are worshipping.
After this, place the raw rice where the idol is to be kept, then the idol of Ganesh and Lakshmi will be enshrined.
However, on Diwali, there is also a tradition to worship Lakshmi, Ganesh along with Kubera, Saraswati, and Kali Mata; if they have an idol, they should also sit at the place of worship. There is a belief that the worship of Goddess Lakshmi Puja is incomplete without worshipping Lord Vishnu Puja. Therefore, worship Goddess Lakshmi by placing it to the left of Lord Vishnu.
---
Diwali Puja Mantras
Start Diwali Puja with the holy mantra:
"ऊं अपवित्र: पवित्रोवा सर्वावस्थां गतोऽपिवा। य: स्मरेत् पुण्डरीकाक्षं स बाह्याभ्यन्तर: शुचि:॥"
"While reciting this mantra, splash water or gangajal over your posture and worship materials 3-3 times with Kusha or Pushpadi. Achchaman – Oum Keshvay Nam: Oom Madhavaya Nam: O O Narayanay Nam:, then wash hands.
---
Lakshmi Puja Mantras
For Financial Benefit: Om Shreem Maha Lakshmiyei Namaha
For overall abundance: Om Hreem Shreem Kleem Maha Lakshmi Namaha
For greater happiness: Om Shreem Shree-aee Namaha
For overall spiritual growth: Om Maha Deyvicha Vidmahay; Vishnu Patnicha Deemahee; Thanno Lakshmi Prachodayat
While chanting the above mantras use a rosary made of rhinestones (sfatik) and one should chant the above mantra at least 108 times.
Know more about mantras for success in business here!
---
Saraswati Puja Vidhi on diwali
To begin, Saraswati Puja, Bahi-Khate, i.e. account books or any other books, are kept at the place of worship. Draw a Swastika symbol on account books with Rochana or red Sandal paste. Once Swastika is drawn on account books, Saraswati Puja can begin.
Hail to Devi Saraswati, the goddess of knowledge, arts, and wisdom by people following the Hindu faith. She is the consort of Brahma, the creator of the Universe, and also the source of endless learning. Although Devi Saraswati is worshipped every day, worshipping her on Diwali along with Lord Ganesha and goddess Lakshmi has special significance.
Saraswati Vandana Shloka:
Ya Kundendu Tushara Hara Dhavala, Ya Shubhra Vastravrita
Ya Veena Varadanda Manditakara, Ya Shveta Padmasana
Ya Brahmachyuta Shankara Prabhritibihi, Devaih Sada Pujita
Sa Mam Pattu Saraswati Bhagavatee Nihshesha Jadyapaha॥1॥
Meaning:
Salutations to Goddess Saraswati, who wears a garland of white pearls; the one who is dressed in white; the one who holds a Veena in her hand; the one who holds the blessing mudra; and the one who is seated on a white lotus.
Brahma, Vishnu, and Shankara hail and worship you, O! Goddess Saraswati, bless me and remove all my ignorance.
---
Kartik Amavasya in Puranas
In the Brahma Purana, it is said that on Kartik Amavasya, Lakshmi ji comes to earth. The Padma Purana says that by donating a lamp on this day, one gets Akshaya Punya. According to Skandpuran, on the new moon of Kartik month, one should recite the Gita and donate food.
Along with this, Basil should also be offered to Lord Vishnu. It eliminates all sins and bad deeds. However, offering food on this day adds to happiness. Such a person is Chiranjeevi. Donating food on this day gives fruit equivalent to donating thousands of cows.
---
Donations on Amavasya
According to Skanda and Bhavishya Purana, pilgrimage bath and charity on the New moon day of Kartik month eliminates all kinds of sins and bad deeds.
At this festival, mixing Ganga water in the water at home can be a result of bathing in the pilgrimage. Also, donating according to reverence gets rid of all kinds of diseases, grief, and dosha.
On this day, especially woollen clothes should be donated. According to Bhavishya, Padma and Matsya Purana, donating food and clothes along with lamps should also be done on this day.
Every kind of donation made on the new moon day of Kartik month is a renewable fruit.
---
Why do We Light Diyas on Diwali?
In Hinduism, the importance of lighting a lamp on the night of Diwali is there. The practice of lighting lamps has always been prevalent on the night of Diwali that on the day of Diwali, Lord Shri Ramchandra returned to Ayodhya after 14 years of exile.
All the residents of Ayodhya were delighted with Shri Ram Chandra's arrival. Also, the residents lit lamps in the whole city in the joy of Ram Ji's arrival. Hence since then, there is a law to lig06:11 PM to 08:15 PMht a lamp on the night of Diwali.
According to another belief, in the Puranas, lamps are lit not only for Mahalakshmi but also for the ancestors.
The belief behind the practice of lighting fireworks, Akashdeep, Kandil, etc., with a lamp, is that Diwali-Amavasya begins the night of forefathers. We decorate everything with lights so that our ancestors do not get lost in their way.
---
Frequently Asked Questions
1. What is Dwali and why it is celebrated?
Diwali is the celebration of light and celebrated in respect of Lord Rama as he returned to Ayodhya after the 14 years of exile.
2. When is Diwali this year?
This year Diwali will be celebrated on Monday, Nov 12, 2023.
3. Which festivals are celebrated on the five days of Diwali?
The five days of Diwali are celebrated in following way: Dhanteras, Naraka Chaturdashi (Choti Diwali), Diwali (Laxmi Puja), Govardhan Puja or Padva and Bhai Dooj.
4. What does Diwali represents?
Diwali is the sign of light over darkness, good over evil, and knowledge over ignorance.
5. Why date of Diwali changes every year?
The date of Diwali is decided according to the position of Moon. It falls on Hindu month of Kartik, however, the date changes every year.
6. How Diwali is celebrated?
On this day, people light the oil/ghee diya, meet and greet to family and friends, exchange sweets, and worship Maa Laxmi. Lighting crackers and firworks are the big part of Diwali festival.
7. What kind of food is preffered on Diwali?
Special sweets are prepared on the day of Diwali such as laddus, halwa, and barfis. In fact, snacks are highly preffered like kachori, samosa,or murukku, as depend on06:11 PM to 08:15 PM the choice of people.
---
Wrapping Up
We wish you a very happy Diwali, and may Goddess Lakshmi shower you with fortuns and success. You may you have a bright future ahead of you.
Dealing with too much confusion? Talk to astrologers for the guidance. First consultation with 100% Cashback.
---
---