Gudi Padwa Festival and its Variants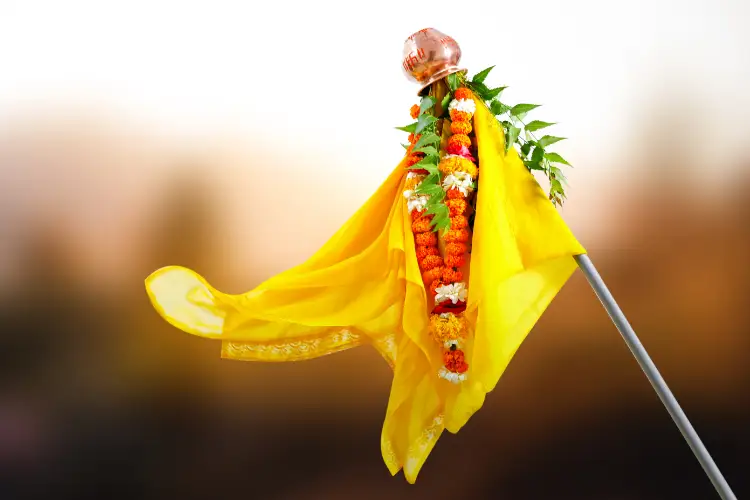 Gudi Padwa festival is a springtime festival that celebrates the Marathi New Year and Konkani New Year, as well as other Hindus. On the first day of the Chaitra month, it is celebrated in and around Maharashtra and Goa to mark the start of the Hindu lunisolar calendar's New Year.
The first day of the bright phase of the moon in Maharashtra is known as Gudi Padwa in Marathi. The day is referred to by Konkani Hindus as Sasra Pavo or Sasra Pye. Telugu and Kannad Hindus celebrate Ugadi on the same day.
The Sindhi community observes this day as Lord Jhulelal's emergence day and celebrates it as Cheti Chand, the New Year. Lord Jhulelal is prayed to, and the festival is commemorated by the preparation of delicacies such as Tahiri (sweet rice) and Sai Bhaji (spinach cooked with a sprinkle of chana dal).
For all Hindus, however, this is not the universal New Year. The New Year celebrations for others, such as those in and around Gujarat, coincide with the five-day Diwali festival. According to the solar cycle portion of the Hindu lunisolar calendar, the new year falls on Vaisakhi between 13 and 15 April for many others, and this is by far the most common not only among Hindus of the Indian subcontinent.
In Maharashtra, where it is primarily celebrated, erecting flags on houses as part of the celebration is known as Gudhi. The Sanskrit word "Pratipad" refers to the first day of each fortnight in a lunar month. This is the first day after Amavasya. On this occasion, a Gudi is also hoisted, giving the festival its name, Gudi Padwa.
There are more amazing facets of this Maharashtra New Year. So without ado; let's have all information about Gudi Padwa
---
Gudi Padwa Meaning
Padava or Padavo is derived from the Sanskrit term Pratipada, which means "the first day of a lunar fortnight." Colourful rangoli (Gudi Padwa drawing with colour), a special Gudi flag (garlanded with roses, mango and neem leaves, topped with an upturned silver or copper vessel), street processions, music, and festive foods are all part of the festival.
---
Significance Of Gudi Padwa Festival
Gudi Padwa festival marks the beginning of spring and the harvest of Rabi crops. Gudi Padwa festival commemorates the Hindu god Brahma's legendary day when he created time and the world. Some believe the Gudi Padwa festival commemorates Rama's coronation in Ayodhya following his triumph over the evil Ravana or the launch of the Shalivahan calendar after he defeated the Huns in the 1st century. For some, the Gudi Padwa festival is related to Shiva's dance.
---
Date And Time For Gudi Padwa 2023
Date: Wednesday, 22 March 2023
Tithi Timings:

Pratipada Tithi Begins: 08:00 AM on 12th Apr, 2023
Pratipada Tithi Ends: 10:16 AM on 13th Apr, 2023
---
The Gudi
The various Gudi arrangements at every household are a notable sight during the Gudi Padwa festival. It is a silk scarf-like fabric tied at the top of long bamboo. One or more boughs of neem and mango leaves, as well as a garland of flowers, are added to the top.
A silver, bronze, or copper pot symbolising victory is placed on top of the arrangement. The entire setup is hung outside each home, usually to the right or through a window or terrace. It is clearly visible to everyone. Villages or neighbourhoods can also come together to hold a group Gudhi Kavad, which they then bring to the local Shiva temple together.
The following are some of the benefits associated with raising a Gudi:
When King Shalivahana returned to Paithan, his people hoisted it as a sign of his triumph.
Since Lord Brahma created the universe on this day, Gudi represents the Brahmadhvaj (Lord Brahma's flag) stated in the Brahma Purana, an ancient text. It may also be Indra Dhwaj (the flag of Lord Indra).
The Gudi represents Lord Rama's triumph and happiness after slaying Ravana and returning to Ayodhya. The Gudi, as a sign of victory, is always kept high. Gudi Padwa festival is also thought to commemorate Rama's coronation after his return to Ayodhya after a 14-year exile.
Gudi is thought to ward off evil, as well as bring wealth and good fortune into the home.
---
Celebration of Maharashtra New Year
Village houses' courtyards will be swept clean and plastered with new cow dung on a festive day. On their doorsteps, women and children create intricate rangoli designs, the vivid colours reflecting the springtime burst of colour. It may also be recognised as Gudi Padwa drawing with colours. Everyone puts on new outfits, and it is a time for family get-togethers.
Families traditionally prepare a special dish that combines various flavours, especially bitter neem leaves and sweet jaggery (gud). The sour tamarind and astringent dhane seeds are added as well. This, like the pachadi recipe served at the Ugadi festival, is eaten as a reminder of life's sweet and bitter experiences, as well as the belief that the neem-based mixture is beneficial to one's health.
On this day, Maharashtrian families prepare a variety of other festive dishes, such as shrikhand and poori or puran poli.
Also Read :- Gudhi Padwa is a spring-time festival that marks the traditional new year for Marathi and Konkani Hindus. Read its meaning, significance, etc.
---
Gudi Padva Celebration in the Different States
This day is known as Gudi Padwa in Marathi, commemorating a Marathi New Year. Gudi Padwa festival is also celebrated by Konkanis, also known as Samvatsar Padvo, as the Hindu New Year. The Gudi Padwa day is known as Ugadi in Karnataka, Andhra Pradesh, and Telangana.
Navreh is celebrated in Kashmir. It is celebrated as Cheti Chand by Sindhis. Also, it is known as Sajibu Nongma Panba Cheiraoba in the North-Eastern state of Manipur, as well as in Nepal, Burma, Cambodia, and other countries with large Hindu populations. On this day, people cook a variety of foods and cuisines before climbing the hillocks in the evening.
In Punjab, the New Year is celebrated as Baisakhi. This occasion is known as Naba Barsha in Bengal, Bihu in Assam, Vishu in Kerala, and Puthandu in Tamil Nadu. It is regarded as the year's most auspicious day.
---
Gudi Padwa Spirit
Gudi Padwa is a festival that symbolises that life is a mix of all the tastes, sweet, sour, bitter. It is the festive feeling and hopefulness in our hearts that makes our everyday a festival. This is a day when almost the whole of India prays to God, wishing for prosperity, harmony, peace, joy, good health, good fortune, and good luck.
---
Good Wishes
On this day, let us pray for peace, prosperity, and harmony in our nation in the coming year. Happy Gudi Padwa to all our readers.
---
---