Guru Purnima 2023: Know The Date, Time, Celebration, Puja Vidhi & Significance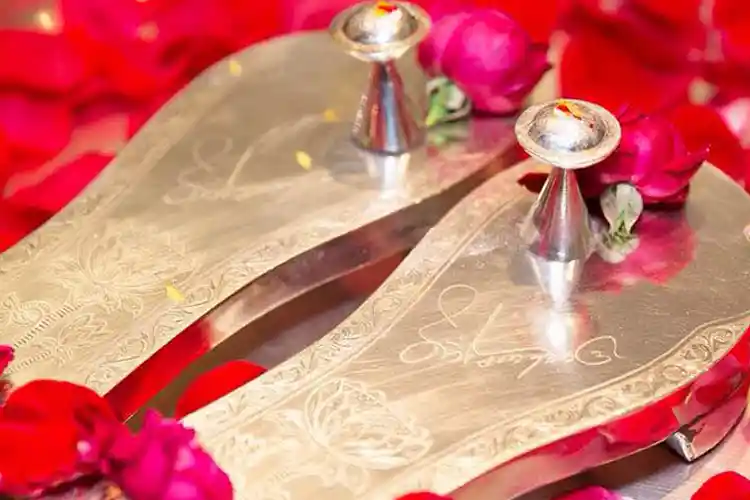 In Hindu culture, the Guru or teacher has always been considered equal to God. Guru Purnima or Vyas Purnima is a day to express our gratitude towards our Gurus. Guru is a Sanskrit word that literally means one that frees us from ignorance. The full moon day of the month of Ashadha is one of the most auspicious days of the year in Hinduism. It is celebrated as the Guru Purnima festival. This year Guru Purnima will be celebrated on Monday, 3 July 2023. The day of Guru Purnima is observed as the birthday of Ved Vyasa, credited with writing some of the most important Hindu texts of the time, such as the Puranas, the Mahabharata and the Vedas.
Guru Purnima is mainly celebrated by Hindu, Jain, Sikh and Buddhist communities across the world in honour of Gurus or teachers. In India, gurus hold a respected place in daily life, as they impart knowledge and education to their disciples. The presence of a Guru in a person's life works to guide them in the right direction so that they can lead a principled life.
Also Read: Purnima 2023 Dates
---
Guru Purnima 2023: Date And Time
Date: Monday, 3 July 2023
Tithi Timings:
Purnima Tithi Begins: On Jul 02, 2023 at 20:21
Purnima Tithi Ends: On Jul 03, 2023 at 17:08
---
Guru Purnima: The Story
Guru Purnima is all about following the principles of Ved Vyasa. The sage is known as one of the most respected gurus in ancient India. Modern research also reveals that Ved Vyasa composed the four Vedas, composed the epic of Mahabharata, laid the foundation of many Puranas and vast encyclopedias of Hindu sacred lore.
Guru Purnima represents the date on which Lord Shiva, in the form of Adi Guru or Original Guru, taught the seven sages, the seers of the Vedas. In the Yoga Sutras, God in the form of Pranava or Om is called the Adi Guru of Yoga. Lord Buddha is believed to have given his first sermon at Sarnath on this day, which shows the power of this holy day.
---
Importance Of Celebrating Guru Purnima
Guru Purnima is celebrated in honour of teachers who remove darkness from our minds. Since ancient times, the Guru has had a special place in the lives of the followers. All the holy books of Hinduism stipulate the importance of Gurus and the extraordinary bond between a Guru and his disciple (disciple). One of the phrases in Sanskrit says that the first place is reserved for the mother, the second for the father, the third for the Guru and the next for the Lord. Thus, in the Hindu tradition, teachers are given a higher position than the gods.
Basically, Gu is a Sanskrit word meaning ignorance or darkness and Ru denotes the one who has that darkness. In this way, you can understand that Guru is the person who removes the darkness from your life. Hence, this day is completely dedicated to teachers, both academic and spiritual.
Followers of Buddhism also revere the day of Guru Purnima, as Lord Buddha gave his first sermon at Sarnath on this day. On this devotional day of Guru Purnima, where people give utmost religious importance to this festival in India, we are here describing the best ways to celebrate this revered day with a wholehearted spirituality.
This day of Guru Purnima marks the beginning of Chaturmas (four months) of the year. During this time, the awakened Guru and spiritual master began to organise Vedantic discussions at this time of the year.
---
Guru Purnima Rituals
Guru Purnima is usually celebrated by worshipping and expressing gratitude to deities like our teachers. In monasteries and ashrams, disciples offer prayers in honour of their teachers. Devotees should dedicate himself/herself to following the Guru's doctrine and teachings and putting them into practice.
If one's Guru is not alive, a photograph or portrait of him is worshipped according to the ritual. In the Guru's memory, Mantras are also recited.
To seek the blessings of Gurus, Guru Purnima Puja and Yajna are done at temples and home. On Guru Purnima, some people observe a fast and practise Yogic Sadhana and meditation.
Buddhists celebrate Lord Buddha and pay tribute to his sanctuaries on this day. They do the "Uposatha" ritual and listen to Buddha's eight teachings. This is an auspicious day for many monks to begin their journey of meditation and ascetic practises.
There is a significance of Vishnu worship associated with Guru Purnima. On this day, Vishnu Sahatranama, known as the thousand names of Lord Vishnu, should be recited. On this auspicious day, be in harmony with yourself and channel your energy.
If peace and prosperity seem like a distant dream for you, book personalised live Vishnu Puja as a full-proof remedy.
---
Guru Purnima Puja Vidhi
 On this day, get up early and conduct your daily normal duties such as showering, Puja, and so on; also, make sure you are dressed appropriately.
After that, place flowers and a fragrant garland on Vyasa Ji's portrait, and then get blessings from your own Guru.
Get your Guru to sit in a chair or somewhere else, and then present him with a garland.
After that, present your Guru with garments, fruits, flowers, a garland, and Dakshina in the form of money, and accept their blessings.
---
About Worshipping Planet Jupiter
Vedic astrology reveals that you may live a good and healthy life if you have a strong Jupiter present in your birth chart. This might help to strengthen the good effects guru or god Jupiter in your chart. If Jupiter is in its debilitated sign 9 (i.e. Capricorn) in your birth chart, you should worship Guru Yantra regularly.
Worshipping Guru Yantra is favourable for you even if there is a conjunction of Jupiter-Rahu, Jupiter-Ketu or Jupiter-Saturn in your birth chart. If Jupiter is in the debilitated house, i.e. 6th, 8th or twelfth house in your horoscope, then you should worship an energetic Guru Yantra. Topaz can also be worn to avoid the ill effects of the planet Jupiter. However, gemstones should only be worn after the advice of Astro experts. If you have suitable topaz, you may not have challenging times in regards to wealth, business, job, children or health.
If you want to boost your wisdom and intelligence, book Guru Graha Shanti Puja as a solution.
---
Wrapping Up
Expressing thankfulness and gratitude to your teachers and mentors on the day of Guru Purnima will take you from darkness to enlightenment. We hope that this year, you must follow the above-mentioned rituals and understand the true essence of Guru Purnima.
If you are facing too much conflict in life, talk to astrologers for guidance. First consultation With 100% cashback.
---
---