Hanuman Jayanti: The Significance and Rituals of Lord Hanuman's Birthday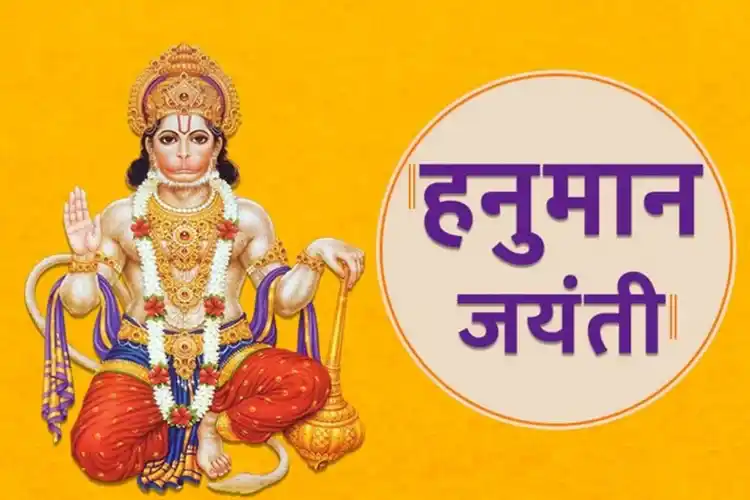 Hanuman Jayanti 2023: Date and Time
| Event | Date and Time |
| --- | --- |
| Hanuman Jayanti 2023 Date | Thursday, April 6, 2023 |
| Purnima Tithi Begins | 09:19 AM on Apr 05, 2023 |
| Purnima Tithi Ends | 10:04 AM on Apr 06, 2023 |
Fasting method of the Hanuman Jayanti
Brahmacharya (Celibacy) is considered very important for Bajrangbali, which is why on the day of the Hanuman Jayanti, celibacy should be followed.
In order to properly fast on the day of the Hanuman Jayanti, one should wake up early in the morning and remember Lord Shri Rama, Mata Sita and Lord Hanuman.
After that, one should bathe in pure water, wear clean orange-coloured clothes and vow to observe the fast for the rest of the day.
Later on, one must go to the temple in their house or a Hanuman temple in their locality and perform the Hanuman Puja in order to acquire the blessings of Lord Hanuman.
After the puja, one must continue to observe the fast for the rest of the day and break the fast in the evening.
Is too much negativity surrounding you? Book personalised live Hanuman Puja to ward off the evil effects.
Mantras to chant on Hanuman Jayanti
Hanuman Beej Mantra: Om Bhrim Hanumante, Shri Ram Dutay Namah:

Manojvam marutululvegam jitendriya buddhimatam senioryam. Vaatmajam Vanarayuth Mukhyaman Sri Ramdootm Sharanam Prapadye.

Atulita Baladhaam, Hemashailabhadeham. Danujavankrishanum, Gyaninamagraganyam.

Sakalgun Nidhanam, Vanaranamdhisham. Raghupatipriya Bhaktam Vatjatam Namami.

Om Namo Hanumante Rudravatraya Vajradehaya Vajrankhay Vajrasukhaya Vajromne Vajranetray Vajradantay Vajrakaraya Vajrabhatkay Ramdutaya Swaha.

Om Namo Hanumante Rudravataray Sarvashatrusahannay Sarvarogay Sarvavasikaranaya Ramdutaay Swaha.

Hanuman Ashtadashakshar Mantra: 'Namo Bhagwate Anjaneyaye Mahabalaye Swaha'.
How will be your day in upcoming days? Get free astrology report 2023 to know in detail.
Significance of Hanuman Jayanti
The festival of Hanuman Jayanti is one of the most auspicious days in the Hindu religion. The day is celebrated as Lord Hanuman's birthday, and it is believed that anyone who worships Lord Hanuman and observes a fast in order to impress him shall acquire his blessings and be able to overall troubles in his life. Lord Hanuman is the God of Strength and intelligence. Therefore it is said that anyone who shall worship Lord Hanuman on the day of Hanuman Jayanti and on any Tuesday, shall possess great strength and intelligence.
Sure, the blessings of Bajrangbali can remove the negativity from life, but what if you can know it beforehand. Get free janam patri report for more clarity.
Hanuman Jayanti Vrat Katha
Once there lived a Brahmin with his wife. The husband and the wife were worshippers of Lord Hanuman, but they did not have any children. They both worshipped and observed a fast regularly every Tuesday. Only after offering the evening prasad to Lord Hanuman, the brahmin's wife would have dinner.
Once when the Brahmin went to the forest for work, she observed a fast on a Tuesday like every time. However, due to some urgent work the wife could not cook Prasada for Lord Hanuman. She decided to break the fast only after offering the Prasada to Lord Hanuman on the next Tuesday and starved herself for the rest of the days of the week. However, she fainted after six days of starvation.
Do you want to calm the Mangal in your kundali? Book personalised live Mangal Grah Shanti Puja for favourable results.
Lord Hanuman was very pleased with her devotion and told her that he'll grant her anything she wishes. She wished to have a son and was then blessed with a beautiful boy, who she named Mangal. One day the Brahmin came back from the forest and was surprised to see the child. He suspected his wife was cheating on him and drowned his son in a well close by, but when he returned home after drowning the child, he found the child at home, smiling.
That night, Lord Hanuman appeared in the brahmin's dream and told him that the child was in fact his blessing. The couple thanked Lord Hanuman and kept worshipping him every Tuesday and Hanuman Jayanti.
How is the year 2023 gonna turn out? Read free yearly horoscope 2023 to know in detail.
The devotees who read or listen to this fasting story of Lord Hanuman and observe the fast with all the rituals shall be successful in acquiring the blessings of Lord Hanuman, and their home shall be filled with happiness by Lord Hanuman's grace. Hope you found what you were looking for and may Lord Hanuman bless you on this auspicious day.