Karwa Chauth 2023: Must-Read Crucial Facts Of This Festival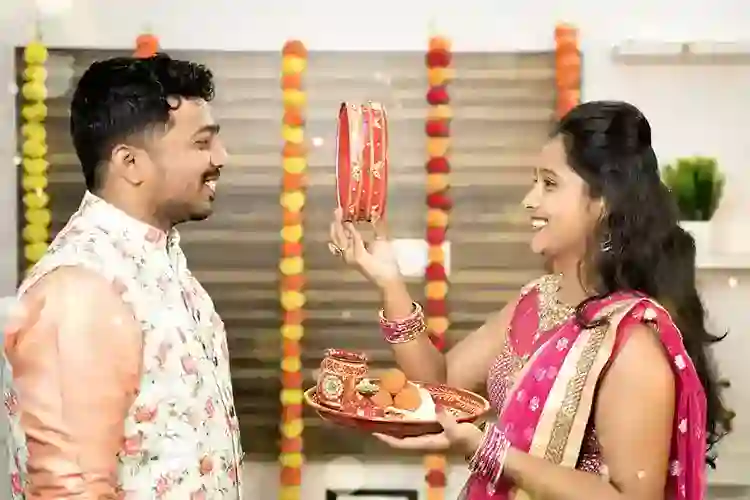 According to the Hindu calendar, Vrat of Karwa Chauth is observed on Krishna Paksha. Chaturthi in the month of Kartika. It falls on the fourth day of the Karthik month every year.
It is the festival of married women is Karwachauth, on this day, married women fast for the long life of their husbands. Moon is worshipped on this day to attain the long life of their husband and unbroken good fortune. Lord Shiva, Parvati Ji, Sriganesh, and Karthikeya are worshipped along with the Moon.
Karwa Chauth day is also known as Karak Chaturthi. Karwa or Karak refers to the earthen pot through which water offering, known as Argha, is made to the moon. Karwa is very significant during Karwa Chauth Puja, and it is also given as Dan to the Brahmin or any eligible woman.
---
Karwa Chauth 2023: Date And Timings
Karwa Chauth: November 01, 2023
Karwa Chauth Puja Muhurat: 06:00 PM to 07:13 PM
Karwa Chauth Upavasa Time: 06:11 AM to 09:07 PM
Moonrise on Karwa Chauth Day: 09:07 pm
Chaturthi Tithi Begins: 31st October 2023 at 09:30 PM
Chaturthi Tithi Ends: November 01, 2023 at 09:19 pm
---
Significance of Karwa Chauth Vrat
The festival of Karvachauth symbolises strong relationships, love and trust of husband and wife. It is believed that by fasting on this day, women get the blessings of unbroken good fortune. On this day, women dress up in 16 Bridal Adornments that encompasses sixteen steps that women follow for their beautification from head to toe at the time of the wedding. Observing this fast with true mind and devotion is not only achieve a boon of unbroken good luck but also brings happiness, prosperity and peace to the family.
How the partnership of marriage will be in coming time? Read free Marriage horoscope 2023 for knowing accurate prediction.
---
Karwa Chauth Puja Vidhi
On the morning of Karva Chauth, wake up early and take a bath. Wear clean clothes and take a vow.
On the wall of the temple of the house, make make a picture of karwa Mata with ground rice. This method is called Karwa Dharna. In the evening, keep such a picture of Maa Parvati and Shiva on a wooden pedestal, in which Lord Ganesha is sitting on the lap of Maa Parvati.
Listen to or read the story of Karva Chauth Vrat by filling water in the new Karwa. Offer makeup items to Maa Parvati. After this, worship Goddess Parvati, Lord Ganesha and Shiva. After moonrise, worship the moon and offer arghya.
Open your fast by drinking water from your husband's hand or eating a morsel. After the worship, take the blessings of the mother-in-law and the elders of the house.
Attain divine blessings of Lord Shiva by performing Rudraabhishekam Puja.
---
Karwa Chauth Vrat Katha
Veervati was a princess who lived a long time ago, the sole sister of her seven brothers. She was the wife of a king.
After the marriage, Queen Veervati went back to her parent's house to celebrate her first Karva Chauth. She followed the ceremony and observed the Karva Chauth vrat for her husband. She did, however, endure hunger pangs later in the day. Her kind brothers couldn't bear seeing her sister starving, so they devised a plan to deceive her into breaking the fast.
The brothers created the illusion of a moon by placing a mirror in a peepal tree. While waiting for the moon, Queen Veervati mistook the mirror for the moon and broke her fast. The Queen, however, received the devastating news that her husband had died as soon as she finished her fast.
The queen, distraught, went back to her husband's home. Lord Shiva and Goddess Parvati appeared before her along the road and informed her that she had been duped by her brothers. She had seen a shine of light that was not from the moon. Then Queen Veeravati begged for forgiveness. The gods promised the Queen that her husband would be fine if she properly followed the fast ritual, but that he would be sick for a long period.
When the Queen arrived at the palace, she found out that her husband is in a coma. Several needles were pierced through his body. She took each needle out one at a time. With the exception of one needle, it took her a year to remove them all. The following year, she dedicated herself to all of the Karva Chauth ceremonies, hoping that the King would awaken because only one needle remained inside his body.
However, a maid took out the last needle from the king's body when she was busy completing the Karva Chauth ceremonies. When the King awoke, he mistook the maid for the Queen. The Queen was taken aback, but she continued to perform the ceremonies with zeal.
When the king was planning a visit to another kingdom, he asked Veervati what she wanted from him. Queen Veervati responded by requesting a pair of similar dolls, to which the King agreed. Then queen Veervati began singing a tune called " Roli ki Goli ho gayi… Goli ki Roli ho gayi," which means "the queen has transformed into a maid, and the maid has transformed into a queen."
Veervati told the king the complete story when he asked why she continued repeating the song. Veervati was re-instated as the king's queen when the king expressed regret.
What secrets are hidden in your kundali? Get a free janampatri analysis for a detailed revelation.
---
Story of Satyavan and Savitri
When Lord Yama came to procure Satyavan's soul, Savitri begged him to grant him life. When he refused, she stopped eating and drinking and followed Yama who carried away her dead husband. Yama said that she could ask for any other boon except for the life of her husband.
Savitri asked that she be blessed with children and Yama agreed. Being a "'Pati-Vrata'" (devoted) wife, Savitri would never let any other man be the father of her children. Yama was left with no other choice but to restore Savitri's husband to life. Lord Yama said that in future, the married women who keep fast on this day and pray to a banyan tree will get the boon of a longer life for their husbands.
Also Read: Marriage Muhurat 2023
---
Story from Mahabharata
The belief in this fast and its associated rituals goes back to the pre-Mahabharata times. Draupadi, too, is said to have observed this fast. Once Arjun went to the Nilgiris for penance and the rest of the Pandavas faced many problems in his absence. Draupadi, out of desperation, remembered Lord Krishna and asked for help.
Lord Krishna reminded her that on an earlier occasion when Goddess Parvati had sought Lord Shiva's guidance under similar circumstances, she had been advised to observe the fast of Karwa Chauth. In some stories of this legend, Shiva tells Parvati the story of Veervati to describe the Karwa Chauth fast.
Draupadi followed the instructions and observed the fast with all its rituals. Consequently, the Pandavas were able to overcome their problems.
How your upcoming time will be? Get a free yearly astrology report for accurate predictions.
---
Importance of Sargi on Karva Chauth
Sargi is a pre-dawn meal that a mother-in-law prepares for her daughter-in-law on the day of Karva Chauth and it is followed by baya or a token gift for the in-laws. Sargi is one of the ways that this bond is strengthened. It is basically the Punjabi name given to a sweet vermicelli kheer and is given to the bahu along with mathri (salty fried pastry), badaam-kaju (almonds and cashew nuts) and mithai (sweet).
Along with this, the daughter-in-law is also gifts clothes, jewellry, sindoor, kangan, and bindi, all of which are adorned by married Indian women. The Sargi is followed by a baya, which is a token gift given by the daughter-in-law to her mother-in-law. Both of these are extremely important and the real reason that they are gifted is that it brings both women closer and together to wish their son/husband well. Hence, how great this Karwa Chauth Sargi Sounds, isn't it?
---
Wrapping Up
Hey ladies and gentlemen, hope you understood the significance of Karva Chauth pooja or let's say Karwa Chauth pooja in order to wish for your partner's long life. Stay blessed!
Know about the Karwa Chauth Dress Ideas…
Overcome any Life problem through Astrology, Ask the Experts Now! First consultation with 100% Cashback.
---
---