Maharana Pratap Jayanti: Know About The Birth Anniversary Of Maharana Pratap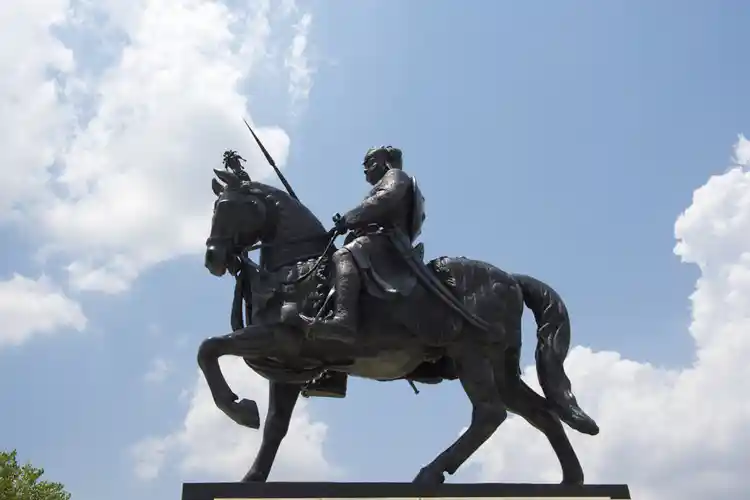 Maharana Pratap or the Pratap Singh 1st was the great King of Mewar. The brave and powerful warrior was well known for his heroics on the battlefield. Maharana Pratap protected his region Mewar when the Mughals tried to invade the city. Due to his contribution to Rajputs of the Sisodiya clan, Maharana Pratap is still remembered in today's world. And therefore, we celebrate his birth anniversary every with immense pleasure. Now, let's check out the ancient history of Maharana Pratap before we note the timings of Maharana Pratap Jayanti.
---
A Story Of Pratap Singh
Pratap Singh was born in the Sisodiya Rajput family at Mewar, Rajasthan, on 9th May 1540. His father was Maharana Udai Singh-II, and his mother, Maharani Jaiwanta Bai. Also, He had three younger brothers Shakti Singh, Jagmal Singh and Vikram Singh. Moreover, Pratap Singh also lived with 2 step sisters, Chand Kanwar and Maan Kanwar. At the same time, Udai Singh II was the ruler of the Mewar kingdom in the capital of Chittor. The eldest son of Maharana Udai Singh, Pratap Singh, later went on to earn the crown of the prince. He then became the 54th monarch of Mewar Sisodia Rajputs.
---
A Role Of Maharana Pratap in the Haldighati Battle
Prince Pratap Singh was only 27 years old when Emperor Akbar invaded Mewar. His intention was for Pratap Singh to be his bondsman like many other Rajput leaders did in the region. Mughal armed forces surrounded Chittor Gadh and their region. Maharana Udai Singh fled from Chittor to a safe place. The siege of Chittorgadh ended the bloody war and resulted in the loss of the eastern part to the Mughals.
After the death of Maharana Udai Singh II, Pratap Singh stood up as a King of Mewar and challenged Akbar. Earlier, Maharana Udai Singh fell under the influence of his dearest queen, Rani Bhatiyani and promised her that only Jagmal would be the King of Chittor. But after his death, Pratap Singh took the throne as a true successor. He went against his late father's wish of his younger half brother Jagmal to become king. Soon, Jagmal went on to take revenge and joined Mughal emperor Akbar's military force to help them conquer the fort.
Later, Akbar took the safe route from Gujarat to reach Mewar. The battle of Haldighati was fought around four years. There were 80,000 armies of Mughal who went head to head with 20,000 armies of Rajputs. Maharana Pratap never surrendered to the Mughals despite losing his loyal horse Chetak in the war.
Mughals never succeeded to capture Maharana Pratap Singh or any of his family members. While Akbar was raging war in Goganda, Udaipur and Kumbhalgarh, Maharana Pratap secretly moved to the forests of the Aravalli mountains, where he rebuilt his armed force. His army included Bhil community warriors and soldiers from around the region of the East part of Rajasthan.
In 1579, the Mughals ruled the Mewar, Udaipur and shifted their attention on the state of Bengal, Bihar and Punjab. As soon as, Mughals decided to leave Mewar, Pratap Singh attacked the Mughals at Dewair, where Sultan Khan was killed by Pratap Singh's son Amar Singh. The Mughals were forced to make surrender in front of Maharana Pratap.
Maharana Pratap captured those Mughal soldiers and many of their military outposts. Observing the situation, Akbar absconded to Lahore, and Pratap built a new capital named Chavand.
Later in 1597, Maharana Pratap dealing with injuries, succumbed to death at the age of 56. But before that, he informed his son to never surrender to Mughals. The news of Maharana Pratap's death Singh reached the court of Akbar. At that time, poet Dursa Adha recited a eulogy in the name of Maharana Pratap, which left Akbar at a loss of words. The Mughal King wondered how after the death, Maharana Pratap is still remembered by his men. Seeing this, even Akbar's heart melted and he himself praised the late king of Mewar, Maharana Pratap.
---
Maharana Pratap 483rd Birth Anniversary
The true patriot, Maharana Pratap Singh, encouraged Indians to fight for their country and their freedom. Not only in Rajasthan but entire India will always remember the fearless King, Maharana Pratap. The top poets and artist of Rajasthan also kept his name in their poems. Back in 2007, Maharana Pratap's statue was established inside the Parliament of India. And therefore, people remember the bravery and valour of the great king. At present, the birth anniversary of the Maharana Pratap is known as Maharana Pratap Jayanti. We celebrate his birthday on Tritiya of Shukla Paksha during the Jyeshtha month.
Now you too can win the battle against your hidden enemies. Get a free janampatri report to know in detail.
---
Important Date And Time For Maharana Pratap Jayanti 2023
This year will mark the 482nd birth anniversary of Maharana Pratap Jayanti.
Maharana Pratap Jayanti: Monday, May 22, 2023
Tritiya Tithi Starts At: 10:09 

PM

 

on

 May 21, 2023
Tritiya Tithi Ends At: 11:18 

PM

 

on

 May 22, 2023
---
Wrapping Up
We studied how fearlessly Maharana Pratap stood up in front of Mughal and protected the fort of Mewar. His heroics never went unnoticed as he set an excellent example of bravery. On Maharana Pratap Jayanti, we remember his name and recall the war of Haldighati. People also tell the story of Maharana Pratap to their children so that he or she may get inspiration. We wish you a happy Maharana Pratap Jayanti in advance.
---
---