Mahavir Jayanti 2023: Uncover Some Crucial Facts About This Day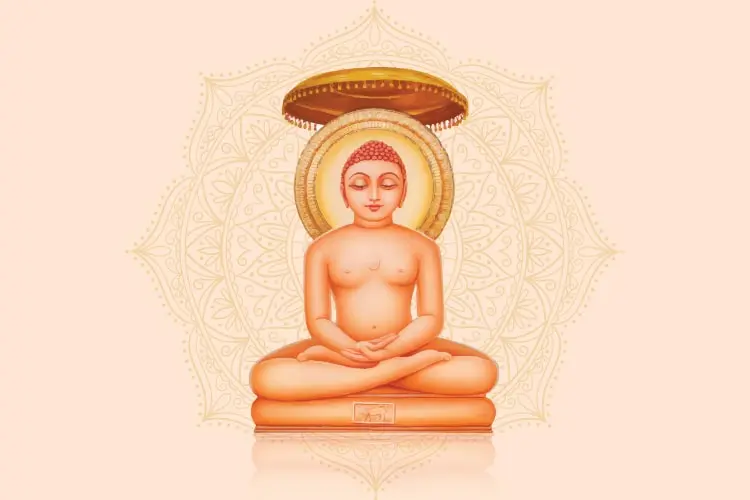 Mahavir Jayanti celebrates the birth of a great Tirthankara of Jainism. A celebration, remembering the greatness and immortal thoughts of Saint Mahavir. Overall, Mahavir Jayanti is celebrated by Jain community people, following all traditions. So, without any ado, let's know more about this festival. According to the Hindu calendar, Mahavir Jayanti is conducted on the thirteenth day of the month of 'Chaitra.'  Hence, Mahaveer Jayanti Date Tuesday, April 4, 2023.
---
Mahavir Jayanti Date And Time
In 2023, there will be the 2621th birth anniversary of Mahavir Swami.
Mahavir Jayanti: Tuesday, April 4, 2023
Trayodashi Tithi Starts: On 06:24 

AM

 

on

 Apr 03, 2023
Trayodashi Tithi Ends: On 08:05 

AM

 

on

 Apr 04, 2023
---
Importance of Mahavir Jayanti Festival
This one-of-a-kind day is dedicated to the conception of Lord Mahavir, a Jain saint who is known amongst the most famous saints to have ever lived on the earth. Like the spirituality itself, Mahavir Jayanti is observed with modesty and elegance.
Lord Vardhamana Mahavira was born as a prince in Vaishali, a remote city in southern Maharashtra. Despite the fact that he was supposed to be Tyrant, he abandoned the earthly life at the age of 30 and thus achieved enlightenment, leaving all the worldly pleasures and sins behind. His philosophies influenced many believers, and he was known for his fearlessness, intellectual insight, and integrity.
---
History Of Mahavir Jayanti Celebrations
To understand the essence of Mahavir Jayanthi, one must first know about Lord Mahavir's superiority.
The son of King Siddhartha and Queen Trisala was Lord Vardhamana Mahavira. As per mythology, Lord Mahavira was a son of Devananda, the wife of Brahmin Rishabhdeva, and moved to Trisala's womb by God's wonder. Trisala, the pregnant woman, had 16 dreams until he was conceived, whom archaeologists perceived as indicating that the boy would be either a King or a 'Tirthankara.' Indeed, the boy grew up to be a great man who, at the age of 30, gave up all material possessions and given this world his great teachings.
Lord Mahavir is regarded as one of the holiest and most accomplished missionaries of peace and harmony.  Lord Mahavir preached a vision of redemption and peaceful coexistence, and his ideas inspired a large number of people.
He gave a five-point principle for all believers to follow: 'Ahimsa,' 'Asteya,' Brahmacharya, Satya, and Aparigraha.' Jainism takes these oaths in order to live in unity and tranquillity. Lord Mahavir's observations were focused on empirical interpretations of existence and life's underlying message. A bit similar concepts are mostly implemented by many people today, not just Jain religions.
---
Mahavir Jayanti Celebration
During Mahavir Jayanthi, people arrange ceremonial commemorations that include bows and arrows, horses, elephants, shouters, and instrumentalists. In remembrance of the great saint, several stories about Saint Mahavir are told to youngsters. The famous saint's symbolic scriptures and insights are placed.
On this special day, money, food, and clothes are given to the needy, as a significant tradition. Several of the significant Jain shrines where Mahavir Jayanti is celebrated include Girnar and Palitana in Gujarat, Shri Mahavirji in Rajasthan, Pawapuri in Bihar, and Parasnath Temple in Kolkata.
---
Tirthankara & When It Is Celebrated?
Mahavir Jayanti is a major Festival for Jains all around the world, especially in India. Lord Mahavir, the 24th and final Tirthankara of the Jain religion and the son of King Siddhartha and Queen Trisala, was born on this day. A Tirthankar is known to be the Jain dharma's Leader. This terminology highlighted the role of Tirtha's creator, who attains Nirvana and assists others in doing so.
He was born in Kundalagrama, Bihar, on the 13th day of the Hindu calendar month Chaitra in 599 BC, but he is responsible for the congregation of Jainism. Digambar Jains, on the other extreme, claiming he was born in 615 BC.
Once A Champion, Always a Champion! Get Your Free Janampatri Now and Be a Forever Champion!
---
About Lord Mahavir
Lord Mahavir was the son of the Ikshvaku Dynasty's prince Vardhamana. Despite the fact that he was predicted to be a King, he abandoned his family at the age of 30 in pursuit of evidence in the universe, giving up all of his earthly belongings, particularly his clothes. He relocated, practising yoga and abstinence, leading an uncommon and iconoclastic life.
He came to know about different hardships and terrible suffering that people encounter throughout his journey and eventually acquisition of knowledge. He resumed his movements after administering the medication, teaching the idea of total liberation from the cycle of reincarnation, existence, discomfort, sorrow, and death – and how anyone can accomplish Moksh.
Facts of Lord Mahavir:
He has been known by five groups of communities.
He left his territory and relatives when he was 30 years old.
Lord Mahavira is believed to have had vipassana meditation for 12 years.
They have five principles on how to spend a beautiful life.
He divided Socrates adherents into four groups: monks (Sadhu), nuns (Sadhvi), laymen (Shravak), and laywomen (Shravak) (Shravika).
His primary priority in education is to demonstrate well how to break free from either the phases of conception, life, suffering, misery, and death. Often, reach a state of self-bliss that lasts for the rest of one's life. Empowerment, Alice in chains, unlimited freedom, or Moksha are terms used to describe this state.
As a result, historians might conclude that Lord Mahavira founded Jainism. He was the first Tirthankara, and Mahavir Jayanti commemorates his birthday. Time
How your day will be in the coming days? Get a free yearly astrology report 2023 to know in detail.
---
Mahavir Jayanti Rituals
Maintain a strict dietary regimen and fast during the day.
Flowers should be placed on the puja altar or in the room.
Wash Mahavir's idol by performing Abhishekam with water and milk.
Offer the deity sweets, flowers, and fruits.
Chant the Mahavir Jayanti mantra.
Serve the needy with clothing, money, food, or anything else they require.
---
Mantras For Mahavir Jayanti
Namokar Mantra is a Jains' regular prayer.
Nearly every day, Jains drop to their knees and recite the Navkar-mantra, a fundamental prayer. This offering of honorific and gratitude is the beginning of all excellent performance and occurrences.
AUM namo ariha.ntaaNa ariha.ntaaNa ariha.ntaaNa ariha.
AUM namo siddhanaM, AUM namo aayariyaanaM,
AUM namo aayariyaanaM Namo loye savva sahUNaM namo
uvajjhaayaanaM namo uvajjhaayaanaM namo uvajjhaayaanaM namo uvajjhaayaanaM aiso pancha namokkaaro savva paavappaNaasaNo
ma.ngalaaNaM cha savvesiM paDmaM hawaii ma.ngalaM
Namokar Mantra in Hindi
ॐ नमो अरिहंताणं । ॐ नमो सिद्धाणं । ॐ नमो अायरियाणं ।
ॐ नमो उवज्झायाणं । ॐ नमो लोए सव्वसाहूणं ।
एसो पंच नमोक्कारो सव्व पावप्पणासणो ।
मंगलाणं च सव्वेसिं, पढमं हवइ मंगलं
Namokar Mantra's meaning
All Arihantas have my utmost respect (enlightened souls)
Both Siddhas have my utmost respect (liberated souls)
All Acharyas have my respect (religious leaders)
All Upadhyayas have my respect (religious teachers)
Both Sadhus have my respect (saints and monks).
The most auspicious of all things is this five-fold salutation, which destroys all sin.
Aiso pancha namokkaaro: These five salutations have a lot of strength.
Savva paavappaNaasaNo: It's eradicating all sins,and this is what it's all about.
mangalavaNaM cha savvesiM: The first happiness among all forms
Padmam hawaii ma.ngalam: of happiness.
Jains don't really pray to Gods, the Tirthankaras, or monasteries for any rewards or material benefits according to the above offering. They should not address their prayers to a particular Tirthankara or monk. Jains derive guidance from the five virtuous for the righteous trajectory to genuine self and maximum liberation from life's suffering by standing at attention to them. Right intention, pure faith, this is what Jains do.
---
Wrapping Up
On the day of Lord Mahavir's birth, Mahavir Jayanti is pronounced amongst the most special occasions in the world. Many people were fascinated by Lord Mahavir's divine strength and moral superiority during his lifetime. He simplified Jainism and freed it from complex institutional uncertainties, encouraging everyone to follow his philosophy. His mission and convictions on Ahimsa will always be remembered not by just Jains, but everyone.
Elevate your boring life astrological! Talk to astrologers, first consultation is FREE.
---
---