Navratri Day 8: A Day Dedicated To Maa Mahagauri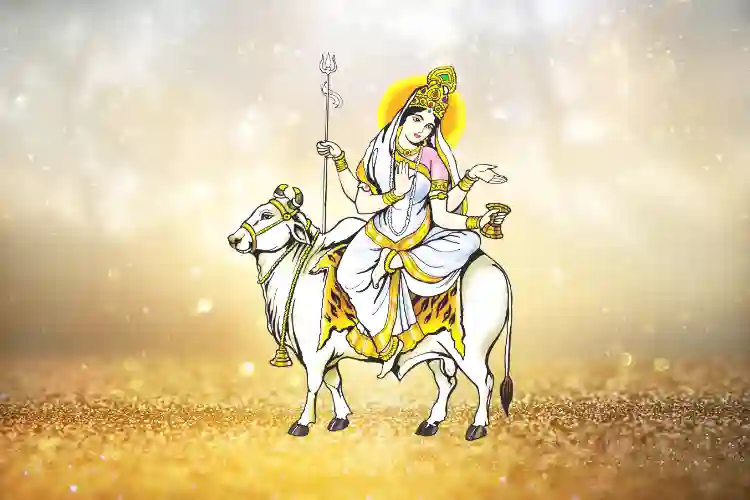 The Story of Maa Mahagauri
Following Hindu myths, the tale of Maa Mahagauri takes us back to ancient times when Goddess Parvati expressed her desire to marry Lord Shiva. She accepted the advice from sage Narada and began severe austerities in the forest. Maa Parvati decided to meditate in the name of Lord Shiva by giving up food and water. She continued her penance even after her body colour had faded due to dust.
Appeased by her devotion, Lord Shiva accepted her wish and sprinkled Ganga Jal on her. Thereafter, the dirt washed away and the Goddess appeared with a fair complexion and glowing skin. Mother Parvati is seen wearing a white sari and flawless glowing skin, further defining her name 'Mahagauri'. The word 'Maha' refers to 'great' and 'gauri' refers to 'fair complexion', which together form the name 'Mahagauri'.
This 8th avatar of mother Parvati is depicted as the goddess sitting on a bull with three eyes and four hands. She carries a trident in the right hand and a damaru (a small drum) in the left hand, while the remaining hands perform mudras. This form of the Goddess is also known as Shwetambardhara, Vrisharudha, Chaturbhuji and Shambhavi.
Help gain favourable results of your hard work by performing personalised live Durga Sapatasati.
Significance of Worshipping Maa Mahagauri
On the eighth day of Navratri, worshipping Maa Mahagauri may shower blessings in the form of peace, goodness and prosperity in one's life. It is believed that Maa Mahagauri governs the planet Rahu. People do Maa Mahagauri Puja to remove the ill effects of Rahu and other obstacles such as sorrows, fear and mental health-related issues. The one who worships Maa Mahagauri with a pure soul may attain peace in their life.
Protect yourself from sorrows and miseries by performing personalised live Rahu grah shanti puja.
Maa Mahagauri is known to be a beautiful young girl and therefore some people also perform Kanya Puja. As per Hindu myths, you are allowed to end 9-days long fasting rituals on this day in order to perform Kanya Puja. Kanya Puja is done by unmarried girls in order to get glowing skin, wealth and disease-free life. They offer food to nine unmarried girls, who are considered nine different forms of Maa Durga.
Puja Vidhi for Maa Mahagauri
Follow the below steps to perform Maa Mahagauri Puja, which may bring positivity, tranquillity and strength to your life.
Place an idol of Maa Mahagauri outside your home temple.
Light diyas and incense sticks.
Offer fresh flowers to the idol and meditate before the Goddess.
Worship the Goddess by chanting Maa Mahagauri mantras.
End puja by doing aarti.
Distribute prasad amongst devotees.
Strengthen your birth chart by going through free janampatri analysis.
Maa Mahagauri Mantras
Complete Maa Mahagauri Puja by chanting below mantras, this may help you to overcome hurdles in your life.
'ॐ देवी महागौर्यै नमः॥'
Greetings for Durga Ashtami!
MyPandit wishes you a blessed Navratri season ahead.
Make this Navratri, even more, happier by consulting astrologers to guide you in the right direction. First consultation with 100% Cashback.