Significance And History of Skanda Mata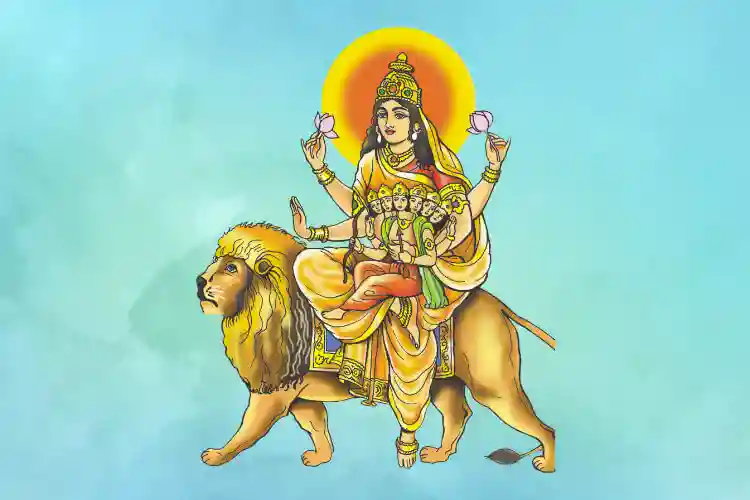 ---
Goddess Skandamata Overview
The 5th day of Navratri is celebrated in the name of Devi Skandamata, the 5th incarnation of Goddess Durga. In Sanskrit, the word 'Skanda' means fair. The word 'Skanda' is also associated with the god Kartikeya, and Mata means a mother. Hence, she is known as the mother of God Kartikeya or Skanda.
The 10th day of Navratri is considered auspicious and is celebrated as Vijaya Dashmi. Goddess Durga's nine avatars are adored amid this period. On the fifth day, devotees offer puja and other rituals in praise of Maa Skandamata.
Being a mother and saviour of her children, Skandamata Devi is kind and caring. Worship this incarnation of Maa Durga and be an achiever, prosperous and have a content life. This year the fifth the day of navratri will be on 19 October 2023
---
Significance And History of Maa Skandmata
Goddess Skandamata has four arms and looks like Goddess Durga, who also rides a lion. On the one hand, she is holding a lotus, within the other a chime; within the third, there's a favouring signal, and in the fourth hand, she holds Skanda, who sits on her lap. She sits on a lotus, due to which she is alluded to as Goddess Padmasana.
Devi Skandamata blesses her devotees with power, treasures, prosperity, wisdom, and salvation. When worshipping her, you need to have a pure heart and be completely devoted to her.
It is believed that God Skanda's birth has been mentioned in the Skanda Purana. Goddess Parvati and Lord Shiva's energies came together in a divine form while they were meditating. When Lord Indra got to know that a divine child will be born soon from Lord Shiva and Devi Parvati, he instigated Lord Agni and asked him to steal the deiform energy. It had been said that the child who was born from these energies would slay the demon Tarakasur.
When Goddess Parvati came to know about this, she cursed Lord Agni to burn all the time. She also said if anyone tries to come near the fire, that person will also burn.
It is accepted that she grants worshippers with salvation, control, thriving and treasures. Her favours get multiplied as when the aficionado reveres her, Ruler Skand, her child in her lap, is consequently revered. Hence, the worshipper happens to appreciate the elegance of Skandmata in conjunction with the beauty of Ruler Skand.
Underneath may be a list of the 'mantras', mantra Jaap and Dhyan mantra for Skandamata Devi while performing Durga Puja. The colour of the fifth day of Navratri is regal blue. Shardiya Navratri is one of the foremost favourable periods of the Hindu calendar when Maa Durga slips on Soil from her home in Kailash. It is also celebrated as Maha Panchami. Goddess Durga will be invited to Maha Shasthi on the next day.
By chance, the devotees adore her destitute of self-centeredness; the Goddess Skandamata, like a genuine mother, favours them with control and success.
Get success in all your endeavours, Talk to Experts!
---
Maa Skandamata Mantra
सिंहासनगता नित्यं पद्माश्रितकरद्वया।
शुभदास्तु सदा देवी स्कन्दमाता यशस्विनी॥
ॐ देवी स्कन्दमातायै नमः॥
"Singhasanagata Nityam Padmashritkardvaya
Shubhdastu sada devi Skandamata Yashaswini"
---
Maa Skandmata Mantra Chanting
'ॐ स्कन्दमात्रै नमः।।'
"Om Skandmatre Namah"
Also, we can recite
या देवी सर्वभू‍तेषु माँ स्कन्दमाता रूपेण संस्थिता। नमस्तस्यै नमस्तस्यै नमस्तस्यै नमो नम:।।
"Ya devi Survabhuteshu Ma Skandamata Rupen Sansthita
Namastasye Namastasye Namastasye Namo Namah"
---
Ending Note
May goddess Skandamata keep blessing you. Wishing you colourful Navratri days ahead.
---
---