Maa Brahmacharini: Invoking The 2nd Form of Maa Durga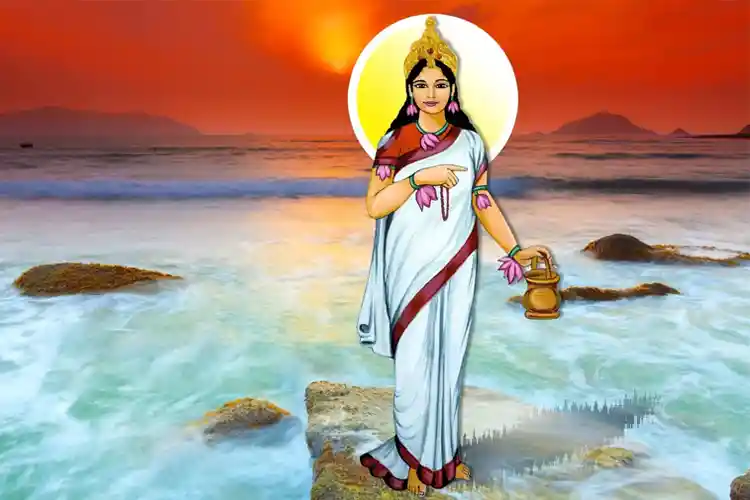 Brahmacharini is the 2nd form of Goddess Ambe(Maa Durga). People generally worship Brahmacharini avatar during the second day of Navratri. This avatar of Maa Durga is also known as Hemavati. On the 2nd day of Navratri, devotees worship Maa Brahmacharini with full devotion. They organize puja and prayers at home to please the Goddess. Some of them also keep fast by avoiding food and water. This year the second day of Navratri will be on 16 October 2023
In terms of astrology, Devi Brahmacharini governs the planet Mars (Mangal), so the Goddess may help you remove the Mangal Dosha. One who recalls her in prayers may get rid of the Mangal Dosha. Let us learn what ancient myths say about the story of Maa Brahmacharini(2nd day of Navratri).
---
The Story
Ancient scriptures reveal that the king Daksha Prajapati, a devotee of Lord Shiva, was blessed with a girl in the form of Maa Parvati. A young Parvati came to be known as Brahmacharini after a strict penance of thousand years. Brahmacharini expressed her desire to marry Lord Shiva by severe penance. Then, she continued fasting for years by surviving on fruits and leaves.
After continuing with severe austerities and walking miles barefoot without any food or water, Parvati came to be known as 'Aparna'. Furthermore, it is believed Maa Brahmacharini walks barefoot and is known for severe austerities. Devotees offer fresh Jasmine flowers as it is said to appease Goddess Brahmacharini. They organize sixteen different types of puja to impress Maa Brahmacharini.
---
Worshipping Maa Brahmacharini
It is said that when Maa Parvati became Sati in her previous Avatar, Maa Parvati's new incarnation was in the form of a Maiden Girl filled with wisdom and Peace. This girl was the 2nd form of Goddess, Maa Brahmacharini.
We also came to know that Maa Brahmacharini was spent her life in an ashram along with her mentor and other devotees as Vairagya. Devi Brahmacharini is the provider of wisdom, knowledge, honesty, and loyalty, so if you keep her in your prayers by doing Durga Puja, you may get her divine blessings. Some of the devotees may also perform penance to get blessed with Maa Brahmacharini's love and affection.
---
The Idol Of Maa Brahmacharini
Referring to the ancient scripture, we came to know about the idol of Devi Barahmacharini. It depicts the Goddess standing in the white Sari. She carries Kamandalam in her left hand and rosary in her right hand. Other hands are granting wishes of her devotees. Thus, there is a significance of wearing a white dress on the second day of Navratri. The Goddess is known as the symbol of peace and purity.
---
Maa Brahmacharini's Mantra
Below is the mantra one should recite while Worshipping Maa Brahmacharini.
नमस्तस्यै नमस्तस्यै नमस्तस्यै नमो नमः।।
दधाना कर मद्माभ्याम अक्षमाला कमण्डलू।
देवी प्रसीदतु मयि ब्रह्मचारिण्यनुत्तमा।।
Recite this mantra (5001 times) to be blessed with Maa Brahmacharini
---
Mantras To Be Recited For 108 times
Below mantra should be recited for 108 times while performing Devi Brahmacharini Puja. By Doing so, the Goddess may bless you with esteemed knowledge, peace and bliss in your life.
या देवी सर्वभू‍तेषु मां ब्रह्मचारिणी रूपेण संस्थिता।
नमस्तस्यै नमस्तस्यै नमस्तस्यै नमो नमः॥
ब्रह्मचारिणी: ह्रीं श्री अम्बिकायै नम:
---
Greetings
We found how Maa Durga herself appeared in the form of Maa Brahmacharini and underwent austerities to please Lord Shiva. This is a beautiful form of Maa Durga. Whoever worshipping her with a pure heart may get divine blessings of her. With this, May Maa Brahmacharini keeps blessing you and your family. Wishing you the happiest Navratri festival ahead.
Dealing with too much confusion? Talk to astrologers for the guidance. First consultation with 100% Cashback.
---
---