Second Day of Navratri – Maa Brahmacharini Puja and Chandra Darshan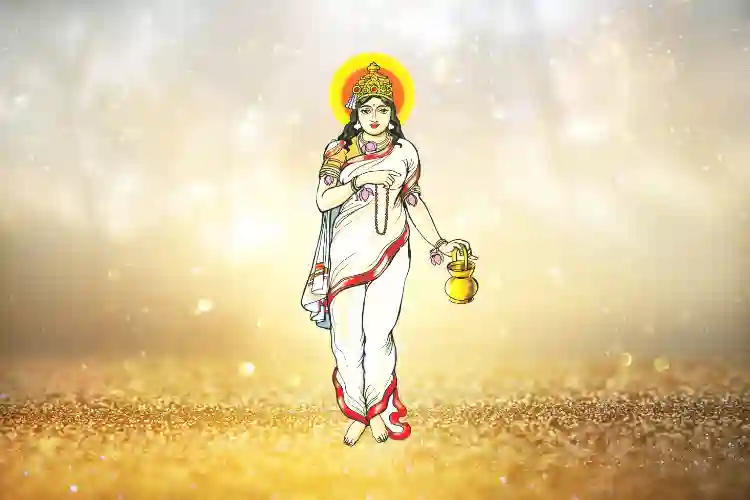 Story (Katha) of Devi Brahmacharini
Daksha Prajapati, a devotee of Lord Shiva was blessed with a  girl child  whom he  named 'Parvati'. A young Parvati came to be known as  Brahmacharini after a strict penance of  thousand-years. Brahmacharini expressed her desire to marry Lord Shiva by severe penance. She continued fasting for years by surviving on fruits and leaves. After continuing with  severe austerities and walking miles barfoot  without any food or water, Parvati came to be known as 'Aparna'.
The idol of Maa Brahmacharini depicts an unmarried girl holding a rosary in her left hand and sacred Kamandal in the right. Furthermore, it is believed Maa Brahmacharini walks barefoot and is known for severe austerities. Devotees offer fresh Jasmine flowers as it is said to appease Goddess Brahmacharini. They organize sixteen different types of puja to impress Maa Brahmacharini.
Did you Know about Chandra Darshan ?
Puja Samagri:
An idol of Maa Brahmacharini
Glass of milk
Curds
Melted butter
Sugar
Fruits
Jasmine flowers
Durva grass
Supari and Lavinga
A piece of cloth
Puja Rituals and Mantra
The following are the puja rituals followed on the second day of Navratri, which is devoted to Goddess Brahmacharini .
Devotees wake up early and wear tidy clothes for puja
They  immerse the idol of Brahmacharini in  honey and milk
Vermillion is applied on the idol's forehead
Devotees place prasad consisting of fresh fruit before the idol of the Goddess.
They seek special favours and blessings for prosperity and abundance in life.
Brahmacharini Mantras
Brahmacharini puja is incomplete without the Brahmacharini mantras. Below is the mantra to evoke Goddess Brahmacharini on the second day of Navratri.
ॐ देवी ब्रह्मचारिण्यै नमः॥
Dwitiya Navratri Greetings
May Maa Brahmacharini's grace shine upon you and wipe away all your troubles. Greetings from MyPandit Team!
Get The Benefit Of Second Day Of Navratri By Consulting An Expert Astrologer…