Raksha Bandhan 2021: Celebrating The Festival Of Siblings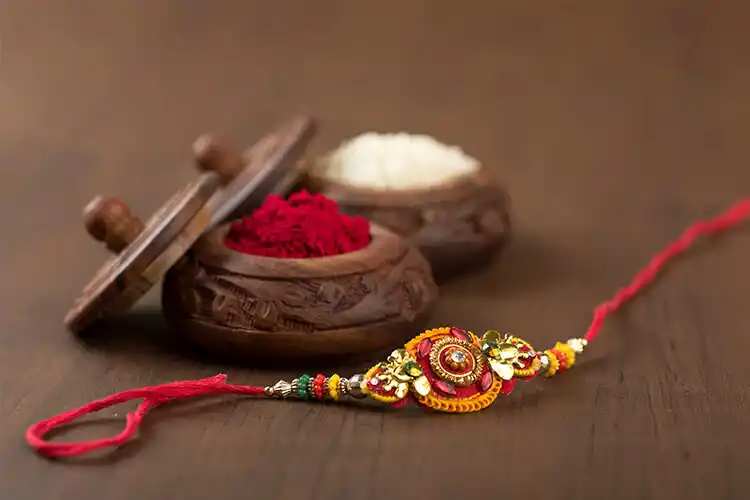 In Indian culture, we celebrate Raksha Bandhan as the epitome of brother and sister's unconditional love on the Full Moon in the month of Shravan. On this day, a sister ties rakhi on her brother's wrist by applying tilak on the head and praying for his wellness and protection.  This festival is also known as "Shravani" as it is celebrated in the month of Shravan. Rakshabandhan is celebrated in the entire subcontinent of India but as per the cultural differences, it is celebrated with different names in different places. In specific regions as per the traditional impact, Raksha Bandhan is celebrated very uniquely. In North India, on this day sister ties the rakhi and wishes success for him and in return brother also gives gifts with the promise of helping her in difficult times.
Raksha Bandhan Date 2021 and Muhurat Timings
| Muhurats | Date / Timings |
| --- | --- |
| Rakshabandhan 2021 Date: | 22nd August 2021 |
| Purnima Tithi will start | 21st August at 3:45 PM |
| Purnima Tithi will ends | 22nd August at 5:58 PM. |
This year Moon will be in the sign of Capricorn on Raksha Bandhan day. Due to  auspicious yoga, except for the Rahu or Bhadra Kaal, the Muhurat is good to tie the rakhi for  the whole day. Amrut Kaal will be there from 9:34 AM to 11:07 AM. On this day, in Abhijeet muhurat the auspicious time between 12:04 PM to 12:58 PM, you can tie the rakhi.
How to Celebrate Rakshabandhan Festival
On Raksha Bandhan day, tying Ramrakhi to Godsend for Women, tying Chuda rakhi is a traditional way of celebration. Except ordinary Rakhi, on Ramrakhi, we put red sacred thread and on top of it a yellow star and on chooda Rakhi, sisters put bangles to their bhabhi. In some places, people worship gods and perform Pitru. Parent Offering -Way For Ancestors Salvation (Pitru-Tarpan). People do many puja paths and perform various religious activites such as anushtan and yagya.
In the Uttaranchal region, Rakshabandhan is celebrated as Shravani. On this day Sage rishi's salvation is performed with yagya. Brahman pundits tie the rakhi to the host and give blessings and the host gives them dakshina. Similarly, in Maharashtra, this festival is known as "Narali Purnima". People visit the river or sea and to Varun dev, they offer Coconut. 
In Kerala, Tamilnadu, and Orissa, this festival is known as Avani Avittam. Similar to Maharashtra celebrations, people visit the sea, take baths and worship, and sing songs while performing yagna. It is said that it helps to salvate – our old bad karmas and with the sacredness and purity of our souls, we promise to stay together for a brighter future.
When Raksha Bandhan Celebration Started
According to Indian scriptures, Rakhi is first mentioned in Puranas As per Bhavishya Purana story, there was a battle between Gods and Demons. Demons dominated Gods and Leader of Gods "Indra" was escaping to save his life and Indrani saw him. Then she tied one resham thread chanted with mantra on his hand and that day was Shravan month's – Purnima. This magic thread worked for Indra and he defeated Demons which resulted to win back his – kingdom 'Swarg'. From that day, Shravan month Purnima became Protection day and we celebrate this ritual as Raksha bandhan.
Similarly, there is another mythological story related to Bhakt Prahlad's son Asurraj Bali. As per the story, Bali won all lokas by gaining tremendous power. To end his cruelty, Lord Vishnu changed to Vaman avatar and sent him to Patal loka. In the patal loka, Bali pleased Lord Vishnu by performing penances and requested Lord Vishnu to stay with him in Patal Loka. Lord Vishnu granted him his wish. To fulfill his wish Lord started to stay in Patal Lok only and therefore goddess Laxshmi started to worry about this. In the end, Devarshi Narad suggested to the goddess to tie the knot and make him her brother. This is the reason that Lord Vishnu again came back to his original place Vaikuntha.
In Mahabharata too, there is a story related to this festival. When Lord Krishna killed Shishupal at that time one finger got cut and blood came out. Draupadi just saw it and she cut the cloth of her dress and tied it to Krishna's finger. By giving favour in her return Krishna protected her during Vidyut sabha by giving an unfinishable cloth to protect her from Dushasan and which was the major turning point and actual reason of Mahabharata.
Rakshabandhan Stories in History
In Indian history there are some of the very interesting stories to read. The most famous one is Mewad Queen Karmavati and Mughal Emperor Humayun.When Bahadur Shah attacked Mewad and Queen was in big trouble so she sent Rakhi to Emperor Humayun to protect her kingdom. By respecting the Rakhi of the Queen, he went to Mewad and fought against Bahadur Shah.
Raksha Bandhan in Bollywood
In Bollywood, there are many movies that are based on the Rakhi festival. In 1949 and 1692 two films were made on Raksha Bandhan known as 'Rakhi'. In the 1962 film, Rakhi there was a huge star cast such as Ashok Kumar, Waheeda Rehman, and Pradeep Kumar. Similarly, in 1976 there was a film named "Rakshabandhan" which starred Sachin and Sarika. We also see some of the very interesting scenes in day-to-day movies and serials too. There are some of the lyricists and music directors who made songs to show the importance of Rakhi which we usually hear and makes us happy.
Tie the Rakhi Knot as per your Zodiac Signs.