Raksha Bandhan 2023: Why We Celebrate This Festival Of Love And Protection?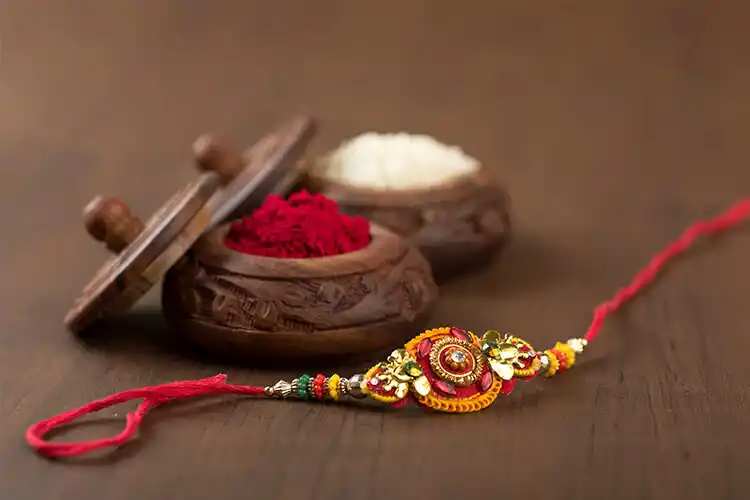 Raksha Bandhan Date 2023 and Muhurat Timings
| Festival | Date and Timings |
| --- | --- |
| Rakshabandhan | Wednesday, August 30, 2023 |
| Raksha Bandhan Thread Ceremony Time | after 21:01 |
| Raksha Bandhan Bhadra End Time | 21:01 |
| Raksha Bandhan Bhadra Punchha | 17:30 to 18:31 |
| Raksha Bandhan Bhadra Mukha | 18:31 to 20:11 |
| Purnima Tithi will start | 10:58 on Aug 30, 2023 |
| Purnima Tithi will end | 07:05 on Aug 31, 2023 |
The Significance Of Rakshabandhan
Raksha Bandhan stands for the unbreakable bond of love, care, and respect. It primarily symbolises the concept of protection. However, when viewed in a broader context, the Raksha Bandhan spread the inherent message of worldwide brotherhood and sisterhood. Thus, the Rakhi celebration delivers a socio-spiritual message emphasising the need of fostering positive characteristics and purity in mind, word, and deed.
Rakshabandhan sends a positive message, Curious! what message is hidden in kundali? Get a free Janam Patri report to know in detail.
Rakshabandhan Rituals
Women begin preparing for Raksha Bandhan days or even weeks before the event. They go shopping for Rakhi, the sacred thread that is tied across the wrists of their brothers. In exchange, the brothers go shopping for their sisters.
The siblings (brother-sister), along with other family members, gather in the morning. The ladies tie rakhi on their brothers' wrists, apply tilak to their foreheads, and offer them sweets, dry fruits, and other gifts after lighting a diya in front of a deity.
The sister prays for her brother's well-being while tying the Rakhi. This practice also includes an aarti thali, which is a platter with a lit lamp, flowers, sweets, and other items.
In exchange, the brother sends his sister gifts, such as sweets, dry fruits, and other similar items. They exchange hugs, and the elders bless the children. For several days, the brothers wear the Rakhi as a reminder and expression of respect for their sister's affection.
How good will be your relationship with your sibling? Get a free yearly astrology report for accurate predictions.
Celebration of Rakshabandhan Across India
On Raksha Bandhan day, tying Ramrakhi to Godsend for Women, tying Chuda rakhi is a traditional way of celebration. Except for ordinary Rakhi, on Ramrakhi, we put red sacred thread and on top of it a yellow star and on chooda Rakhi, sisters put bangles on their bhabhi. In some places, people worship gods and perform Pitru. Parent Offering -Way For Ancestors Salvation (Pitru-Tarpan). People do many puja paths and perform various religious activities such as anushtan and yagya.
In the Uttaranchal region, Rakshabandhan is celebrated as Shravani. On this day Sage rishi's salvation is performed with yagya. Brahman pundits tie the rakhi to the host and give blessings and the host gives them dakshina. Similarly, in Maharashtra, this festival is known as "Narali Purnima". People visit the river or sea and to Varun dev, they offer Coconut. 
In Kerala, Tamilnadu, and Orissa, this festival is known as Avani Avittam. Similar to Maharashtra celebrations, people visit the sea, take baths and worship, and sing songs while performing yagna. It is said that it helps to salvate – our old bad karmas and with the sacredness and purity of our souls, we promise to stay together for a brighter future.
Rakshabandhan Stories In Hindu Mythology
Bhavishya Purana
According to Indian scriptures, Rakhi is first mentioned in Puranas. As per Bhavishya Purana, there was a battle between Gods and Demons. Demons dominated Gods and the Leader of Gods "Indra" was escaping to save his life and Indrani saw him. Then she tied one resham thread chanted with mantra on his hand and that day was Shravan month's Purnima.
This magic thread worked for Indra and he defeated Demons which resulted to win back his – kingdom 'Swarg'. From that day, Shravan month Purnima became Protection day and we celebrate this ritual as Raksha Bandhan.
Story Of Asurraj Bali
There is another mythological story related to Bhakt Prahlad's son Asurraj Bali. As per the story, Bali won all lokas by gaining tremendous power. In order to end his cruelty, Lord Vishnu changed to the Vaman avatar and sent him to Patal loka.
In the patal loka, Bali pleased Lord Vishnu by performing penances and requested Lord Vishnu to stay with him in Patal Loka. Lord Vishnu granted him his wish. To fulfil his wish Lord started to stay in Patal Lok only and therefore goddess Laxshmi started to worry about this. In the end, Devarshi Narad suggested to the goddess to tie the knot and make him her brother. This is the reason that Lord Vishnu again came back to his original place Vaikuntha.
Bring peace and prosperity by performing personalised live Vishnu Puja.
Story From Mahabharat
In Mahabharata too, there is a story related to this festival. When Lord Krishna killed Shishupal at that time one finger got cut and blood came out. Draupadi just saw it and she cut the cloth of her dress and tied it to Krishna's finger. By giving favour in her return Krishna protected her during Vidyut sabha by giving an unfinishable cloth to protect her from Dushasan and which was the major turning point and actual reason of Mahabharata.
Rakshabandhan Stories in History
The most popular story in the history one is Mewad Queen Karmavati and Mughal Emperor Humayun. When Bahadur Shah attacked Mewad and Queen was in major trouble so she sent Rakhi to Emperor Humayun to protect her kingdom. By respecting the Rakhi of the Queen, he went to Mewad and fought against Bahadur Shah.
Tie the Rakhi as per your Zodiac Signs
Greetings
Raksha Bandhan is a day to reminisce about childhood, a day to indulge in sweets, a day to sweeten and spice up the bond of brother-sister, and a day to pledge for brothers to always protect their sisters.
MyPandit wishes you a prosperous Raksha Bandhan festival.