Vaikasi Visakam 2023: Know Important Date, Time And Rituals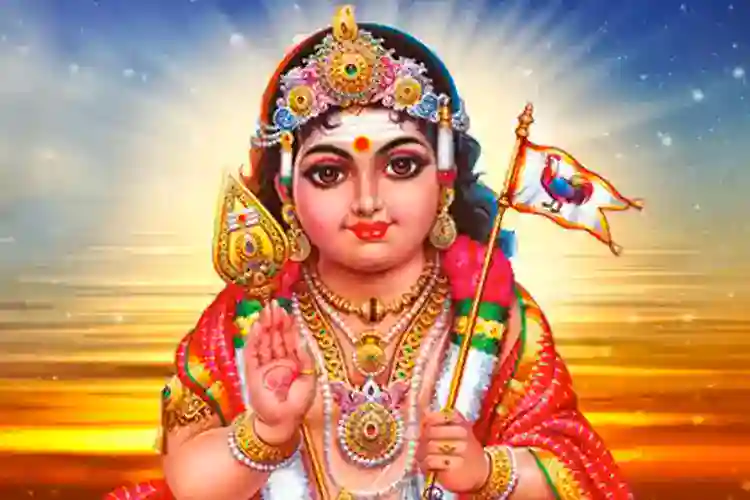 Vaikasi Visakam is a very special day for the people of Tamilnadu. This day is dedicated to Lord Muruga or Lord Murugan as we celebrate his birth anniversary on this auspicious day. Sometimes, this festival is also known as Vaigasi Visagam. People celebrate this festival on Vaisakhi month of the Hindu Calendar. Usually, this day arrives between the month of May or June. Lord Murugan was born on a full moon or Purnima coincided in the Vishakha Nakshatra. According to Myths, Lord Muruga took birth from Lord Shiva's third eye, and as a result, he holds the destructive powers. He is the second child of Lord Shiva, who is also known as Lord Kartikeya in other regions of India. Lord Muruga is a God of strength, prosperity and knowledge. On Vaikasi Visakam, we offer special puja to appease Lord Murugan. Devotees visit nearby Murugan Temples to seek his divine blessing on this day.
---
The Main Legend
The story behind the birth of Lord Muruga is quite an interesting one. When Lord Shiva was mourning the death of his late wife Sati, he started a deep meditation for thousands of years. In the meantime, three demons named Tarakasura, Surapadman, Singamuhan wreaked havoc on Earth as well as in heaven. The three demons had a boon that they would only die in the hands of Lord Shiva's son. Later, Lord Brahma and Lord Vishnu got worried, and they appeared before Lord Shiva to seek his intervention. It is said that Lord Shiva replied from his third eye situated on his forehead and then radiated six sparks of fire. To cool down the blazing heat from the sparks, God Vayu(air) and Agni(fire) carried it to the Ganges, in which water flow pushed them to Lake Saravanai filled with Lotuses. In the Lake, the sparks came to be six spiritual children, nursed by Krittika maidens. These children were then embraced by Goddess Parvati and became one with six faces and 12 hands.
This form of Lord Murugan later came to be known as Shanmuga, the god with six mouths. Lord Shanmuga then killed those three wicked demons to restore peace on the Earth. The six faces of Lord Murugan stands for; creation, protection, destruction, involution, infinite kindness, and initial source of knowledge. The Krittika maidens that cared for six babies at the time of birth then became stars and formed a constellation. At present, it is known as Krittika Nakshatra or the constellation Pleiades. Hence, Lord Kartikeya is called the son of Krittika.
The Idol Of Lord Murugan
Lord Murugan is the chief commander of the Deva Army who won many battles and wars with them. Lord Murugan is known for providing wealth and wisdom to his devotees. He has six faces, so he can look in the East, West, North, South, heaven and also in hell at the same time. Lord Muruga is also known as Subrahmanyan, Shanmuga, Karthikeyan, Guhan Saravanapavan, and Arumugam. According to Vedic Puranas, Lord Muruga is the God with a dark blue complexion, and he is holding weapons in his hands. The God's idol depicts that the Lord Murugan has two consorts Devayanai and Valli. One can also see the presence of a peacock, which has gripped a snake in its claws. The dark blue complexion of Lord Murugan symbolises the infinite reality in the cavern of the heart, saying he is the prime example of eternal truth.
Proceedings of the day
Vaikasi Visakam is celebrated across the ten days to appease Lord Murugan. It is also known as the Brahmotsavam festival in southern India. Worshippers perform special puja and rituals before the idol of Lord Muruga to win his divine blessings. People offer milk in pots or Pal Kudam while performing Abhishek. Kavadi or a decorated yoke is carried on the shoulders to clean Lord Murugan temple.
Planning to perform rituals at your home? Get in touch with our experts @ Re. 1 / min
Rituals To Be Performed On Vaikasi Visakam
On this day, idols or photos of Lord Muruga are properly cleaned and decorated with flowers. Some of the devotees also keep fast to please Lord Murugan. While fasting, devotees also remember how Lord Murugan defeated the three demons Tarakasura, Surapadman and Singamuhan. It is considered to be a significant part of fasting rituals.
If you worship Lord Muruga with a pure heart, you may resolve your marriage life issues. Furthermore, you may earn the desired wealth and prosperity to cherish some beautiful moments in life. Your sincere prayers may reduce your past sins. The Lord Murugan may help you to get rid of the malefic effects of the planet Mars.
On this occasion, devotees prepare bhog of sweet dishes and keep them in front of Lord Murugan. Also, red Oleander flowers or six Nagalinga flowers are offered to Lord Murugan. Some people also invest their times in doing generous deeds to help the poor or needy ones.
---
Important Date and Tithi of Vaikasi Visakam 2023
Vaikasi Visakam: Saturday, June 3, 2023
Visakam Nakshathram Starts At: 06:53 

AM

 

on

 Jun 02, 2023
Visakam Nakshathram Ends At: 06:16 

AM

 

on

 Jun 03, 2023
---
Wrapping Up
Lord Murugan's birth anniversary is all about remembering Lord Karthikeya, the second son of Lord Shiva. Also, this day marks his victory over the three vicious demons, who disturbed the peace on Earth and heaven. One should worship Lord Murugan on this auspicious day to eliminate the negative forces in their life. Your sincere prayers to Lord Murugan may not go unanswered.
---
---