Worship of Ganapati in Vinayaka Chaturthi And Get the Blessings of Ganapati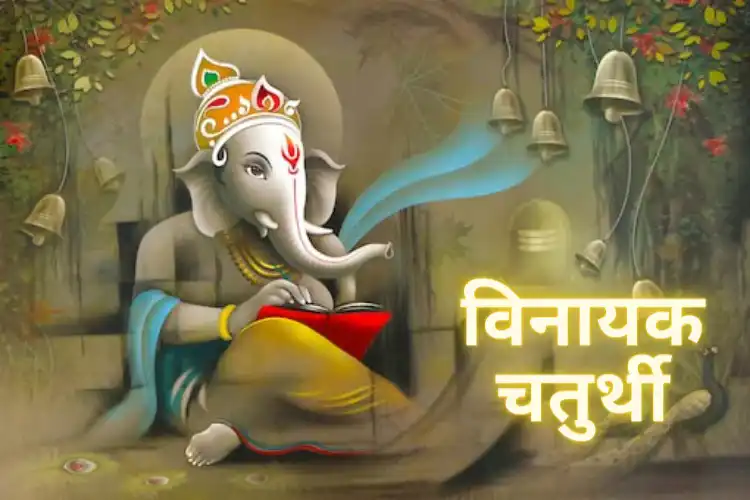 The list of Vinayaka Chaturthi that falls in the year 2023 is as follows.
| Vinayaka Chaturthi | auspicious moment | Month |
| --- | --- | --- |
| January 25, 2023, Wednesday | Begins - 03:22 PM, Jan 24 Ends - 12:34 PM, Jan 25 | Magha |
| February 23, 2023, Thursday | Begins - 03:24 AM, Feb 23 Ends - 01:33 AM, Feb 24 | Phalguna |
| March 25, 2023, Saturday | Begins - 04:59 PM, Mar 24 Ends - 04:23 PM, Mar 25 | Chaitra |
| April 23, 2023, Sunday | Begins - 07:47 AM, Apr 23 Ends - 08:24 AM, Apr 24 | Vaishakha |
| May 23, 2023, Tuesday | Begins - 11:18 PM, May 22 Ends - 12:57 AM, May 24 | Jyeshtha |
| June 22, 2023, Thursday | Begins - 03:09 PM, Jun 21 Ends - 05:27 PM, Jun 22 | Ashadha |
| July 21, 2023, Friday | Begins - 06:58 AM, Jul 21 Ends - 09:26 AM, Jul 22 | Shravana |
| August 20, 2023, Sunday | Begins - 10:19 PM, Aug 19 Ends - 12:21 AM, Aug 21 | Shravana |
| September 19, 2023, Tuesday | Begins - 12:39 PM, Sep 18 Ends - 01:43 PM, Sep 19 | Bhadrapada |
| October 18, 2023, Wednesday | Begins - 01:26 AM, Oct 18 Ends - 01:12 AM, Oct 19 | Ashwina |
| November 16, 2023, Thursday | Begins - 12:34 PM, Nov 16 Ends - 11:03 AM, Nov 17 | Kartika |
| December 16, 2023, Saturday | Begins - 10:30 PM, Dec 15 Ends - 08:00 PM, Dec 16 | Margashirsha |
Significance of Vinayaka Chaturthi
Devotees of Lord Ganesha keep a fast on the occasion of Vinayaka Chaturthi. The fast of Ganesh Chaturthi is observed from sunrise to moonrise. The fast ends after sighting the moon after the Aarti of Lord Ganesha.
Lord Ganesha, who is recognized as the God of wisdom, is believed to be the destroyer of all problems, troubles and obstacles in a person's life. Hence it is believed that by observing this fast one becomes free from all obstacles.
A person who is fasting can only eat fruits, plant roots and selected vegetables. On the occasion of Vinayaka Chaturthi Vrat, the main food items are Sabudana Khichdi, Peanuts and Potatoes. This fast ends after the sighting of the moon at night. The fasting of Vinayaka Chaturthi completely depends on the moonrise. Vinayaka Chaturthi Vrat is observed on the day when the moon rises during Chaturthi.
In North India, when the Chaturthi falls in the month of Magha, it is recognized as Sakat Chauth. On the other hand, Vinayaki Chaturthi which falls in the month of Bhadrapada is recognized as Ganesh Chaturthi. This auspicious day is celebrated by Hindus around the world as the birth anniversary of Lord Ganesha.
Talk to our astrologers now for solutions to your problems in life…
Worship in this way on Vinayaka Chaturthi
Get up early in the morning and take a bath.
Wear clean clothes. If you can wear red colored clothes then it will be highly auspicious.
Keep a fast on Chaturthi day. You can choose to have fruits and milk as your fasting meal or have only one meal a day. However, one should eat only after worshiping.
Make all the preparations for the Puja and prepare the Naivedya.
Meditate by lighting an oil lamp in the Puja Muhurta. Then invoke Lord Ganesha and request him to accept your humble offerings.
Offer 21 varieties of kumkum, sandalwood and Dhruv grass
Do Panchopachar Puja. For this you need perfume, red colored flowers or any other flower, incense, ghee lamp and naivedya (laddoos made of modak, gram flour or boondi and or other sattvic dishes).
After performing Panchopachar puja, offer five types of fruits (optional), husk, banana, betel and betel nut, turmeric and a whole
coconut with kumkum and dakshina.
Recite Vinayaka Chaturthi Vrat Katha.
Conclude the puja by singing Ganesh Aarti while paying obeisance to the lit camphor.
Do chant the following mantra while worshiping:
Om Gan Ganapataye Namah
You can also chant Ganesh Gayatri Mantra
Om Bhurbhuva: Self: Tatsaviturvarenya Bhargo Devasya Dhimahi. धियो यो न: Prachodayat.
Also chant this mantra
Ekdantay Vidyamahe, Vakratunday Dhimahi Tanno Danti Prachodayat
Story of Vinayaka Chaturthi
First Story
Once, when Goddess Parvati wanted to take a bath, there was no attendant to guard her and prevent anyone from accidentally entering the house. So he created an image of the boy with his turmeric paste, which he prepared to purify his body, and infused life into it, and thus Ganesha was born. Parvati ordered Ganesha not to allow anyone to enter the house, and Ganesha obeyed his mother's orders. After a while Shiva returned from outside and as he tried to enter the house, Ganesha stopped him. Shiva was furious at this strange little boy who dared to challenge him. He told Ganesha that he was Parvati's husband, and demanded that Ganesha let him inside. But Ganesha refused to listen to him. Shiva lost his patience and had a fierce fight with Ganesha. At last he cut off Ganesha's head with his trishul. When Parvati came out and saw the dead body of her son, she was very angry and sad. He demanded that Shiva immediately restore Ganesha's life.
Unfortunately, Shiva's trident was so powerful that it threw Ganesha's head too far. All efforts to find the head were in vain. As a last resort, Shiva approached Brahma, who suggested that he replace Ganesha's head with the first living creature that came his way, whose head was facing north. Shiva then sent his disciples to find and take the head of any creature that was sleeping, heading north. They found a dying elephant that fell asleep like this, and after its death took its head, attached the elephant's head to Ganesha's body and brought it back to life. Since then, he was called Ganapati, or chief of the celestial forces, and is worshiped by everyone before starting any activity.
Second Story
On Shiva's insistence, Parvati fasted for a year to please Vishnu so that he would grant her a son. Lord Vishnu announced after the completion of the yajna that he would incarnate himself as her son. Accordingly, Vishnu was born as a charming child to Parvati. The event was celebrated with great enthusiasm and all the deities were invited to see the child. However, Surya's son Shani hesitated to see the child as Shani was cursed with a vision of destruction. But then Parvati insisted that he see the child, which Shani did, and immediately the infant's head fell off and flew to Goloka. Seeing Shiva and Parvati sad, Vishnu mounted his divine vehicle, Garuda, and reached the banks of the Pushpa-Bhadra river. From where he brought back the head of a young elephant. The head of the elephant joined with the headless body of Parvati's son, making him alive. The infant was named Ganesha and all the gods blessed Ganesha and wished him strength and prosperity.