Why Kajari Teej 2023 is Considered as Important in Hindu Culture?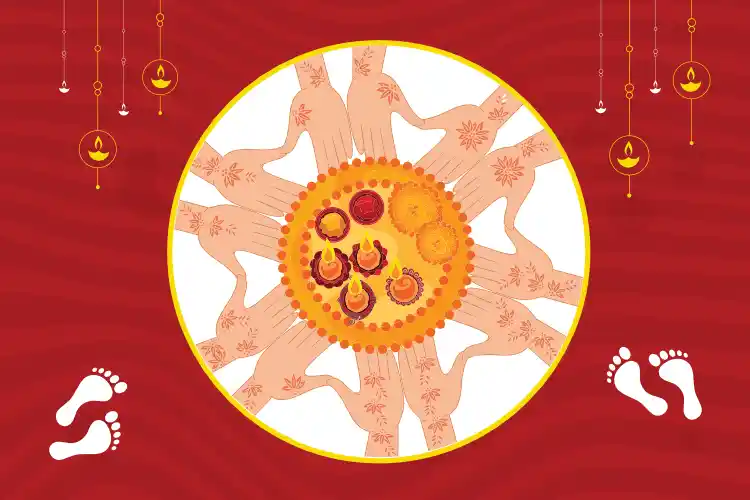 Kajari Teej 2023 Date and Time
This year Kajari Teej will be observed on 2nd September 2023 Saturday.
| Tithi Muhurats | Date / Time |
| --- | --- |
| Tritiya Tithi Begins - | On Sep 01, 2023 at 23:50 |
| Tritiya Tithi Ends - | On Sep 02, 2023 at 20:49 |
Kajari Teej Significance
Mainly, these rituals of Kajari teej are performed by married women at their maternal house. As previously stated, the name Kajari, derived from folklore, depicts the agony of a temporary separation from her husband. It is also linked to the monsoon season. Women fast and undertake numerous rituals on this day to seek the blessings of Goddess Parvati and Lord Shiva by doing Rudraabhishek Puja. Married ladies pray to Mahadev and Parvati, who represent a happily married pair, for a good married life. Women dress in their finest attire, apply mehndi, and begin the festivities. Moreover, elder women also worship the neem tree and bow down to the moon in some rural areas. Young and unmarried girls also keep fast on this day in order to get a caring husband of their choice. Kajari Teej's enthusiasm is marked by songs, dances, mass prayers, rituals, and a variety of other events as well.
Celebration in India
People welcome the eve of Kajari Teej with zeal and delight. Many locations celebrate the holiday in their own unique ways by organizing essential rites. Married ladies observe a Kajari Teej fast for their husband's longevity and prosperity. Whereas, unmarried women practice this fast in order to find a suitable husband. Thereafter, they break the fast by worshipping the moon. Simultaneously, some of them end their fast by worshipping the neem tree. They also make Sattu by using rice, gram, wheat, and barley on this day. Besides, Hindu also consider cows as holy animals, so they worship them by offering grass on Kajari Teej. Moreover, they give sacred cows small chapatis made of wheat flour, ghee, and jaggery.
Afterward, the devotees may take their food avoiding oily or non-veg food items. Young girls also take part in this festival by singing and dancing to traditional folk songs. They even lend a helping hand to their mother in decorating their homes with beautiful swings. Other than that, devotees in Bihar and Uttar Pradesh sing a variety of Kajari Teej melodies on the beat of the dhol.
Puja Vidhi
The Goddess of Neem is popularly known as Neemdi Maa, who is associated with this holy festival of Kajari Teej. Therefore, devotees pay the highest respects to Goddess Neemdi on this auspicious day. They organize a ceremony before the start of the puja, which entails the construction of a pond-like structure with the help of a wall. The structure's exterior edges are decorated with jaggery and pure ghee. A neem twig is planted nearby, and worshippers pour water and raw milk on it while lighting a lamp near the structure. Moreover, rice, sacred thread, vermilion, sattu, fruits, cucumber, and lemon are used to decorate the puja thali.
Raw milk is preserved in a receptacle, and devotees then worship Goddess Neemdi in the evening according to the procedures outlined below.
Steps to perform Rituals
Sprinkle rice, vermilion and water on goddess

Then, make 13 dots using the ring finger

Then, cloth is tied using a sacred thread to offer goddess

Decorate with sacred thread using dots marked on the wall

Offer fruits to the goddess

Keep Puja Kalash and apply tilak on it with vermilion

Now, light up a lamp and place it on the banks of the pond
Greetings
We understood how Indians celebrate this Kajari Teej to seek long life and happiness for their spouse as well as enhance good fortune. We hope you have a clear idea of this holy Indian festival. On a conclusive note, we wish our fellow readers a Happy Kajari Teej.
With divine blessings, you must need to know what your future holds. Talk to astrologers to know in detail. First consultation with 100% Cashback!