Want That Earthy Yet Pleasant Aroma? Try Mantra Masala Incense Stick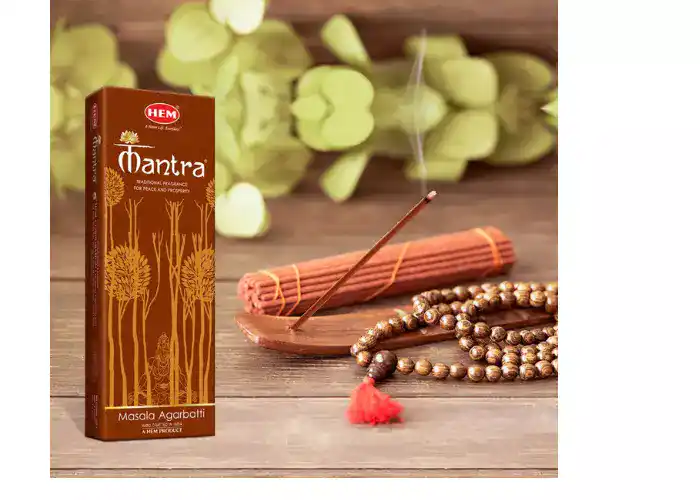 What do we think when we hear the word incense? Fragrance, a smile comes to your face when you feel it. Incense is a strong, pleasant aromatic biotic material that releases fragrant smoke when the native material is burnt. Incense material is generally used either in the form of scent, perfume for personal use and in the form of incense stick for offering prayers or just keeping your house swinging with fragrance. 
They are generally used as simple decor deodorants or insect repellents. Talking about incense sticks, they are generally made up of aromatic natural herbs or essential oils. In Indian households, incense sticks are popularly used for offering prayers. But with the advent of modern and alternative therapy, this is also used for aromatherapy, meditation or auspicious function. Incense sticks spread the fragrance when they are lit directly by a flame and then fanned, leaving a glowing light that smudges and releases the smoky fragrance. The stick used for incense sticks is generally bamboo, and the secret paste contains the real incensing material. Mantra Masala Incense sticks are a type of incense stick that is used widely for offering prayers and used as home decor.
---
Mantra Masala Incense Stick: A Brief About The Product
Hem fragrance is the company that produces this typical Hem Mantra Masala Incense Stick. The preparation recipe is secret. It gives a homely, earthy and misty fragrance. The recipe for this fragrant masterpiece is yet unpublished. Why worry about the recipe? Enjoy the fragrance.
Incense making is an ancient art, and the method used to make it perfect has crossed several generations by constant and passionate artists. The main aim of this incense stick is to provide your senses with the best smell. Hem Mantra Masala is a state of the art handcrafted masala incense stick that will keep your surroundings and fill your home with a soothing and pleasant aroma.
One more way to make the atmosphere comfortable is to be free from stress. You can achieve it ask an expert about your problems.
The main masala is the combination of rare aromatic herbs, essential oils, parts of fragrant plants and other incense producing materials. Hem fragrance is a brown coloured stick that is engrossed with traditional grandmother's recipe suited for fragrant homes, and it will bring back those old childhood memories.
---
Mantra Masala Incense Sticks: The Various Usage
The strong fragrance is used in home and office decor. It keeps the work atmosphere soothing. This will lead to positivity all around. You can also use it in large gatherings and drive away undesirable odours at your place.  The fragrance is long-lasting once the stick is burnt. So one can feel the pleasant smell for a long duration. The natural component offers you a pure unadulterated long-lasting scent. 
---
Mantra Masala Incense Sticks: Lift Up Your Mood
It can be used for meditation, spiritual activity and offering prayer. More commonly, it can be used to spread fragrance at your home and offices. Hem Mantra Masala Incense Sticks can be used by simply lighting them at your designated place. It gives you that retro feel and creates a positive environment. It brings back the traditional fragrance and gives you that mental peace and prosperity you at times miss in this hazy fast world. It purifies and heals the aura of the person suffering from negative feelings. If you are not spiritual, then use it as a fragrance product. 
If you are surrounded by too much negativity? Get a free janampatri report to know which planet is responsible.
---
Ending Note
The smoke of this incense stick nullifies the negativity. The creation of a perfect incense stick is an art, and there are few artists who make it a reality. Hem Mantra Masala Incense stick is one such beautifully crafted product that gives you the best fragrance and soothing experience.
It radiates positive energy and brings a sense of a smile to your face and home. However, if you are looking for some other specific kind of Incense sticks then you can choose from various ranges including Lavender Incense Stick, Tuberose Incense Sticks, Musk Incense sticks etc. So why wait! You have a lot to choose.
---
---