Are You Anxious? Light The Tuberose Incense Sticks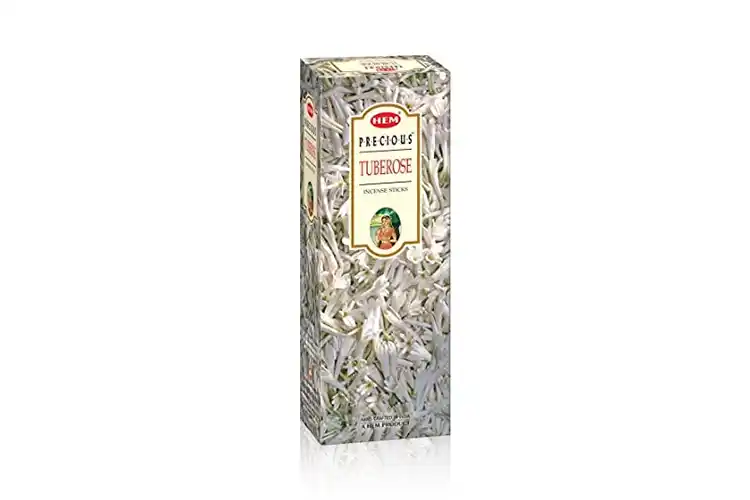 Flowering fragrance in Indian households is commonly used for spreading that sweet smell that will make your day start with positivity. We keep the flower either in the vase or use it in a scented form. Another way of attaining this positivity is by burning incense sticks with this flowering material attached to them. Incense burning has been practised since ancient times in Indian households and other eastern civilisations. The flowering material used ranges from raat ki rani or the tuberose,  Arabian Jasmine or commonly called as Mogra, Tulip etc. 
Incense burning signifies the ancient vibration. It is widely mentioned as "the Aadi Naam" of "the Avyakto Aksharah" as mentioned in ancient Vedic texts and scripture. According to Ayurveda, incense burning has several benefits. Incense sticks are generally made up of herbs, resins, spices and other therapeutic essential oils. Incense burning has been considered as a very effective purifying agent and it injects positivity with a pleasant fragrance. Tuberose Incense Stick is one such gentle but pleasant aromatic incense stick that fills your environment with positivity. Let us know about this in scenting flowers then drift to its uses.
Make your life positive by consulting an astrologer.
---
Tuberose: The Blooming Flower
This pleasant and sensual flower is also called as raat ki rani in India. This is due to the fact that it blooms at night and spreads the aroma all over the place. Tuberose flower is widely used in offering prayers. Even the Indian monarchs used to keep in their residential areas to enjoy its fragrance. It is considered as one of the most important tropical ornamental flowering plants mainly produced to get long-lasting flowering spikes. It is also called Rajnigandha or Nishigandha. You will be surprised to know that it is a native of Mexico. It has travelled thousands of km to reach India. 
Tuberose is an important commercial flowering plant due to its pleasant fragrance,  longer vase life or spikes and it is generous in adapting to the climate and soil. It is a much-valued product due to its aesthetic and fragrance value. The aromatic essential oils are used in varied types of therapeutic activity. The fragrance of flowers is very sweet and the floral honey-like smell just lifts your day. The combination of Tuberose and the incense stick makes it an ideal couple. 
What are you waiting for? Get a pack of Hem Tuberose Incense Sticks from MyPandit Store.
---
Tuberose Incense Sticks: The Various Benefits
Tuberose fragrance is a highly appreciated aroma in India. There are many benefits that one can attain from this fragrant flower. Since ancient times, the fragrance from Tuberose incense sticks has been thought to relieve the person from bronchial difficulties. Symptoms such as nausea, negativity and foul odour can be eliminated by this fragrance stick. The aroma is highly recommended as a calming agent. The incense sticks have a long-lasting scent that keeps the house or office fresh and full of fragrance for long hours.
---
Tuberose Incense Sticks: Soothing Effect On Mind And Body
The commercial players in the market, such as Hem precious tuberose incense sticks are based on traditional tuberose extraction methods. Since ancient times, Indians have been using this aroma to remove negativity and for the treatment of stress, anxiety and congestion. 
It helps to eliminate anxiety, depression, negativity and foul odour. As it is made from natural ingredients, it soothes the mind without any side effects. It helps the person to rejuvenate and relax the tiring body with its pleasant smell. Due to fast track life, we often lack peace and calmness. The Tuberose Incense Sticks does the same and provides that peace of mind and calming effect. If you start your day with this aroma, then this will keep you optimistic throughout the day. Moreover,  the aroma is sweet, delicate and smells good. It purifies the environment and aura of a person.
One more way to make your environment positive is to know which planets are haunting your kundali. Get a free janampatri report for the details.
Tuberose Incense sticks can also be used for aromatherapy that relaxes your mind and calms the nerves, muscles and brain. This is also a useful way to get an effective meditation. It is safe and doesn't have any evident side effects. 
---
Wrapping Up
Like its Tuberose Incense sticks, its counterpart like the Lavender incense sticks, Musk Incense sticks and so on can be used for a variety of other purposes. You have a hell of a lot of options to choose from. The common effect of all incense sticks is to purify the environment and remove the negativity from the surroundings. So choose one and stay positive. 
---
---