Sun and Mercury Conjunction in 1st house: Things You Must Know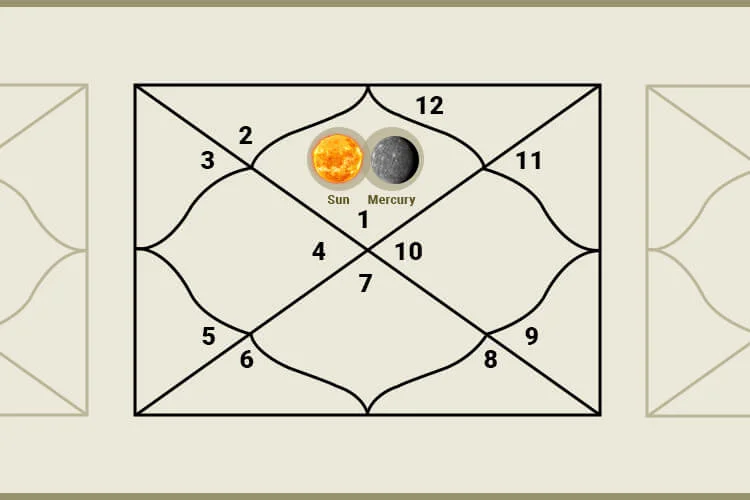 In Vedic astrology, it is said that whenever the two planets come close to each other in the same house, it forms a conjunction. This conjunction could be between the malefic or benefic planets, and according to the relations of these planets, it may give you good or bad results. Alright, we are once again ready to reveal the impacts of interesting conjunction. Yes, you guessed it right, the conjunction between the Sun and Mercury.
The Sun is known as the King of our cosmic world, and it is the significator of soul, energy, skills, and father. At the same time, Mercury is the provider of intelligence, speech, and logical mind. If these two planets found inside the same house, you may have academic sense and an intellectual mind. You may believe in your thoughts and may use your own strategies to move forward in life. You may tend to live a simple and straightforward life.
Mercury is known to be a peaceful planet, which may help you reduce the soaring hot temperature of the Sun. Mercury and Sun will together help you become the follower of truth and simplicity. This combination defines the relations between the friends Sun and Mercury. And therefore, it may give benefits and positive results in your life. But, not always as it depends upon the placement and signs of the house. Let us get the details of this combination to know its impacts on areas of life.
---
What Does Sun Conjunct Mercury Mean?
If the Sun conjuncts with planet Mercury, it forms 'Budha Aditya Yoga,' where Budha refers to Mercury and Aditya refers to the Sun. Budha Aditya Yoga can be beneficial for its natives as it may gift you leadership and analytical skills. But, it can't be said the same if the Budha Aditya Yoga is weak due to the influence of any bad planets. This can be true because there will be a chance of Pitra Dosha, which may reduce the benefits of Budha Aditya Yoga.
The first house is related to our physical body, behaviour, and attitude. If the Sun and Mercury are forming a conjunction in the Lagna house, you may improve your work efficiency and accuracy. You may have a common goal to look forward into life. This combination may sharpen your multi-tasking abilities too. Also, you may be able to grasp things quickly due to the presence of Mercury. This union signifies that you may sacrifice your life for the nation's development or may join politics.
Sun-Mercury conjunction in the first house may bless you with a better sense to resolve complex problems. You may do a great job in money-related matters as you will be good at mathematics and calculations. If Mercury is retrograde, it may have an adverse effect on your life areas. If the conjunction of the Sun and Moon is receiving support from Moon or Venus, you may have a chance to visit foreign countries. Job professionals with this conjunction may make international trips for business purposes.
Check whether Mercury or Sun is favourably-placed or not, access Free Janampatri
---
Influence Of Sun Mercury Conjunction In First House
Behaviour & attitude
Leadership
Career & education
Analytical mind
---
Impacts Of Sun And Mercury Conjunction In The 1st House On Personality
The conjunction of Sun and Mercury may support you in developing interpersonal skills. You will easily catch the things in mind and able to solve the mysteries or problems. You will be skilful, well-mannered, and good at handling more than one task. You would be the perfect choice to become a leader. Also, you may show interest in learning and trying new things around the world. You may invest time in learning different languages of a nation or spend your free time learning a foreign language.
This combination indicates that you are likely to be a good looking person with an average height. You are likely to become bald after middle age. You may have excellent communication skills and the ability to understand other's feelings. You may rarely use harsh words, which is why you may successfully form sweet relations with everyone you meet. This auspicious combination assists you find a higher position in society.
---
Impacts Of Sun And Mercury Conjunction In The 1st House On Marriage
Natives with Sun and Mercury in the ascendant house suggest that there may not be any major impacts on your marriage relationship. You and your spouse may indulge in fun-loving activities to create unforgettable memories. You may enjoy a great time under the covers as well. If Mercury is united with Sun, it will bless you with speaking abilities. And therefore, you may succeed to form a mutual understanding with your spouse.
This combination makes you realize the true feelings and honesty of your partner. You two can expect a long term marriage relationship. Your spouse may support you in every decision, and he or she will be ready to walk miles along with you. The conjunction of Sun and Mercury may prove beneficial to your marriage relationship as it adds more fragrance to your love. You can expect honesty and loyalty from your life partner.
---
Impacts Of Sun And Mercury Conjunction In The 1st House On Career
This conjunction of Sun and Mercury may bless you with analytical skills. And therefore, you may earn a good profit via small or large business. You may complete your studies and may plan for higher education. If there is an aspect of the benefic planet in the house, you may travel abroad in search of career success. Those who have Mars and Sun in their Lagna house may perform well in the government department. You may find job opportunities in public services or semi-government sectors. Also, you may choose your profession as a content writer, journalist, or poet.
If Mercury retrogrades in the Lagna house, it may badly affect your career and education. Your stable career growth may come to an end. Also, you may see a downfall in your business profit. In contrast, if the conjunction of Sun and Mercury is in the exalted sign, you may get a taste of success in the initial level of your professional life. You may select the desired field to develop your career. Overall, this planetary combination may give your favourable outcomes in your career.
Are malefic planets hampering your career growth? Talk To Astrologer
---
Remedies For Sun Mercury Conjunction In First House
Below are the ways to reduce the bad effects of Sun and Mercury conjunction in 1st house.
Refrain from accepting any items from Sage or Sadhus
Start wearing gold in any form
Avoid eating non-veg food or consuming alcohol
Donate food grains or jaggery to poors
---
Wrapping Up
Sun and Mercury's combo in the ascendant house may bring positivity, intelligence, and better communicative skills. The association of Sun and Mercury may get a lot of positive results regarding your career and education. You may find a higher or senior position in your professional life as well. Also, the union of these planets may help you strengthen your bonding with your life partner. And therefore, you may develop relations that may last for a longer period. Hope you had a cleared your answer to your queries. Keep reading similar blogs until we come up with something new.
---
---